Main Image
Image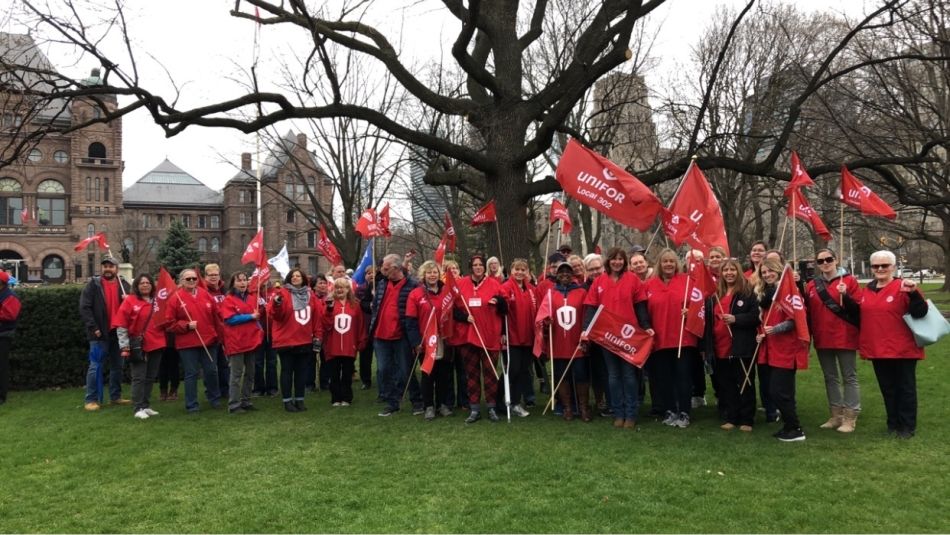 Share
TORONTO—The Ontario Minister of Health was briefed on Bill 124's ill effects rippling across Ontario's health care system, newly obtained ministerial briefing documents have revealed.
"The Ontario government cannot deny the role their controversial and unconstitutional bill played in worsening an already fragile public healthcare system," said Lana Payne, Unifor National President. "Ontario's health care workers deserve a government that delivers solutions to the system's staffing crisis and recognizes the free and fair collective bargaining rights of all. The people of Ontario deserve a public, universal health care system that is there when they need it."
News agencies obtained the Minister's briefing documents through freedom of information requests. The documents were prepared for Ontario Minister of Health Sylvia Jones as part of a transition binder and gave specific information on both the state of health and long-term care in the province and the negative effects of Bill 124.
The transition documents clearly outline numerous issues including burnout, wage disparity, as well as retention and severe staffing shortages facing the system. The facts outlined in the briefing notes run contrary to Minister Jones' past statements denying the existence of staffing shortages.  
"The Ontario government has no justification to move forward with an appeal to the court ruling that kicked this legislation to the curb for violating public sector workers' Charter rights," said Naureen Rizvi, Unifor Ontario Regional Director. "Ontarians now know the Minister has the facts about the healthcare crisis. There's no ability on the government's part to deny the facts any longer. The only question remains: what is the Minister going to do to fix it?"
A recent poll revealed that an overwhelming majority of Ontarians believe the government is doing a poor job managing the province's health care system, among other issues.
"The relationship between the Minister and healthcare workers is in tatters. The first step in rebuilding this relationship is for the government to forego the appeal of the Bill 124 ruling," added Payne.
Unifor, alongside more than forty other unions and associations (including the OFL, OSSTF, ETFO, OECTA, ONA, OPSEU, the Society and PWU) filed a Notice of Application on August 28, 2020 with the Ontario Superior Court of Justice. The court held hearings from September 12-21, 2022 and ruled on November 29, 2022 that Bill 124 unduly infringed on workers' rights.
Unifor represents approximately 18,155 members' working in health care, education and social services sectors across Ontario who are affected by Bill 124.
For further information, contact Sarah McCue, Unifor National Communications Representative at 416-458-3307 (cell) or @email.