Main Image
Image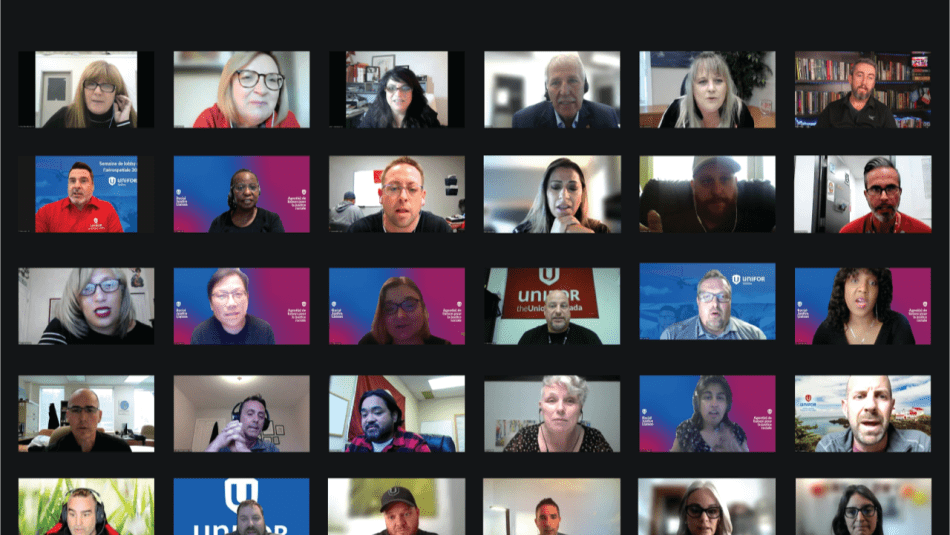 Share
Delegates at Unifor's Aerospace Industry Council met over three days last week to discuss the ongoing COVID-19 pandemic's effects on the industry and formulate plans for the council's future efforts.
"Aerospace workers across Canada continue to face their share of difficulty and hardship with ongoing layoffs and an industry continuing to suffer from the effects of the pandemic," said Lana Payne, Unifor National Secretary Treasurer, in her address to delegates. "All the more reason for us as trade unionists to keep pushing for a comprehensive national aerospace industrial recovery plan—that is more important now than ever."
The council foresaw an industry-wide crisis due to the pandemic's effects on global aviation business and air travel, releasing a broad set of recommendations to the federal government in its report entitled Preventing a Tailspin published in January 2021. Following the union's largest lobbying effort to date, the federal budget did deliver on a few key demands, notably a commitment of $2 billion for aerospace research and development as well as regional-based recovery initiatives.
Despite some federal government action, delegates discussed numerous troubling trends in the industry: employment in the sector continues to be 15% below 2019 levels, GDP generated by the sector is 20% less than in 2019, and unemployment and underemployment has hit Unifor members particularly hard as approximately 25% of Unifor's 12,000 aerospace members were on layoff as of June 2021.
"We need to keep pressuring government for a strategy that not only deals with jobs lost in our sector due to COVID-19, but one that strengthens aerospace manufacturing for the long-term," said Maryellen McIlmoyle, Unifor Aerospace Council President and President of Unifor Local 673. "The three-month strike at De Havilland shows how devastating the pandemic has been on aerospace workers even though their jobs have been around for generations. We need to push for much stronger measures that protect these incredibly valuable advanced manufacturing jobs."
In recent months, the federal and Quebec governments have announced new partnerships in the sector with two Unifor employers in Quebec. Both Pratt & Whitney, which manufactures aircraft engines and parts, and aircraft simulator manufacturer CAE, which also mitigated job losses during the pandemic by manufacturing ventilators, have received investment commitments that will provide long-term employment stability and help laid off aerospace workers return from layoff.
On November 2, Bombardier announced that it reached a major milestone in the construction of its state-of-the art production facility at Pearson International Airport where Unifor Local 112 and 673 members will be relocated in 2023. The site will be the future manufacturing home of the company's Global series business jets. The infrastructure project is the largest in Canada's aerospace industry.