Main Image
Image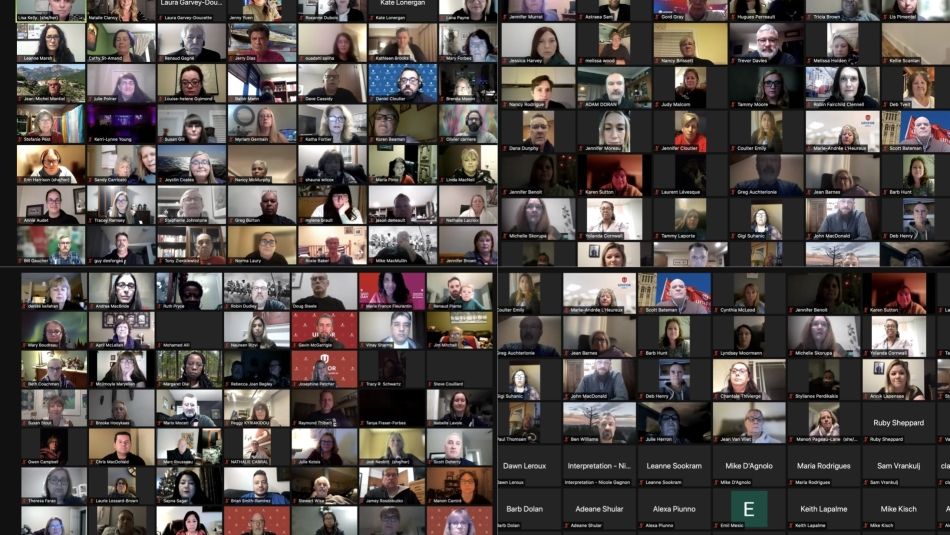 Share
Thirty-two years ago, they were training to be chemical and mechanical engineers and nurses. One was a budget clerk at École Polytechnique's finance department.
During Unifor's online vigil, held December 6, 2021 – the National Day of Remembrance and Action on Elimination of Violence Against Women – the names of the 13 students and one worker at École Polytechnique were read aloud to remember the horrific gender-based violent massacre in 1989.
"They were killed simply because they were women," said Lisa Kelly, Unifor's Women's Department Director.
"We are also reflecting this evening on the disproportionate impact of violence on women and gender diverse people who face multiple and intersecting grounds of discrimination. In particular, women and gender-diverse people who identify as Indigenous, trans, Black, women of colour, women with disabilities, or non-binary. We want to honour both the remembrance and the action portions of this day."
The women killed in the attack were Geneviève Bergeron, Maryse Laganière, Hélène Colgan, Maryse Leclair, Nathalie Croteau, Anne-Marie Lemay, Barbara Daigneault, Sonia Pelletier, Anne-Marie Edward, Michèle Richard, Maud Haviernick, Annie St-Arneault, Barbara Klucznik-Widajewicz and Annie Turcotte.
This year, men in positions of power at Unifor are committing to speak up and take action to prevent gender-based violence. By naming the source of the violence, we can focus more clearly on finding solutions.
Unifor's National President Jerry Dias said addressing and preventing violence against women and gender-based violence has been a priority in his leadership and is proud that this year's campaign asks men to engage other men.
"We're going to call it for what it is – this is men's violence against women, period," he said. "The campaign is about acknowledging a problem and us making a determined effort to fix it. It's not just about the telltale signs of physical violence or sexual assault, it's about the psychological damage. It's about recognizing and committing and talking about the things we need to do as men."
Dias said men can recognizing different types of gender-based violence, speaking up, supporting women and gender-diverse people around them, teach the next generation so boys can grow up learning about consent and for those in the union, to use their power, so women can be economically secure through bargaining.
The rates of men's violence against women have spiked this year. Across Canada,169 women and girls were violently killed so far in 2021. Statistics show that the majority of women are killed by their male partners or family members and in Canada, calls to domestic violence outreach hotlines have skyrocketed 400% during COVID-19.
"Women globally are facing a double pandemic," added Dias. "They're facing the violence predominantly by their partners and men in their family and dealing with the economic carnage that comes with a pandemic."
Unifor's Quebec Director Renaud Gagné said that province has also seen an increase of domestic violence, with 18 women killed since the beginning of the year.
The province announced last week it will implement an electronic bracelet system to protect domestic violence victims. When the two devices are within a certain distance, in what's called a "pre-alert" zone, the police and the offender are notified.
"Shelter workers welcome the move, saying that it's a tool that has to be used, but in concert with other measures," said Gagné, "because it takes the onus off the potential victim and places it on the shoulder of the potential abuser to change."
Gagné invited members to go to the website of the Fédération des maisons d'hébergement pour femmes (Federation of Women's Shelters) to participate in the campaign "Il s'engage pour elle, et toi? ("He's Standing Up for Women. Are You?") by signing the manifesto and sharing the campaign on social media.
Unifor B.C. Regional Council Chair Leanne Marsh noted in Canada, Indigenous women are killed at nearly seven times the rate of non-Indigenous women and encouraged people to support the Native Women's Association's campaign, called, #AnswerTheCalls.
Unifor Secretary-Treasurer Lana Payne said violence against women is rooted in systems that allow inequality to thrive and correlates with social, economic and cultural imbalances between genders. To fight back, she challenged all union members to stand up at the bargaining table every single day.
"We make change every time we bargain pay equity. We make a difference. Every time challenge workplace sexism and racism, we make a difference," she said.
"Every time we use our influence at a bargaining table to advance equality and to change, not merely the conditions of work, but the conditions of the world – we make a difference."
To read Unifor's statement on December 6 and share our new poster, visit the campaign page.
If you or someone you know needs help from domestic violence, call the National Domestic Violence Hotline at 1-800-799-SAFE (7233) or text "START" to 88788.