Main Image
Image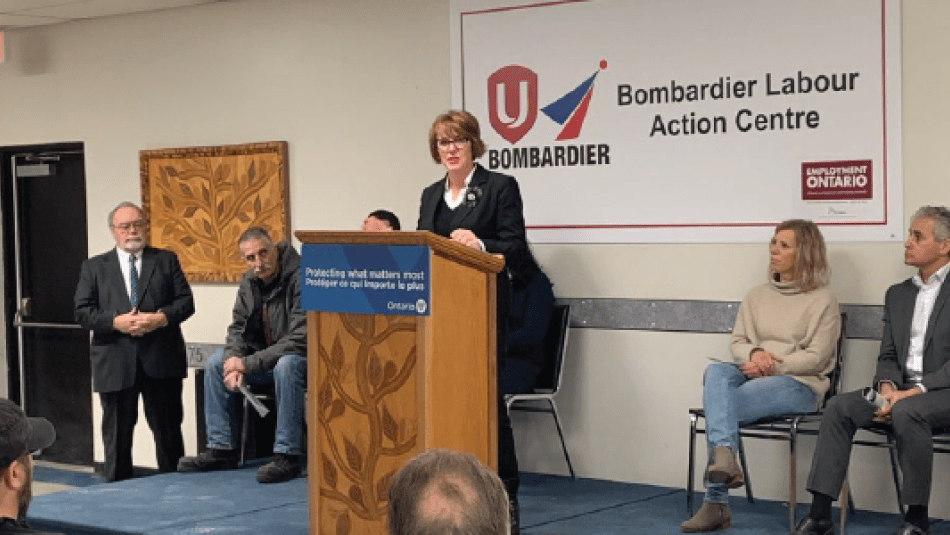 Share
Three Labour Action Centres in Ontario will continue providing support for laid off workers until 2022 after Unifor successfully pushed the Ontario government to extend their operations.
Two Action Centres were opened in Oshawa in early 2020 to support Unifor Local 222 and 1090 members working at the General Motors plant and related parts suppliers affected by the 2019 assembly line closure that has since reopened. The Action Centre in Thunder Bay was opened in late 2019. It supports both Unifor Local 1075 members affected by layoffs at the Bombardier (now Alstom) plant as well as other laid off workers in the area.
"It is heartening to know that Unifor members across the province will continue to benefit from the important work our peer support workers do every day," said Jerry Dias, Unifor National President. "The Ontario government's support for our Action Centres comes at a critical time when our members need it most."
Each Action Centre provides peer-led support for un- and underemployed Unifor members including organizing events such as job fairs, but also provide direct support to members seeking new employment, retraining, and skills upgrading.
The Thunder Bay Action Centre assists approximately 500 Unifor members laid off at the Alstom plant. Unifor's concerted lobbying efforts to secure new orders of streetcars for the City of Toronto and bilevel rail vehicles from the province led to an order of 60 new streetcars and a pledge from Premier Doug Ford to order for more orders in the future. Though this led to some recall of Unifor members, the pandemic continues to harm the industry's supply chain. The union succeeded in making the case for an extension of the Action Centre's operating agreement until March 23, 2022.
The General Motors (GM) Action Centre was tasked with assisting 2,773 Local 222 members at the Oshawa plant who were directly affected by the assembly line's closure. After successful negotiations with GM in 2020, the plant will be home to two shifts of 700 to 800 Unifor members each with plans to add a third shift in the future. As the plant continues its rapid transition to a possible three-shift operation, the union successfully extended the GM Action Centre's operations until January 1, 2022.
After the closure of the GM Oshawa assembly line, approximately 1,670 Unifor Local 222 and 1070 members in the independent auto parts supplier (IPS) sector lost their jobs. With the return of truck production to the Oshawa Assembly Complex, the IPS Action Centre has been directly involved with the re-hiring process and received an extension by the Ontario government to continue that support until March 31, 2022.