Main Image
Image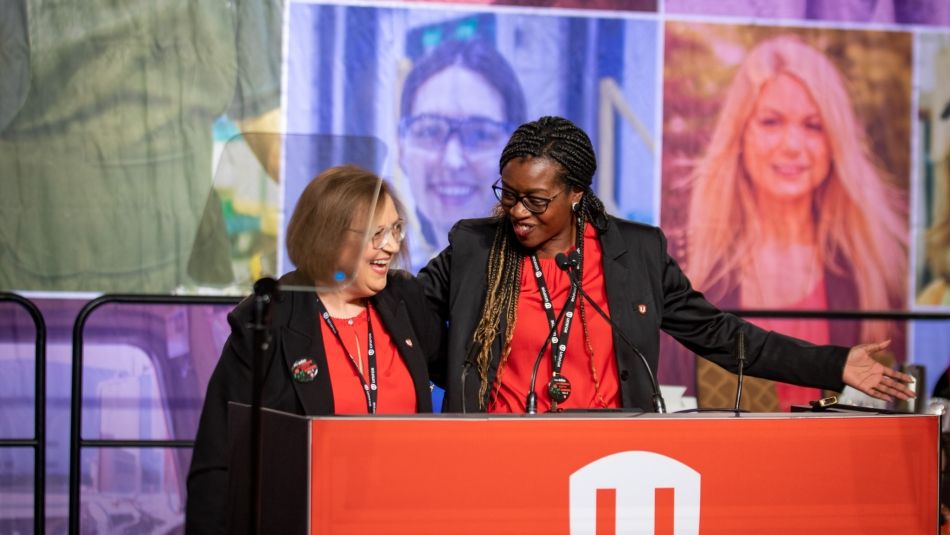 Share
As the Clash's Joe Strummer once sang, we "fought the law."
Except this time, the law didn't win.
Delegates gathered Dec. 2 to 3, 2022 at the Sheraton Hotel in Toronto for the first in-person Unifor Ontario Regional Council (ORC) since the pandemic began.
It was an opportunity to celebrate victories such as the recent Superior Court ruling that Premier Doug Ford's Bill 124 struck down as unconstitutional and how Unifor mobilized quickly and effectively with other unions to support CUPE education workers, including planning for a general strike when Ford used the notwithstanding clause.
"[The government] brought out the heaviest hammer, a sledgehammer – a special law that not only imposed a contract, but made use of the infamous notwithstanding clause to remove the right to strike and to collective bargaining," said Unifor National President Lana Payne in her address on the first day of the conference.
"The law also included fines designed to crush the union. A move that we knew would be used again and again to deny workers their rights in other provinces and in the private sector – if it was allowed to stand. We knew we could not allow it to stand."
Payne said while it's true she made phone calls and sent texts to sound the alarm with ministers and Ford's staff, it was through a collective solidarity of Unifor leadership and members that turned the wheels.
Part of that included the union's National Executive Board unanimously supporting the call for a general strike in Ontario, the elected Auto and IPS Council— representing 40,000 major manufacturing workers— sending a letter to Ford that they were prepared to grind to halt, creating a huge blow to the economy as workers across the province used their voices to protest.
"The Ontario government thought that they could get away with it," said Payne. "And within days, we reminded them that without our brain and muscle not a single wheel can turn. Friends, I remind you when we come together, when we organize, there is no greater power anywhere beneath the sun."
In her speech, Payne said, especially with inflation and an affordability crisis, there's a momentum of workers to fight back against profiteering companies, citing examples of strong bargaining gains from members who are cleaners, casino workers, warehouse workers and working in other sectors. 
She also touched on the efforts the union did in Ottawa during the recent national lobby week, including asking the government to reform Employment Insurance, pushing for federal anti-scab legislation and on live TV, calling out the Bank of Canada for waging a class war.
"The Bank of Canada needs to understand that it is not acceptable to throw people out of work to meet some arbitrary inflationary target," said Payne. "And make no mistake our union will not stand on the sidelines while workers are thrown to the wolves."
Interim Ontario Regional Council Chairperson Shinade Allder framed the goals of the council meeting, "Over the next few days, we will chart a path forward for the next year – as we continue to deal with the hardship of multiple interest rate hikes and record inflation. We will debate resolutions and recommendations to address the challenges that we know our members will face, to continue to fight on behalf of all working people."  
In her speech earlier in the day, Ontario Regional Director Naureen Rizvi said while the Ontario Superior Court struck down Bill 124 – the wage cap legislation for health care workers – as unconstitutional in late November, the Ford government is still dangerous.
"We can't stop for one second to enjoy this and celebrate. We do it while we press forward," she reminded the crowd. "Because we know their intention is to appeal the decision. We know our work is far from done. As with any written decision, there is always an uphill battle to get to the part of where you right the wrong."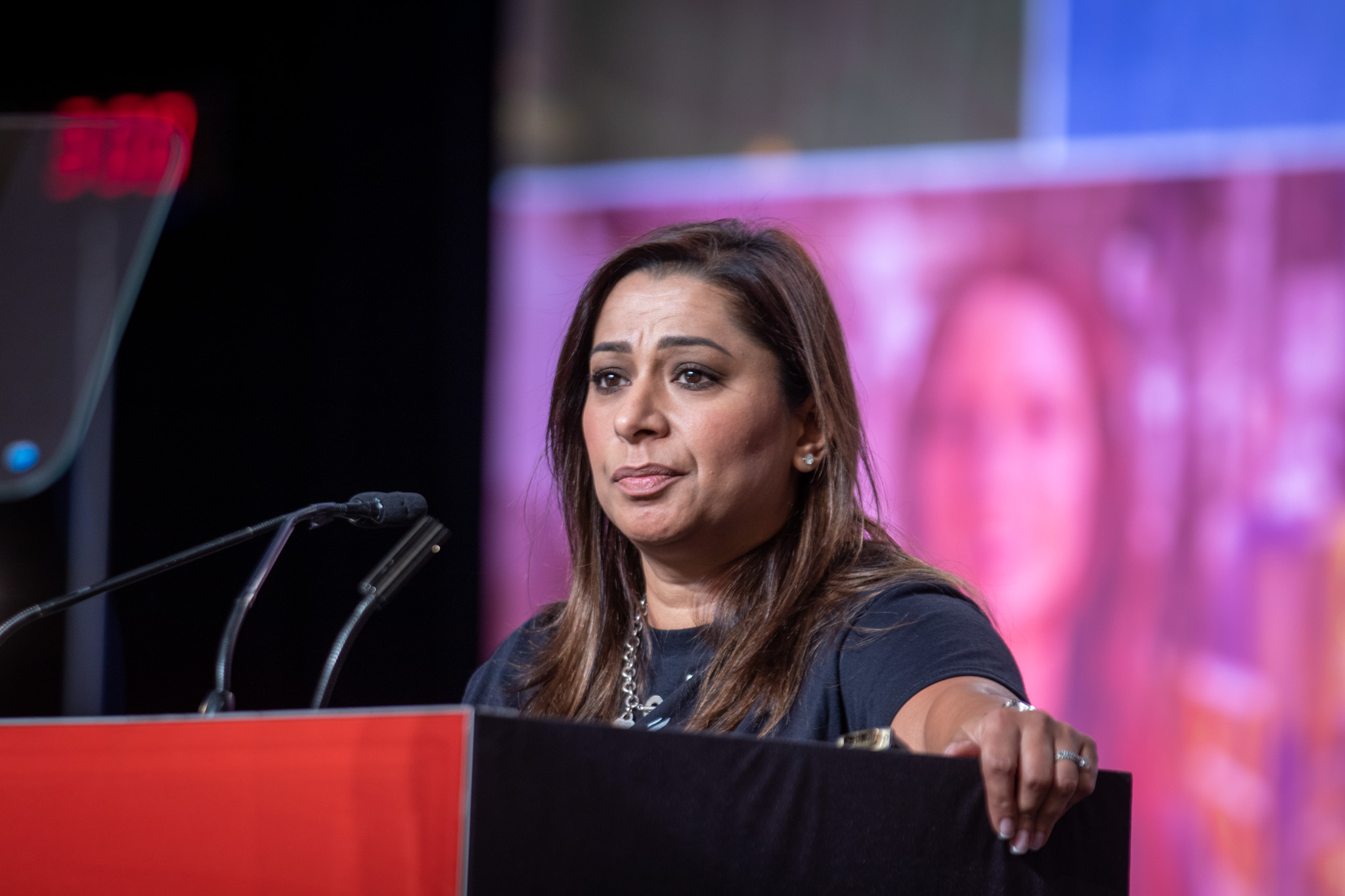 Rizvi, wearing a shirt with "woman, life and movement" written in Persian, also reminded delegates that December 6 – the National Day of Remembrance and Action on Violence Against Women – is approaching.
She told a difficult story where she was impacted by gender-based violence. Her girlfriend married her cousin, had two kids, but they eventually divorced and she started dating another man. Her new boyfriend began making her feel unsafe and becoming violent. She called police repeatedly and eventually left with her daughters, even taking out a restraining order (peace bond). He went to jail for violating it, she said.
"The day he got out, within hours, he figured out where her apartment is, the girls were at school and my cousin's two little girls grew up without a mother," said Rizvi, tearing up.
"The feeling of helplessness that she had for her own security still haunts me to this day. There are so many things wrong with our system that don't protect women, which allow offenders back out to violate again."
Later that morning, Shree Paradkar, Toronto Star columnist, hosted a panel discussion and spoke at length about the abuse journalists face on the job.
Unifor Women's Director Tracey Ramsey led a presentation on reproductive justice following the overturning of Roe v. Wade in the U.S. and its impact on Canadians.
As a call to action, she encouraged delegates to go to their local pharmacies and ask if the store carries an abortion drug, mifegymiso, which is accessible to women and Trans people. And if not, why not?
"The rights of women over their own bodies should never be for debate," she said. "This is not just about our bodies. This is about controlling women and Trans people and it's about making sure we're not free to live our lives. We cannot stand by."
Human Rights Director Christine Maclin said racism exists on many levels, but many are uncomfortable speaking and addressing racial justice. But it can start at the workplace by creating Racial Justice Advocates in contract language. To date, there are 198 Unifor advocates in workplaces across Canada, including most recently, Local 2002 representing Air Canada Jazz workers.
"We must do what we can, when we can," said Maclin. "What are you willing to offer? And you need to do what you can, when you can, for racial justice."
The ORC and Locals raised $25,000 towards the strike fund to help Local 462 representing about 90 foodservice workers at Durham College in Oshawa who have been on the picket line since Nov. 28 from their employer, Compass Group Canada.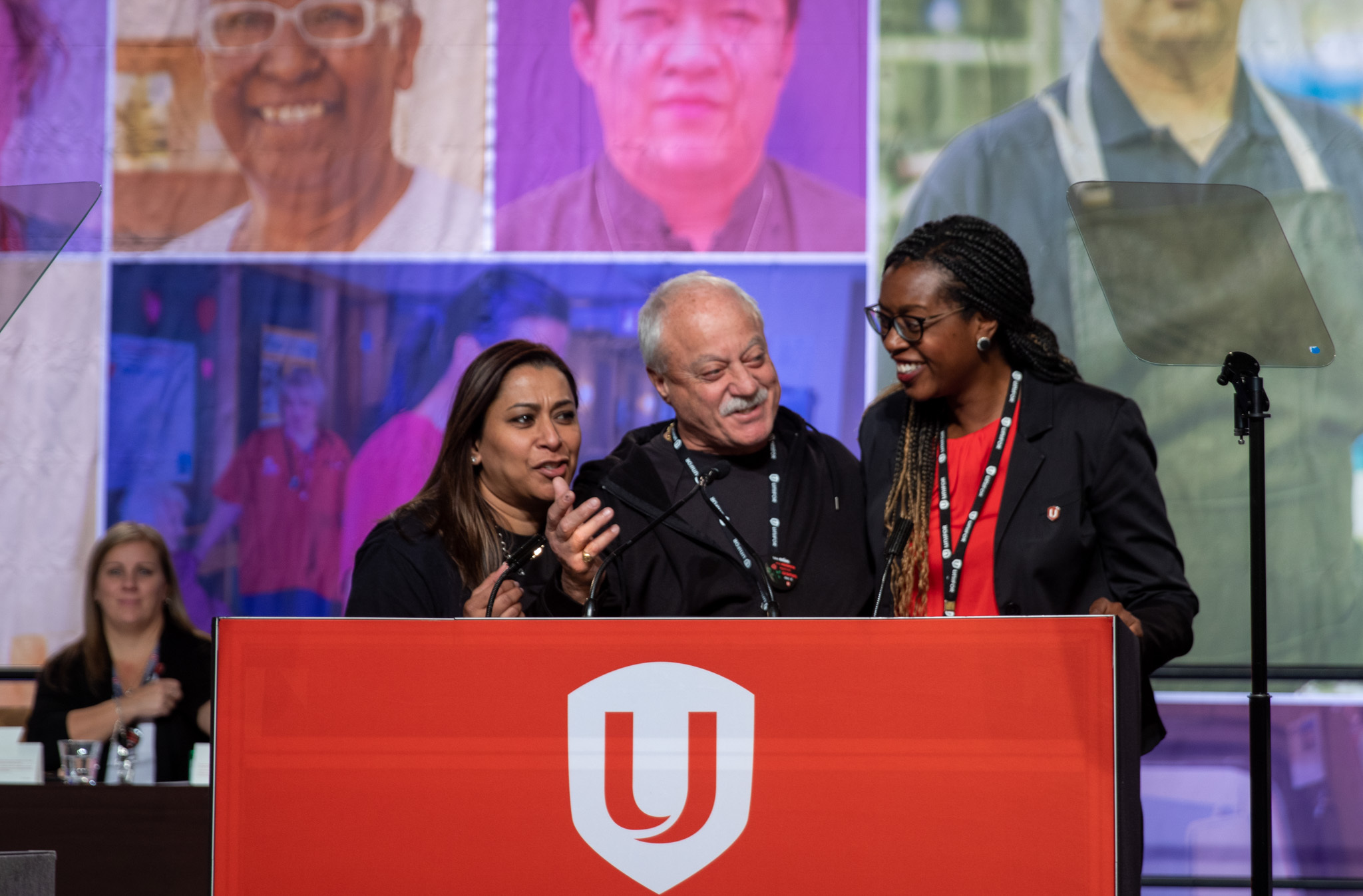 ORC DAY 2
On the second day of ORC, the council honoured retiring ORC Secretary-Treasurer Tullio DiPonti for his work with the union over the past nine years.
"No matter where I go, when I retire, I'm always going to be here," he said, to bouts of applause. "Don't worry. I'll hang around. I know, whatever happens, we're all going to work together. We fight in our family, but at the end of the day, we're a family and we stick together."
In his address, National Secretary-Treasurer Len Poirier reviewed some of the structure changes of the union since the Convention in the summer, re-emphasizing that transparency and accountability remains front-and-centre and a focus on more servicing towards locals.
"This means ensuring information on the current situation of our union is available to members, while ensuring the union is in a strong position to take on its many fights," he said.
"Through this process, members can make informed decisions about future directions, campaigns and projects of the union."
Next year, Unifor will be celebrating its 10th anniversary, Poirier noted.
"In 2013, when Unifor was born we were all very excited about the future of the labour movement and our place within it," he said. "We do have many great accomplishments in this short time but I have to say I am more excited about what is yet to come."
The council held elections and Shinade Allder (Local 6005) was re-elected ORC Chairperson, Brian Chapman (Local 27) elected Vice-Chair and Balkar Bains (Local 4457) as Secretary-Treasurer.
Eight members at large were elected, including Cindy Hasler (Local 504), Dana-Anne James (Local 6006), Debbie Montgomery (Local 4268), Marc Brennan (Local 707), Jordan Lennox (Local 199), Corey Dalton (Local 1090), Alicia Rivera (Local 1106) and Carleen Finch (Local 87-M).
"It means so much that members of the BIWOC community are elected into these positions," said Allder. "Representation matters."
Keynote speaker Dr. Adil Shamji, an emergency physician at Toronto's Michael Garron Hospital and the Ontario Liberal Critic for health care, blasted the Ford government for putting privatization of the health care system before patients.
Shamji cites extended wait times, burdening workloads, Covid-19-related outbreaks in long-term care homes, resulting in more deaths, as some of the impacts resulting from for-profit clinics, which puts the public system on life support.
"The system is crumbling because this government is undermining public health care and allowing for-profit interests to creep in," said Shamji.
Later that afternoon, a group of members stood in front of the crowd, donning black cloaks and carrying cardboard tombstones with inscriptions, "RIP mental health support," "RIP public education" and "RIP good paying Canadian jobs" among others, a stark representation of the state of social services in Ontario.
The union's Research Director Angelo DiCaro spoke about Unifor's Auto Policy that was launched at Unifor's Convention in August, and expanded on where Canada stands with electric vehicles (EVs).
"Currently, the U.S. sells about 600,000 EVs a year," he said. "In the next seven years, it's expected that number will grow to nine to 10 million vehicles a year, which is about 15% of their market, which is extraordinary."
By 2030, globally, automakers are going to pour into $1.2 trillion from internal combustion energy engines to new battery electric vehicle production.
With that, DiCaro outlined five core pillars to make EVs successful in Canada – including how to grow the domestic industry and managing the transition to net zero – along with 29 recommendations in the Unifor Auto Policy that will hold the government to account in articulating an industrial strategy, total supply chain investment focus and supporting Canadian workers, including the 40,000 Unifor members in the auto sector.
"We can see investment by 2030 top close to $50 billion of new auto investments in this country, supporting 250,000 on the EV supply chain, which is extraordinary, given the downward trajectory of jobs in the past few years," said DiCaro.
ORC Chair Shinade Allder thanked delegates and ended ORC with a vow to continue to fight on behalf of Ontario workers.