Image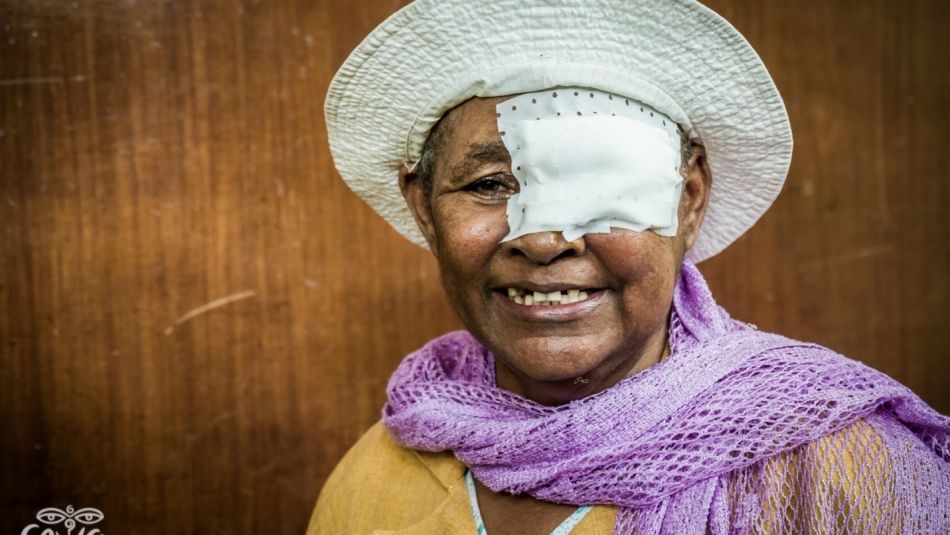 Did You Know?
39 million people worldwide are blind

Two thirds are women and girls

1.4 million are children

90% of blind people live in developing countries, struggling for life's most basic needs
But 80% of visual impairment is avoidable by prevention or treatment
The main reasons for visual impairment in developing countries are lack of available eye care services; lack of awareness of treatment options; travel and geographic barriers; fear and misconception; and financial and social barriers
Over half of the world's blindness is caused by cataracts, a treatable eye problem. Just $50 and a 15-minute surgery can restore a person's eyesight
With surgery, glasses, and medicine, 31 million people would be able to see today
Seva Canada's mission is to restore sight and prevent blindness in the developing world. Their vision is a world in which no one is needlessly blind or visually impaired. With this as their driving force, Seva provides sight-restoring eye surgeries, glasses for refractive errors, and medicine to prevent blindness and treat various eye diseases. In addition, they provide local individuals with access to tools and training, allowing them to provide eye care for their own communities. In doing so, Seva provides long-term vision care solutions to treat and prevent blindness for generations to come. 
Unifor's Partnership with Seva Canada  
In Madagascar, the vast majority of people live on less than $2 per day, most having no access to quality health care. In the developing world, blindness makes a life of independence impossible. The hardship impacts not just individuals, but whole families and entire communities.
Madagascar, with 9.5 million children under the age of 14, has one pediatric ophthalmologist. In comparison, the province of British Columbia alone has 680,000 children under 14 and seven pediatric ophthalmologists. Due to nutritional, genetic, and environmental influences, a child born in a low-income country like Madagascar is significantly more likely to be born with or develop cataracts before the age of 16 than a child born in Canada. This makes cataracts the leading cause of childhood blindness in the world. Blindness in childhood leads to a lifetime of low self-esteem, low educational attainment, and increased dependency. Driving families deeper into poverty and insecurity, it affects communities for generations. 
In 2014, Unifor partnered with Seva on a three year long project across various villages in Madagascar. Based on the Aravind Eye Care System model, this program provides high-quality, affordable, community-oriented eye care within a sustainable financial structure. Fees from the 1/3 of patients who can afford to pay subsidize services for the 2/3 of patients who are served free of charge. Funding helps to cover training local people in clinical skills and program management, conducting research to identify the people in greatest need; the initial costs of purchasing surgical and diagnostic equipment; and the training and mentoring of medical staff and community eye workers needed to facilitate an effective program.
Another central component of this project is the outreach to rural communities, where many families have no understanding of eye disease and don't know that many eye conditions are treatable. Funding has helped conduct research to identify the people in greatest need. This allows Seva to design intervention programs that reach as many people as possible, particularly in underserved areas.
Seva has worked diligently to continue expanding their reach and changing the lives of Malagasy people. Unifor is proud to support the work that Seva does to achieve long-term, sustainable results for both children and adults experiencing blindness and visual impairment in Madagascar – and in other countries across the globe. 
The story of Ranaivo
Unifor's support of Seva Canada's eye care program is helping to change lives for Malagasy people like Ranaivo.
The world started getting dark and blurry for Ranaivo when he was just a young man, and – as a result of his deteriorating eyesight – it became more difficult for him to work as a farmer. By the age of 38 he was completely blind, leaving him dependent on others for both his safety and wellbeing. With six children to support, he and his wife were forced to rely on his 75-year-old father to feed their family, placing an enormous burden and stress on the family.
After visiting Seva Canada's free eye screening service in his village, Ranaivo was diagnosed with cataracts in both eyes. Seven days later, he received sight-restoring cataract surgery. He has since returned to his life as a farmer and is able to adequately support his family.
To date, Seva has restored sight for more than 4 million of the world's most marginalized people and has provided comprehensive eye care services to millions more. Their continuous efforts have strengthened the capacity of eye care units in many developing countries, created strategies to reduce gender inequality, and implemented programs and policies for culturally relevant and meaningful delivery of appropriate eye care. The work that Seva does results in much more than the treatment of visual impairment; when more people are able to lead healthy, productive lives, entire communities have a chance at a better future.
Thank you, Seva for all you do to achieve a world where people can achieve their potential with the power of sight.