Main Image
Image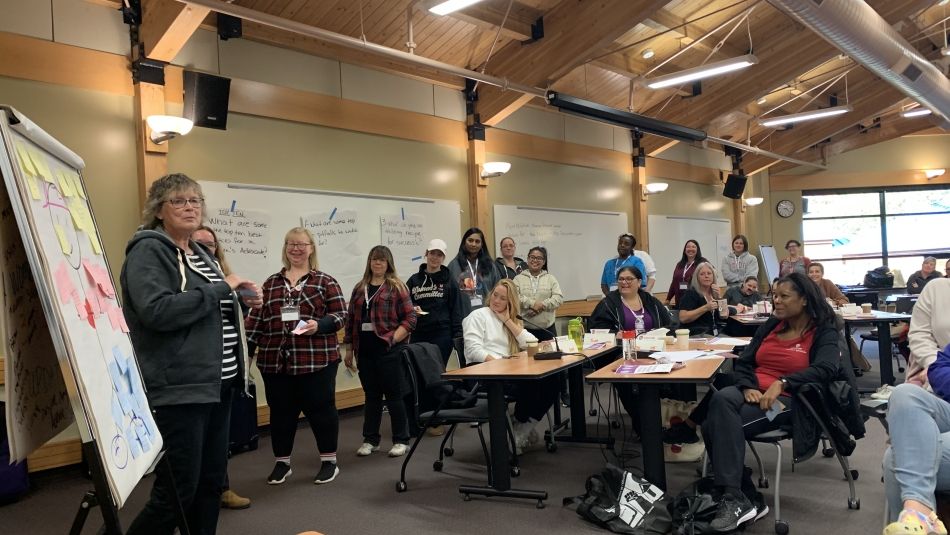 Share
During the week of October 17 through 21, 2022, the Unifor Family Education Centre hosted four courses for women: Women's Activist, Collective Bargaining, Women's Advocate 40-Hour Basic Training, and the first 3-Day Women's Advocate Update Course held in three years.
"Women's Week is a skill-building, sisterhood-strengthening, leadership-supporting week where we build each other up and prepare more women to deepen their involvement in their union," said Tracey Ramsey, Director of the Women's Department. "After all, women represent a third of the Unifor membership, but we still see an under-representation of women in leadership positions in Local unions and in politics in general."
There were 120 women at the centre, nearly half of whom were at the Port Elgin, Ontario facility for the first time.
"Seeing women successfully make gains at the mock bargaining session during the collective bargaining course builds such hope," said Ramsey. "More women at the bargaining table means contracts that reflect the needs of women and that improves working conditions for all members."
Eva Guta, long-time Unifor and community activist and former Women's Advocate at Lear Corporation Whitby, joined the Women's Advocate 40-hour basic training to present on suicide awareness.
"We are so thankful for activists like Eva who approach topics like suicide awareness and prevention with empathy and understanding and help us look out for each other's mental health," said Ramsey.
A Women in Leadership panel discussion featured Carrie Smith, Vice President of Local 584, Yolanda Cornwall, Women's Advocate for Local 2002, and Karen Berry, President of the brand new Local 531 at WestJet that signed its first collective agreement in July 2022.
"It's important to demystify leadership and to open doors for different perspectives because we all have so much to offer," said Ramsey. "Unifor has many dynamic women leaders and that is because we support each other."
Unifor offers many courses through the Education Department to support leadership development, train Women's Advocates, and build better, more inclusive workplaces and communities.
Are you interested in learning more? Reach out to Tracey Ramsey and the Women's Department at @email and follow on social media: