Main Image
Image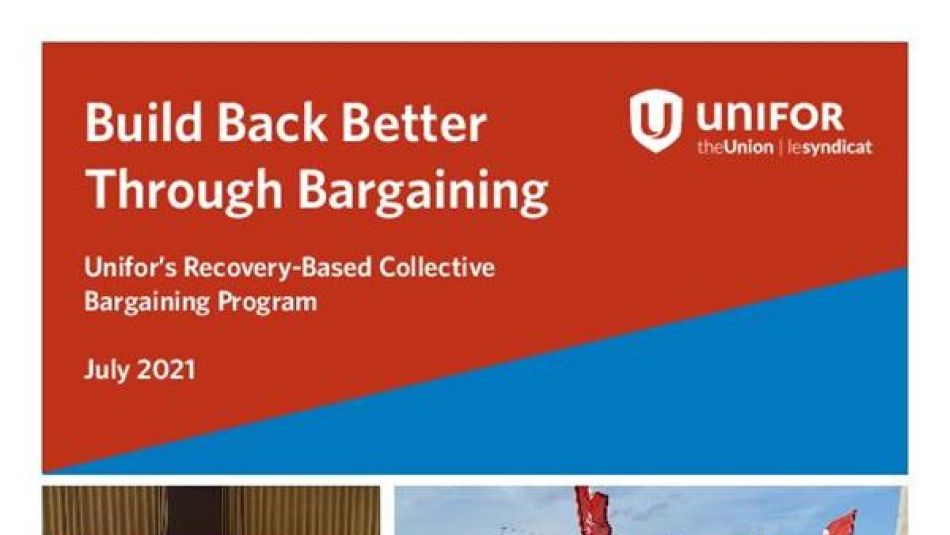 Share
Unifor is launching an ambitious new national 'Recovery-Based Bargaining Program' for staff and local bargaining committees that outlines new priority proposals to consider as you prepare for upcoming negotiations.
"The pandemic forced us to think broader about what contract protections workers need and how we build back better to build a more fair, resilient and inclusive economy," said Jerry Dias, Unifor National President.
This program is a product of months of work lead by Shane Wark and Olivier Carrière, staff and members of the National Executive Board. The intent of this program is to provide information, guidance and specific recommendations on potential bargaining proposals. We recognize each workplace has its own unique set of challenges. Therefore, bargaining priorities will continue to be determined by Unifor members in coordination with their respective bargaining committees.
"Sector wide shutdowns exposed the urgent need for large-scale wage subsidies, income support programs, and access to paid vaccination time, and our goal is to use our collective power to strengthen collective agreements and incorporate many of the lessons learned during this extraordinary time," said Dias.
Over the coming months, the bargaining steering committee will build on this resource by including additional examples of sample language – so check the website regularly. 
You can download a full copy of the program, along with associated resources, at this website, where you can also download a printer friendly, text only version here and watch a video about it here.