Main Image
Image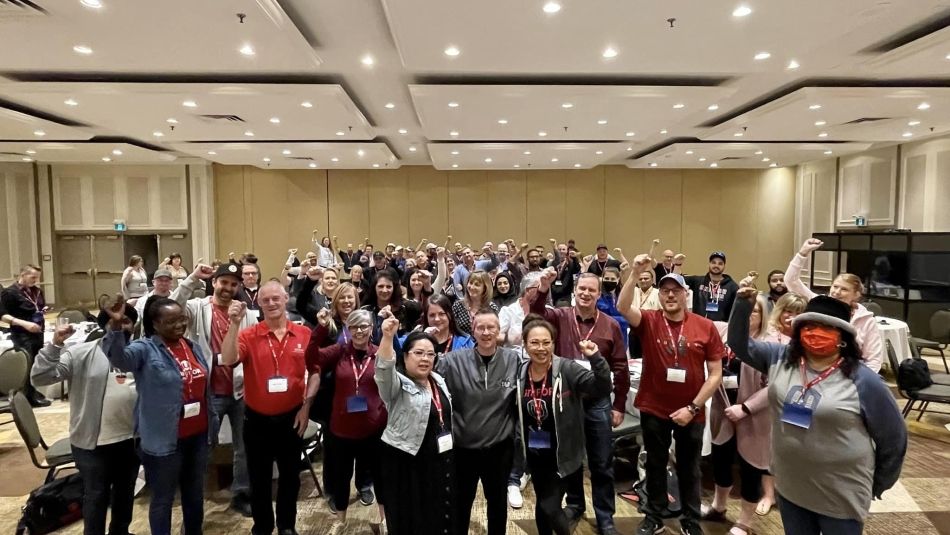 Share
Pandemic recovery was front-and-centre at Unifor's Hotel and Gaming Conference in Toronto – the first one held since Covid shut down these industries in 2020.
Members converged at the Delta Hotels Toronto Airport and Conference Centre ballroom on May 12 and 13 to share their challenges during Covid, get analysis and forecasts for gaming and hospitality, discuss bargaining strategies, and connect with other members.
"It's about bringing our committees back together," said Dave Reston, Unifor's new Director of Hospitality and Gaming. "It's allowing us an opportunity to talk about the issues we've gone through and how we're going to move forward with both these sectors."
In her address on Saturday, Unifor National President Lana Payne said many employers have taken advantage of the pandemic to implement new cost-cutting measures, closing outlets and restaurants, cutting back services and increasing workloads.
"While we should all still be concerned about the public health implications of the pandemic, as far as Hospitality and Gaming goes, we should be looking ahead – and not in the rearview mirror," said Payne.
Payne also noted to delegates that across Canada, fewer than one in five hotel workers is unionized, and that the union is working to improve working conditions and protections of gaming and hospitality workers.
"Employers are complaining about a 'labour shortage' when what we're really seeing is a 'good jobs shortage,'" she said.
Greg Burton, Assistant to the National Officers, who oversees the Hospitality Sector, said in his speech that some of the concerns and main issues emerging from the sector include developing specific plans in the future to increase protections for hospitality workers, fighting for fair wages and increasing staff levels.
"We have to continue to confront the employers' 'do more with less' strategy," said Burton. "That means continue to develop our workload language – especially for room attendants and continuing to fight for a decrease in room credits."
Burton said by coordinating and working together more closely from hotel to hotel, the union can build on each other's successes and share best practices, especially where there are common employers.
"I strongly believe that will help us to improve the quality of life for our members as we move forward," he said.
Tim Mitchell, Assistant to the National Officers overseeing the Gaming sector, said one of the biggest concerns in the industry right now is the onslaught of online gaming.
"Brick and mortar facilities pay 50% of their revenue to the government, whereas online gaming only pays 20% of their revenue that brick-and-mortar can't compete with," he said.
"That's a pretty significant handicap for our members that facilitate gaming. People are not coming into casinos, because they can do it online. There's an inequity."
Mitchell said the solutions will require political action, set out by governments to even out the playing field.
Delegates also heard from the union's Organizing department about gains made in the sectors, ongoing and future organizing campaigns and how to organize union drives in hospitality workplaces within the sector.
Members from each industry went into break-out groups, so members could speak more in-depth about their unique challenges.
Marc Hollin, Unifor researcher, gave two separate forecasts of the gaming and hospitality sectors.
He said the key takeaways are that the hospitality and gaming sector was the first hit, the hardest hit and took the longest to see a recovery.
Gaming has done a great job of building a strong sector standard and growing with the industry, Hollin said, however, the union still has work ahead to develop a plan to address the challenge of online gaming.
Post-pandemic recovery is happening faster than predicted, but the recovery is uneven, made more difficult with continuing labour shortages, technological change impacting gratuities and increasing worker monitoring, scheduling pressures and short-term rentals, such as Airbnb, negatively impacting hotels, which cannot provide room supply to attract major cities to host large events, he said.
Hospitality workers continue to face crushing workloads. A housekeeper changes body position every three seconds while cleaning a room, causing repetitive strain. Room attendants experience a 40% higher injury rate than all service sector workers in Canada, said Hollin.
Roughly 70% to 90% of workers in the hospitality sector have experienced some form of harassment at work, he said, and at the height of the pandemic, these rates were exacerbated.
Delegates also supported Unifor workers on the picket line at a Mercedes-Benz location in Thornhill, Ont. and Public Service Alliance of Canada workers on strike at Woodbine Casino in Etobicoke, Ont.
See photos from the conference.