Main Image
Image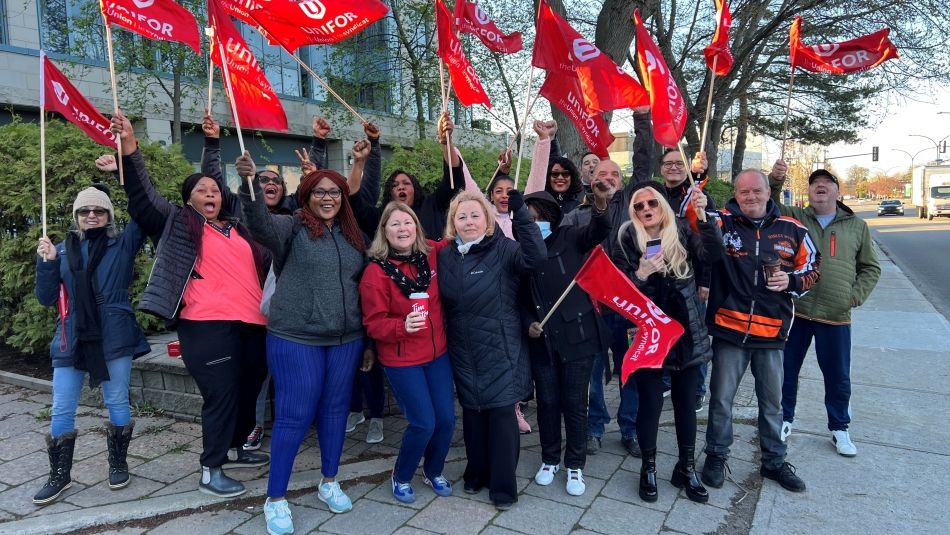 Share
More than 60 Unifor activists rallied on May 5 in front of the Résidences Floralies Lachine in Lachine, Que. in support of the workers at the seniors' residence.
Unifor learned recently that the long-term care home was forcing residents to relocate, after seven months of direct management by the Centre Intégré Universitaire de Santé et de Services Sociaux (CIUSSS) West Island of Montreal.
Because of the relocation, the company announced there will be layoffs impacting the 130 Floralies Lachine employees.
For Unifor members who work at the Lachine residence, this relocation comes just a few months after the ratification of their new collective agreement, which included retroactive salary increases. Since the ratification of the new work contract, the CIUSSS and the provisional administration have refused to sign the agreement, depriving workers of improved working conditions.
"Suddenly, the workers are no longer guardian angels for the residents, and they are being thrown away," said Nathalie Lacroix, the Vice-President of Unifor Local 8284. "These neglected and abandoned workers by the CIUSSS and the owners of Floralies were the ones who took care of the residents during the pandemic."
The CIUSS de l'Ouest-de-l'Île-de-Montréal is currently unable to confirm the number of layoffs or when the layoffs would take place.
"This is highly unacceptable," says Daniel Cloutier, Unifor's Quebec Director. "The CIUSS seems to be in charge only when it suits them. The Legault government praised these workers during the pandemic, and rightly so, but today, they refuse to sign the collective agreement under false pretenses and at the same time hold members' salary increases hostage."
Cloutier said the CIUSS is adding "insult to injury" by putting these members under a sword of Damocles, without offering any details or explanations.
Unifor stands by its members and will take all necessary actions fight the relocation and force the government to treat these workers with respect and dignity.