Main Image
Image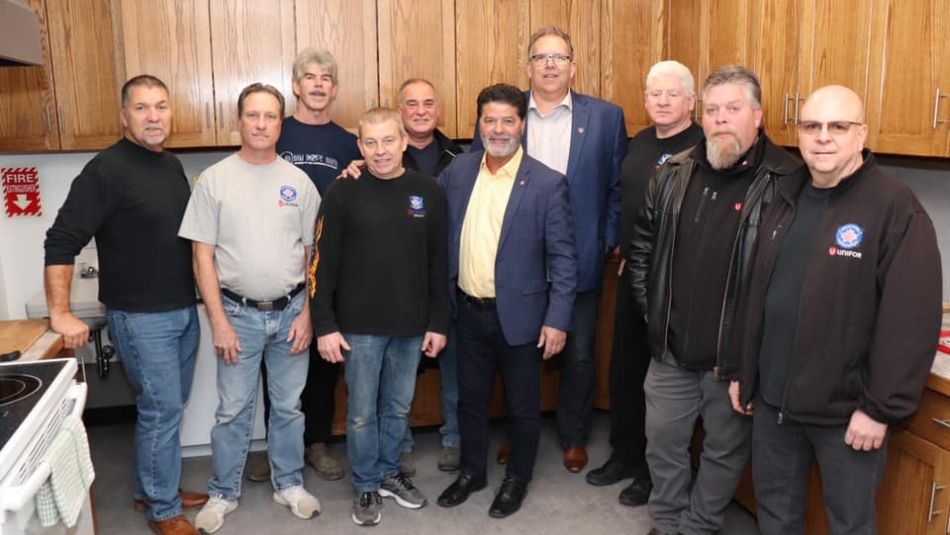 Share
Unifor skilled trades workers have generously donated their time and skill to restore a century-old kitchen at the Hope Haven shelter for homeless men in Chatham, Ontario.
"The team of Unifor tradespeople stripped the kitchen down to the studs and fully rebuilt it in just ten days," said National President Jerry Dias who was on hand for the official ribbon cutting ceremony on February 21. "It's important to our members to give back to the community and for these volunteers it wasn't about just rebuilding a kitchen it's about helping the men who rely on Hope Haven to rebuild their lives."
Hope Haven offers a safe shelter to men who find themselves homeless for a variety of reasons, including addiction, job loss, and mental health issues. The shelter works to provide the necessary tools, resources, and support to gain stable living conditions in an atmosphere of dignity, integrity, and respect.
Bill Webster, the Unifor skilled trades representative at Autoliv in Tilbury, said he found out about the dire condition of the old kitchen after his wife Shelley started to provide meals at the shelter.
 "A lot of unfortunate circumstances brought people into this place, so we wanted to help them out," said Webster. "Like I've always said to people, it could be us. We could be the next ones using this shelter because if you lose your job, in three months you could lose your home."
The project to restore the kitchen was first presented to the Windsor Essex County Skilled Trades Council. Unifor Local 444 President Dave Cassidy, who also serves as the Council President, then sought project approval from Unifor National.
"Giving is not just about donating, it's about making a difference," said Cassidy. "It's important to help restore the dignity of those who are struggling."
Before the team began work in the kitchen, Bruce Pickering, a Local 444 carpenter from Windsor, took measurements and then worked on the cupboards in his garage. Funding for the $50,000 kitchen restoration was donated by the Unifor Social Justice Fund.
Hope Haven General Manager Wanda Bell said she is grateful for the transformation and is blessed to be surrounded by so many kind donors and volunteers.
"It might generate more volunteers as well, or just more awareness," she said. "The guys here are real people just going through hard times," said Bell.
At the ribbon-cutting ceremony, Dias further announced that Unifor will also fund renovations to the shelter's common and sleeping areas with 14 new beds, new furniture, and fresh paint.
"The men that rely on this facility deserve to sleep in a decent bed. They deserve to go to bed at night feeling respected," said Dias.
Hope Have Board member Rick Bernard welcomed the announcement of additional renovations.
"To hear Jerry say what they're going to do as far as the living space just again exceeds what we already expected," Bernard said. "It's just an amazing, amazing gesture all the way around."
Before                                                                                After