Main Image
Image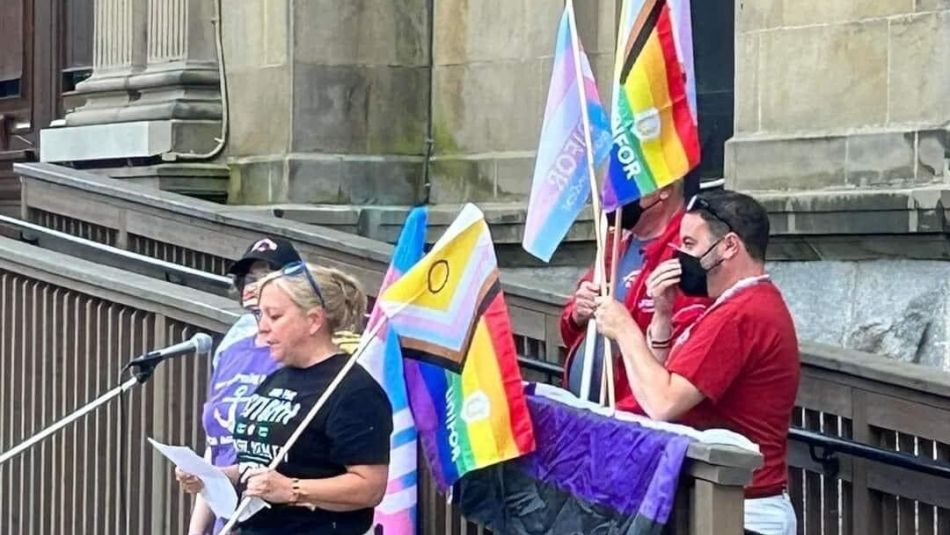 Share
Unifor members rallied to oppose changes to New Brunswick's Policy 713, the province's gender-identity policy in schools. Recent updates to the policy require teachers to obtain parental consent before using the chosen name and pronoun of a child under 16, forcing teachers to potentially 'out' students who aren't ready or willing to do so.
Atlantic Regional Director Jennifer Murray was in Fredericton on Sunday, Sept. 3 to support therally organized by Unifor Local 4504 member Nicki Lyons-MacFarlane, a standing committee member of the Atlantic Regional Council.
"This rally was filled with love and support, and you could see it on every colourful sign, on every determined face," said Murray. "The majority of people in this province disagree with Premier Higgs' changes to Policy 713 and Unifor stands proudly beside educational experts, child welfare specialists and those in the 2SLGBTQIA+ community who want the changes reversed."
Lyons-MacFarlane is determined to show New Brunswick for what it can be: welcoming, accepting, and a place where teachers and parents can put the needs of kids first. They said the support from the community has been both overwhelming and urgently necessary.
"2SLGBTQIA+ kids have to know they have a place in this world, because this will save lives," said Lyons-MacFarlane. "I'm proud of my union for speaking up, and for continuing to demand that Higgs reverse the changes to Policy 713. We won't be quiet, and we aren't backing down."
Write or call your MLA now to support Policy 713
Murray spoke to the crowd about the manufactured "parent complaints" and how Higgs' tactics are now being parroted in places like Saskatchewan and Ontario.
"When conservatives like Higgs want to win an election or pass a new law under the radar, they will often do so under a veil of controversy by targeting a vulnerable group to drum up emotions, hoping we'll all be too angry and distracted to pay attention," said Murray. "But we're watching. And we're here to stop the targeting of vulnerable children as a political tactic, or because of disinformation. This has to stop."
New Brunswick Liberal leader Susan Holt, NDP member Jennifer Stairs, and NB Green Party staffer Addison Fach each spoke, and then teachers, parents, and youth who have been personally targeted by bullying and violence shared their experiences. Many spoke about coming out to their teachers and proudly named those who provided a safe space for them to use their preferred pronouns and accept them without judgement.
"The biggest message is that kids come first," said Murray. "Schools have to be safe for them and that's precisely what the original wording of Policy 713 would be effective in supporting. We aren't going to stop talking about this until the changes are reversed."
Read Jennifer Murray's June 8, 2023 letter to Premier Higgs about the changes to Policy 713.
Send a letter to Premier Higgs to demand the original wording of Policy 713 be upheld.