Main Image
Image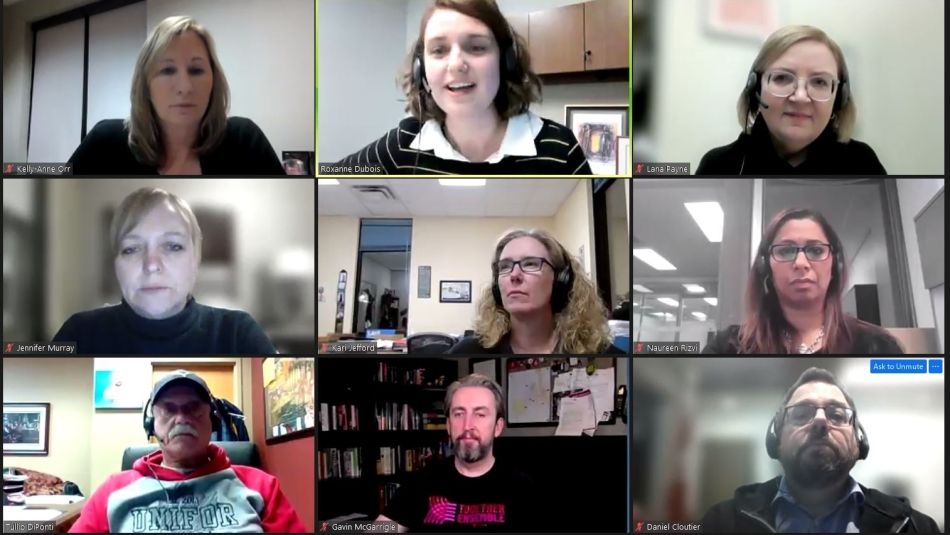 Share
An elderly man in Fredericton, N.B. died alone in a wheelchair. Another patient died while waiting for care after hours in a hospital emergency waiting room. A 76-year-old man suffered a heart attack waiting in the ER waiting room. An 88-year-old woman, who is blind, is put into a bed in a storage closet.
Then, an ambulance was called to a residence in Greater Moncton which was dispatched from Saint John, 1.5 hours away. The child's lungs collapsed and had to be rushed to the nearest children's hospital, the IWK in Halifax, N.S.
Unifor Atlantic Regional Director Jennifer Murray somberly described these tragic stories from the east coast, outlining how Canadian health care is beyond strained during a national virtual town hall on Canada's healthcare system in crisis on Jan. 12, 2023.
"Ambulances are sitting lined up at these hospitals with patients in their care for hours, as there are no beds for these people to be transferred to," Murray said. "Many lives have forever been impacted by this crisis. These are only but a few, but I think it highlights the crisis we face in health care. It's scary, it's sad, frustrating and bewildering."
Speaking to Unifor National leadership and Local Presidents, National President Lana Payne said Canada is eroding the current health care system from coast-to-coast and paving the way for profit and privatization, instead of protecting and expanding public services.
"We believe that health care jobs can be good jobs, but the system needs to be valued, and the work of health care workers has to be recognized," she said.
Payne noted that during a meeting with the federal Minister of Health Jean-Yves Duclos and members and leadership of Unifor, he mentioned the public could expect some news in long-term care in 2023.

"Our union has been calling for standards of care in long-term care for a very long time, and we'll be watching very closely to make sure that this actually happens, and we will continue to push to ensure that it does," she said, urging trade unionists to be vocal and mobilize on the health care issue with both federal and provincial governments.
"We know that with any crisis there will be those who want to take advantage of it, and that is what we're seeing right now in health care as they're pushed to privatize, and for-profit care grows greater every single day. We can't allow that to happen, and we're not going to allow it to happen. We will need everyone on board for the work ahead. It is that important."
Unifor Quebec Director Daniel Cloutier called health care in Quebec a "nightmare," with a 180% occupancy rate in emergency rooms, according to news reports this past fall.
"Waiting two days in the emergency room in Quebec is not uncommon," he said. "That's one of the reasons why there are so many waits in the ER, there's a work organization problem but there's also a staffing problem."
Cloutier said forced overtime for nurses in Quebec is the norm, forcing nurses to work double shifts.
"We may put $57 billion dollars a year into health care in this province, which is apparently the most important budgetary pole in Quebec, but there is an imbalance between the salaries we give to doctors and the working conditions we offer to doctors, who in Quebec are considered self-employed," he said.
"Doctors have the right to incorporate, for example, and they have taken the lion's share of the cake. Meanwhile, nurses are subcontracted and let's not forget about beneficiary attendants or maintenance workers in hospitals who barely earn minimum wage."
Naureen Rizvi, Unifor's Ontario Regional Director, said health care workers have gotten nothing but disrespect from the Doug Ford's government by attacking their rights and capping their wages through Bill 124.
"As a solution to needing more beds and space, the government introduced another controversial bill to free up hospital beds," said Rizvi. "They allowed hospitals to move all alternative level of care patients to long-term care facilities instead and charging them if they chose not to leave, charging them to stay in the hospital. This, is sadly, the state of Ontario."
Unifor Western Regional Director Gavin McGarrigle said in Saskatchewan, 37 different communities experienced either closures of their local hospital or service disruptions. And a provincial auditor's report last year said Saskatchewan lost 600 healthcare workers.
Meanwhile, right-wing Alberta Premier Daniel Smith is trying to get Albertans used to spending their own money for health care instead of funding the public system properly.
In rural B.C., emergency rooms at 13 hospitals closed for four months in 2022, leaving residents in these communities "lost for more than 120 days of access to their local ER. This is due to staff shortages, waves of sick leaves and more lasting staff retention issues," said McGarrigle.
McGarrigle, citing a report, said while B.C. health care workers overall reported three times the provincial average of violence-related injuries between 2017 and 2021, nearly 75% of paramedics reported experiencing acts of violence in the last year, with short staffing, mental health, substance, abuse, crisis, a lack of trauma informed care, an over-reliance on medication instead of staffing and long-term care, and the pandemic rage over vaccinations being the root causes.
"The sad thing is when workers are threatened like this, they're going to hit the breaking point, and often they go off work and simply don't return," he said. "It all boils down to a real feeling of disrespect from their government for health care workers. There is no question that we are in crisis in our health care system."
Kelly-Anne Orr, the Assistant to the National Officers, said she liaises with Unifor members working in the health care sector and hears the traumatic stories of increased stress and burnout from workers, who are now faced with massive backlogs and a shortage of colleagues.
"Some say health care workers are resilient," said Orr.
"They can manage working short. They can return to work after the dealing with the death in the waiting room. They can stay longer than 12 hours when there is no replacement coming. But they don't want to be resilient. They want safe staffing levels save patient care and safe work environments. Their current environment has taken away their ability to care for their patients, their residents, their clients, their families, and the way that they want to, and the way that they deserve to be cared for."
Tullio DiPonti, the National Executive Board representative for health care, said during the town hall that the present health care crisis is "life or death. We have to change this. This is not a health care worker problem, it's a national problem."
Kari Jefford, Unifor Health Care Council Chair, suggested there is an opportunity here and "we have to take the lead from our health care workers, our locals and our national leadership to work together to make a difference."
Unifor Local 8300 President Kathleen Brooks said doctors and other workers in health care are leaving in droves, creating family doctor shortages in every province and often with years-long waiting lists.
"Recently, we experienced endoscopy suites and operating rooms closing because specialty doctors are resigning," she said.
"In Prince Edward County, we've hard anesthetists resign their positions. I've also heard complaints of an anesthetist sedating a patient in one room and going next door to sedate a patient in another room and bouncing back and forth. Cutting these kinds of corners causes deaths."
In the coming weeks and months, the union will be working with its health care members to continue developing campaign actions to move provincial and federal governments closer to protecting and strengthening Canada's public health care system.
To find out more about Unifor's health priorities, head to: https://www.unifor.org/health.