Main Image
Image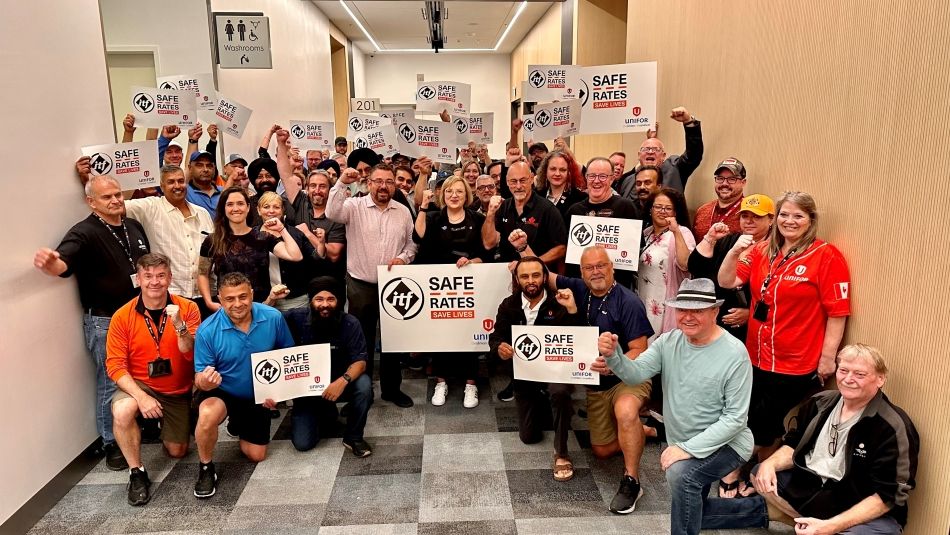 Share
TORONTO – Unifor is calling on the federal government and industry stakeholders to support changes to improve conditions for road transport drivers and make roads safer for all drivers.
"Low pay and unsafe conditions force drivers to take enormous risks in order to make ends meet. While this might make sense for the narrow interests of corporate shareholders, it is a disaster for everyone else," said Unifor National President Lana Payne.
"The government must make immediate changes to this area of law to protect workers as much as possible, and as soon as possible."
Today's call from Unifor echoes a larger international campaign of the International Transport Federation. Unifor members will be holding rallies on Sept. 22, 2023, at DHL locations in Brampton, Ottawa, Hamilton, Richmond, B.C., Winnipeg, Edmonton, Calgary, Montreal, and Quebec City.
"While DHL's profits skyrocketed to 8.4 billion Euros ($12 billion Canadian) last year, our trucking members are getting tossed off to the side," said Unifor National Secretary-Treasurer Len Poirier.
"The owner-operators were a part of why the DHL grew at 30% in Canada, and the high rates gave drivers incentive to build the business. Our couriers don't get an hourly rate, so they have to hustle to get more money. Our couriers grew their business and are not getting the respect they deserve."
Unifor members will be holding rallies on Sept. 22, 2023, at DHL locations in Brampton, Ottawa, and Hamilton, Ont., Richmond, B.C., Winnipeg, Edmonton, Calgary, Montreal and Quebec City.
There will also be rallies held across Canada by taxi drivers, container truck drivers, and transit bus operators.
Unions representing more than a million road transport drivers around the world say that low pay and poor conditions force drivers to engage in dangerous on-road practices to make ends meet.
Safe Rates Campaign in Canada
Unifor has joined more than 50 trade unions representing road transport drivers around the world calling for Safe Rates systems to improve workers' rights and make roads safer.
Unifor has identified the following issues as obstacles to fair pay and safe work:
DHL route shortening for owner-operators significantly reduces their pay.
School Bus sector is facing driver supply shortages.
Cash In Transit companies are reducing workers per vehicle.
Intermodal trucking contracting-out to lower waged companies.
Lack of equitable access to bathroom facilities for drivers and operators.
Increased insurance costs across the industry.
Digital platform companies (or tech companies) misclassifying workers to avoid regulation.
Evidence shows that pay increases of as little as 10% can reduce accidents by 30%. Unifor says that business models in road transport have become unsustainable and lead to labour abuses.
Global Safe Rates Campaign
The campaign, initiated by the International Transport Workers' Federation (ITF), points to evidence that road transport drivers' working conditions force them into dangerous on-road behaviours.
"In countries all around the world, low pay and long hours for road transport drivers aren't just making life a misery for the workers who keep our economies moving. They are also causing carnage and death on our roads," said Stephen Cotton, General Secretary of the International Transport Workers' Federation.
"The Safe Rates campaign says that enough is enough. We know that when drivers are paid properly and have decent conditions, they are able to work without being forced to risk their own lives and the lives of everyone on the roads. Responsible employers know that fair and safe standards in road transport are not only good for workers; they make our whole industry safer and more sustainable."
About Unifor
Unifor is Canada's largest union in the private sector, representing 315,000 workers in every major area of the economy. The union advocates for all working people and their rights, fights for equality and social justice in Canada and abroad and strives to create progressive change for a better future.
About ITF
About the International Transport Workers' Federation (ITF): The ITF is a democratic global union federation of 740 transport workers trade unions representing around 18.5 million workers in 154 countries. The ITF represents the interests of transport workers' unions in bodies that take decisions affecting jobs, employment conditions, and safety in the transport industry.
About Safe Rates
Paying a driver a 'safe rate' means he or she is paid fairly for all labour time and can make enough to take care of his or her family and spend time at home, while also driving safely. If a driver owns his or her own vehicle, a safe rate must be calculated to ensure that he or she can cover the costs of purchasing, maintaining, and operating it. Safe Rates systems legally obligate the companies at the top of road transport supply chains to enforce these rates and can be found around the world including Canada, Australia, South Korea, and Brazil.
For more information, please contact:
Unifor National Communications Representative @email or (416) 938-6157.
ITF: Wol-san Liem, Strategy and Policy Coordinator, @email, +82 10 5103 8419