Main Image
Image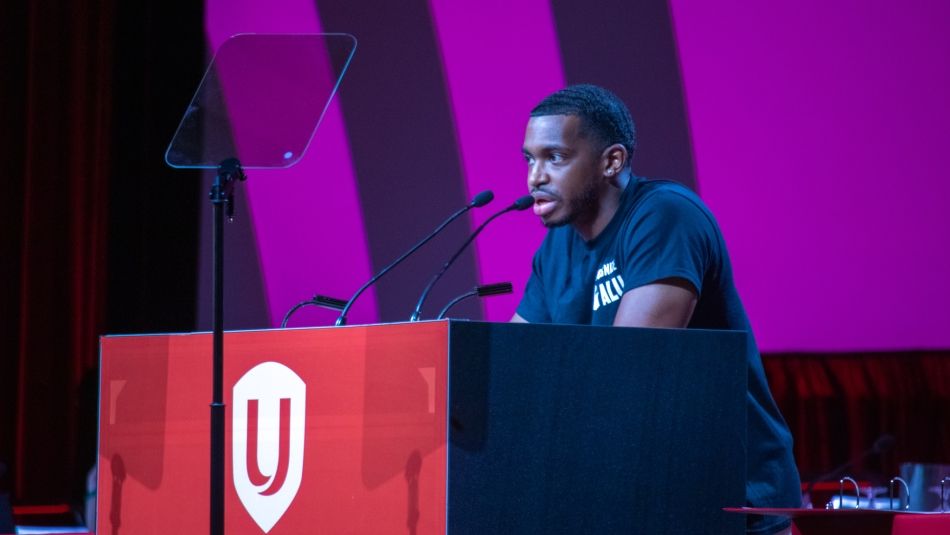 Share
We are in a historic moment as workers stand up and take back the power from powerful companies, forming unions at companies where it was once thought workers could never organize, a leader in the first successful union drive at Amazon told Convention delegates.
"This is a turning point in the labour movement. Workers all around are motivated to join unions," Derrick Palmer said.
"All these billion-dollar companies are starting to get unionized. And guess who is scared? The billionaires who run these companies."
Palmer was a key player in the union drive at an Amazon fulfillment centre in Staten Island, working inside the facility while his friend Chris Small and others fired from the warehouse worked outside, setting up a table at the bus stop to talk to workers as they arrived at Amazon.
"It was raining, we set up. It was too hot, it didn't matter. We were setting up," said Palmer, Vice President of the Amazon Labor Union (ALU).
The spark for the union drive was the pandemic, after workers were told they could not have masks and gloves or socially distance to stay safe.
"At the same time, we're shipping these masks out to employers all over the world, but we couldn't have any."
Introducing Palmer to the convention, Local 444 President Dave Cassidy said the ALU victory has inspired labour activists around the world.
"Over a period of two years, he and his colleagues have built a powerful movement and won a momentous victory that has electrified the labour movement and spurred worker organizing around the globe," Cassiday said.
Mostafa Henaway, a community organizer at the Immigrant Workers Centre in Montreal who got a job at Amazon to see for himself what it was like in one of their fulfillment centres, said Amazon represents the future of work as other companies copy its methods.
"They see is as a prime example of how you make profits, and how you exploit workers," Henaway said.
Henaway pointed out that auto jobs were once precarious, too, but thanks to unions are now considered good stable jobs. The same thing needs to happen in warehousing, he said, beginning with Amazon.
"Amazon needs to become the primary target. We're going to learn from what they did in Staten Island."
Unifor has been actively organizing warehouse workers in Canada, emphasizing many of the same issues Palmer and his co-workers confronted in the United States as the growth of e-caused a boom in the warehouse sector – and huge profits for the companies.
"While companies like Amazon boost their profits, warehouse workers are seeing increasingly precarious conditions, made even more difficult during the pandemic," Unifor organizer Samia Hashi said.
Unifor is Canada's top warehousing union with members in food retail, auto parts, pharmaceuticals and general merchandise, and has negotiated significant gains for warehouse workers across Canada.
Unifor has used those bargaining successes in its organizing efforts to bring more workers in the union, including launching an award-winning website in nine languages as part of a nationwide campaign.
"For months, Unifor has been actively visiting Amazon and other warehouse facilities in B.C., Ontario and Quebec to distribute multilingual flyers to workers," said Unifor organizer Hassan Mirza.
"We have built communications that speak directly to workers issues. Our presence continues to generate leads and momentum at key Amazon fulfillment centers throughout the country."