Main Image
Image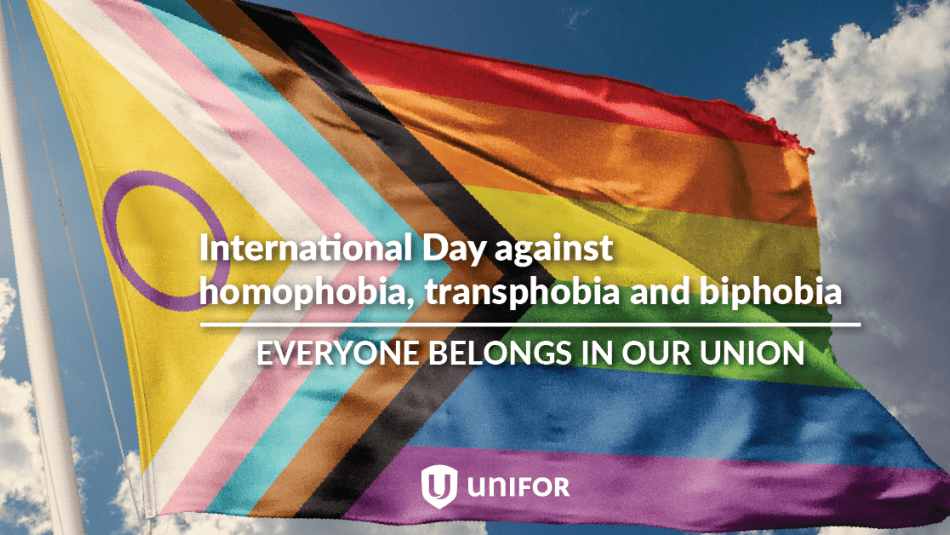 Share
Unifor marks the 2023 International Day Against Homophobia, Transphobia, and Biphobia (IDAHOTB) with solidarity for people of all sexual and gender diversities.
Every year on May 17, the IDAHOBIT is celebrated globally. The campaign aims to increase awareness of the persistent discrimination, violence, and marginalization faced by individuals with diverse sexual orientations, gender identities or expressions, and sex characteristics, including two-spirit, lesbian, gay, bisexual, trans, queer and intersex (2SLGBTQI) peoples.
This year's theme, solidarity: everyone belongs in our union, is an important one that reaffirms Unifor's commitment to continuing the fight against homophobia, transphobia and biphobia and intersexphobia through social and political action.
Our union celebrates the diversity of and continues to advocate for the rights of all 2SLGBTQI peoples. However, this celebration and advocacy work is set against a backdrop of a disturbing trend of increasing violent and hateful acts targeting trans and queer peoples. With hate on the rise, it has never been clearer that 2SLGBTQI issues are union issues.
Over the past year, we have all witnessed an increasing number of incidents of violence, oppression and hate crimes against trans and queer people across Canada and the United States. The number of anti-trans laws introduced and adopted in the U.S. alone is staggering. Beginning with "don't say gay" in elementary schools, the floodgates were also opened with repeated attacks on the trans community. Nearly 670 laws have been proposed or adopted since 2018 ranging from family separations, sports bans, bathroom bans, outlawing gender affirming care, and drag bans.

Canada's hate groups are also growing at an alarming rate while some local governments have begun to follow the example of lawmakers in the United States. On May 5, the New Brunswick government suddenly revoked funding for a more than 10-year partnership with Pride in Education to deliver annual professional development for teachers on sexual and gender identity and at the same time announced plans to review Policy 713: the policy on sex education and gender identity in schools.  
In Norwich, Ontario, the town council voted both to ban the pride flag from flying on municipal property and against recognizing Pride Month. Late last year in Brockville, Ontario a bomb threat called into a public library that hosted a drag story time event.
These incidents are part of a much deeper social shift taking place online and in our communities across the country. The most recent statistical data available which shows hate crimes based on sexual orientation rising sharply across Canada, increasing by nearly 60 per cent between 2019 and 2021.
Clearly, Canada is not immune to violent actions by groups or the introduction of laws motivated by hate. That's why this year's theme for IDAHOTB is so important.
Unifor encourages you to join us in marking May 17 as the International Day Against Homophobia, Transphobia, and Biphobia by taking the following actions:
We all belong in our union!
In solidarity,
Lana Payne
Unifor National President