Main Image
Image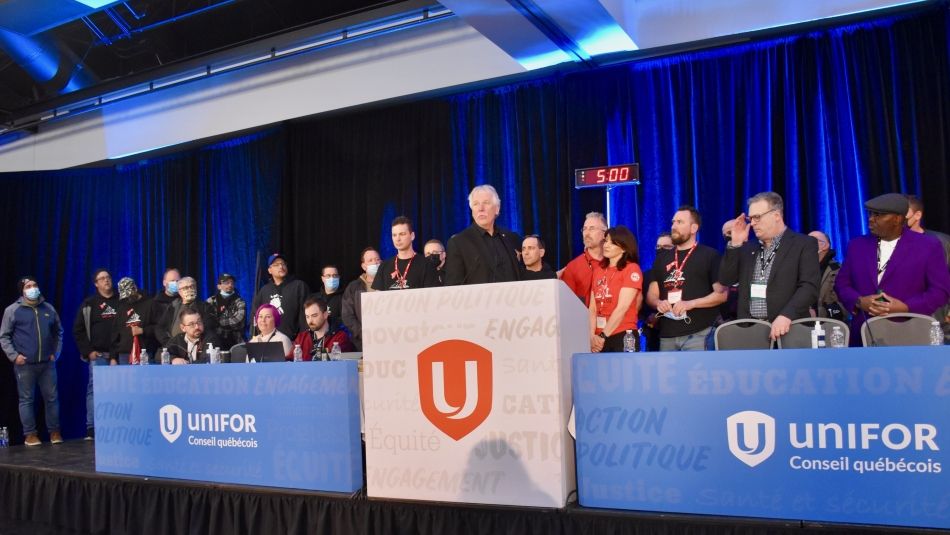 Share
Renaud Gagné presented a detailed report of the union's main actions over the past months. It was his last report to the Quebec Council as Quebec Director.
With the continuing labour dispute at Ash Grove, numerous ongoing issues affecting our groups, government lobbying, bargaining files and internal affairs, it was clear to the delegates that our union is just as active as ever, pandemic or no pandemic.
Gagné naturally seized the occasion to acknowledge the members and thank them for their support.
"I will leave my position with my head held high and with the conviction that I have done my best and, above all, that I have always put the interests of our members and organization first," said Gagné. "Stay strong, stay united and stay committed to defending our members and advancing workers' rights. I wish us the very best in the years to come."
Lana Payne reviewed the union's major accomplishments of the past few months.
"Whether it's the pandemic or the many representations to governments, we are still facing numerous challenges. We must continue to draw attention to the injustices of the past two years and pursue our fight for a better world," said Payne, Unifor's National Secretary-Treasurer.
Daniel Cloutier was elected unopposed as Unifor's new Quebec Director. Between now and the Constitutional Convention in August, both will work together to ensure a smooth transition between the two of them.
Cloutier was a service representative for 17 years before taking on the position of National Health and Safety Representative at Unifor from 2013 to the present.
"It is by working together that we will succeed in making our workplaces safer and more inclusive and achieve greater justice and equity," Cloutier said. "To achieve this, we need to find the best way forward, and if that means rethinking how we do things, we will do that. That is my commitment."
Unifor Local 444 President Dave Cassidy, Executive Assistant to the National President Scott Doherty and Payne, who are all running for National President, were given the opportunity to address the delegates to the Quebec Council and answer their questions.
Representatives of Local 177, the only Unifor group currently embroiled in a labour dispute in Quebec, visited the Quebec Council to explain the conflict and talk about their fight for respect. A collection was held that raised over $50,000 to support this local union.
Numerous resolutions and recommendations from the Quebec Director were adopted. For more details please visit Unifor Quebec's website (French only).
An emergency resolution requesting that the special convention to elect a new national president not be held was unanimously adopted. The delegates had serious concerns about the costs associated with organizing and attending two conventions within weeks of each other. They were also critical of the rules governing which delegation would have the right to vote at a special convention.
Several other activities were also organized as part of the Quebec Council, including a march in the streets of Trois-Rivières to commemorate the National Day of Mourning for workers injured or killed on the job.