Main Image
Image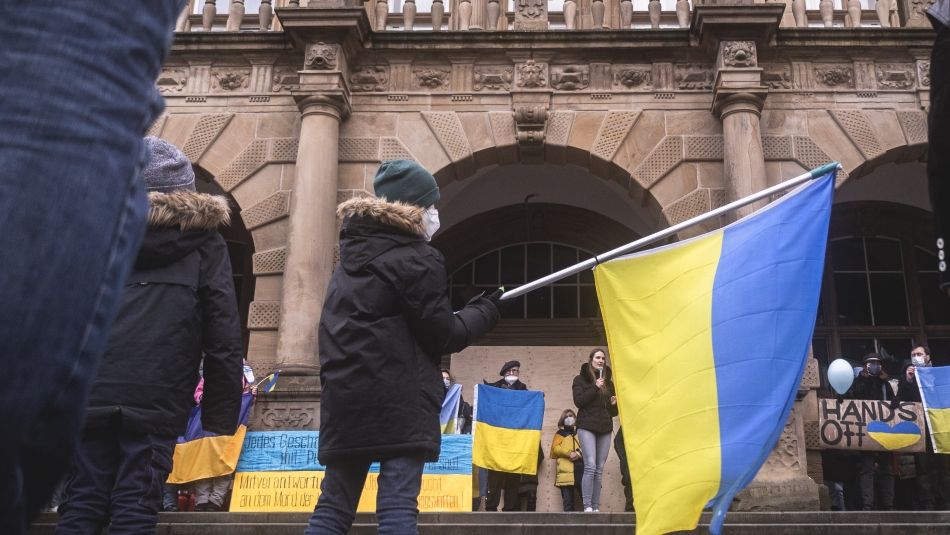 Share
In the spirit of International Workers Day, May 1, 2022, Unifor joins with workers around the world in calling for peace and worker rights.
We stand with the workers and people of Ukraine who in this moment suffer the scourges of war with bombardments and assaults on cities and towns throughout their country resulting in a humanitarian and refugee crisis.  According to the United Nations High Commission on Refugees, 5,085,360 refugees fled Ukraine between Feb 22 and April 20, 2022. 
Unifor voices its support for the demand of the International Trade Union Confederation for "an immediate Russian ceasefire and withdrawal of all Russian forces from Ukraine with the negotiation of a just and durable peace." Unifor, the Social Justice Fund along with many individual donations from members contributed more than $275,000 to the Canadian Red Cross, Global Medics and Ukraine affiliates of IndustriALL Global Union for their work on the ground in Ukraine and assisting refugees at bordering countries.  
War is incompatible with social development and progress for working people.  The war in Ukraine has already resulted in rising prices for food, fertilizers, and oil and gas in all countries affecting the living standards of workers, and especially harming vulnerable populations. There is an urgent need now for the global labour movement to press for food security aid, targeted price controls and minimum wage adjustments to respond to the global economic impacts of the war.
Democracy and worker rights are the first casualties of war. Unifor condemns the arrests on April 19, 2022 of independent union leaders in Belarus who have criticized the Russian invasion of Ukraine. The leaders of the ITUC-affiliated Belarusian Congress of Democratic Trade Union, the Free Trade Union of Metalworkers, and the Free Trade Union of Belarus were detained and their offices and homes searched. Union files and property were seized, as well as personal computers, passports and bank cards of the union leaders and family members.
Since May Day began 156 years ago to demand an eight-hour day and protest the arrest and execution of strikers in Chicago, International Workers Day has given voice to working class solidarity across borders to oppose the repression of worker movements and to organize for a better world. Shamefully, serious violations of worker rights continue today in many countries, including not only the denial of the right to free collective bargaining, but also the murder of trade unionists, arbitrary arrests and detentions, as well as restrictions on freedom of speech and assembly, which is at an all-time high.
This May Day we salute Lee Cheuk Yan, general secretary of the Hong Kong Confederation of Trade Unions, who has been imprisoned for one year because of his leadership and participation in pro-democracy protests in Hong Kong. 
Belarus and Hong Kong are among the countries and regions sharply criticized in the ITUC 2021-2022 Worker Rights Index, as well as Bangladesh, Brazil, Colombia, Egypt, Honduras, Myanmar, Philippines, Turkey and Zimbabwe - rated as the worst countries in the world for worker rights.
Canada, with its wealth and relative peace and security, should be a global leader in speaking out for worker rights. However, Canada's track record is diminished by the ITUC worker rights report which lowered Canada's rating over the last year. Canada's demerits included anti-labour legislation enacted in Alberta and Manitoba, union busting by the Foodora corporation in Ontario, and the strike breaking tactics of Co-Op Refinery and the arrests of Unifor local and national leaders on the Co-Op picket line.
Mexico is among the few countries with improved standings in the 2021 Global Rights Index. Unifor is immensely proud to be allied with Mexico's courageous independent and democratic trade union movement through the joint Canada-Mexico Worker Rights Action Project and many other collaborations. Unifor's International Department along with Unifor Western Regional Director Gavin McGarrigle will link arms with these comrades at the May Day celebrations in Mexico City to open the 2022 Mexico City World Social Forum.
Our global solidarity and action shows that when the workers of the world come together to fight for peace, worker rights and social progress, a better world is not only possible - we can build it together.