Main Image
Image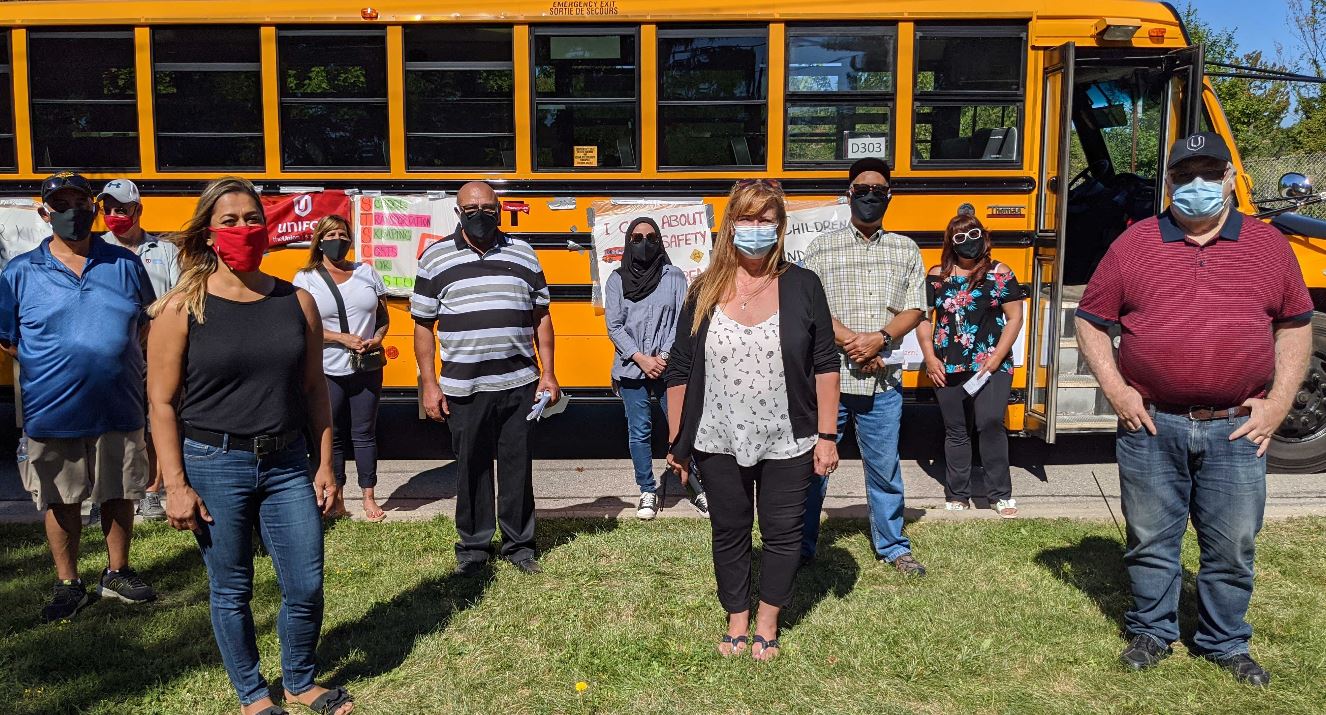 Share
Unifor school bus driver members are calling on the Ontario government to implement standardized COVID-19 safety protocols in order to protect both themselves and the students onboard.
"Drivers are very concerned about pandemic safety measures, or lack thereof, that are supposed to come into effect in just a few short weeks," said Debbie Montgomery, President of Unifor Local 4268. "Right now many of these drivers are not getting information on how they will be kept safe."
This week a group of frontline drivers came forward to warn that COVID-19 regulations shift from school board to school board with no mandated regulations on passenger limits, social distancing, mask requirements, bus sanitization procedures, or personal protective equipment (PPE) supply.  
Driver Rob Robson explained that some drivers are being issued a single protective mask per day, even though they work split shifts. "Every board has different rules, every bus company has different procedures," said Robson. "Without a mandate from the government, without the province saying this must be done the school boards are going to have different rules and that confuses and frustrates drivers. It makes us feel like we're not being involved in the decisions." 
Despite strict limits on the number of people who can gather elsewhere in the province some school bus drivers have received manifests with up to 74 students onboard.
"It really makes no sense that we're going to have cohorts at school and parents and children have been asked to social distance at their bus stop but they're all going to board the bus and be shoulder to shoulder," driver Michelle Lavallee said.
Drivers are also being asked to expand their duties to include taking attendance, monitoring seating charts, maintaining proper distance onboard, and enforcing mask regulations.
"We would like to have extra funding for driver retention and funds to hire new drivers," said driver Frank Perrone. "My concern is the kids, we'd like to have an adult monitor on board to assist the younger children and make sure sure everyone gets to school safely."
Hira Khan, who has been driving a school bus driver for six years, pointed out that masks are not mandatory for all children in the province, depending on the school board. "All we are asking for is a mandate from government for everyone to wear a mask so that we can protect ourselves and kids are protected as well."
Additionally there are no mandated requirements for school bus sanitization and at many boards that serious responsibility is being placed on the shoulders of the drivers.
"There is no ready set standard so we are asking for help to get a clear-cut standardized program," said Stanfield Duverney, who drives a Toronto school bus route. "We need assistance in cleaning the bus, we are not professional sanitizers – we are school bus drivers."
With the risk of COVID-19, the addition of added responsibilities including possibly being tasked with deep cleaning and sanitizing the bus several times a day, the union warns that some drivers are opting to take leave or quit.
"We might be losing very dependable people who look after all your children and want the best for your children; sanitization should be required to be done by an outside company," said driver Angela Sarjeant.
A warning reiterated by 16-year veteran driver Safwat Elmor.
"I have already seen drivers ask for leave, they are worried and their families are worried, which may lead to a greater shortage of drivers," said Elmor.
As Ontario's largest school bus driver union, Unifor sent a statement on behalf of drivers to Premier Doug Ford, Education Minister Stephen Lecce, and Transportation Minister Caroline Mulroney on August 13, 2020 outlining the five key demands that the drivers again addressed at the August 24 media conference.
"As return to school dates approach our drivers want to return to work to do their jobs but they want to keep safe, to keep their small passengers safe and to keep our communities safe," said Montgomery. "We're willing to work to find a solution, we know how important it is to get kids to school but we don't want to be the weak link in the system. We don't want an outbreak in our communities to start on a school bus."
Watch the full school bus driver media conference here.