Main Image
Image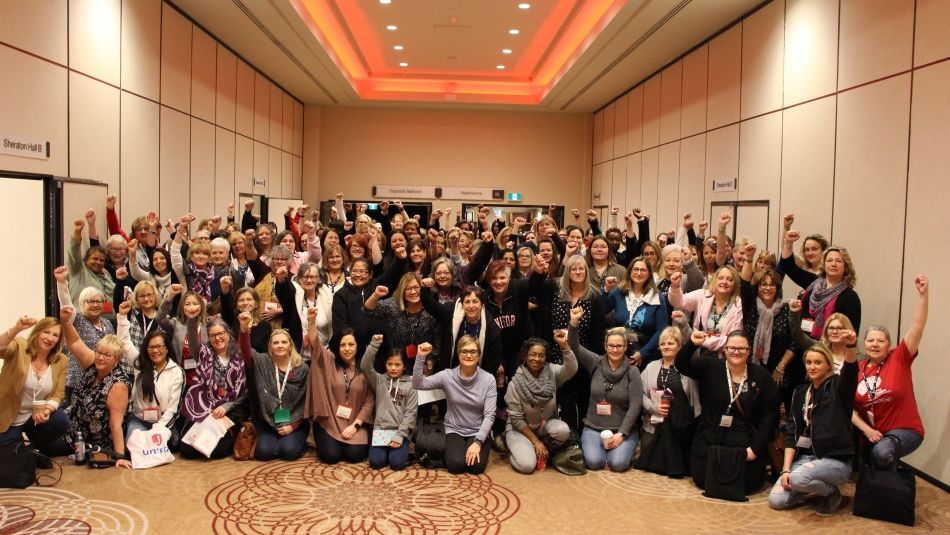 Share
Delegates at Ontario Regional Council were empowered to defend good jobs, healthcare, education, and women's rights in an era of Ford government austerity.
"Now more than ever, we have to come together to carve out our path forward as we continue to fight off this very dangerous government," Ontario Regional Director Naureen Rizvi told delegates
Council convened on December 6, the National Day of Remembrance and Action on Violence Against Women. To mark the 30th anniversary of the Montreal Massacre delegates held up their cell phone flashlights in a moving tribute as a candle lit procession carried purple ribbons bearing the names of the victims through the hall. 
Delegates discussed the union's work to eradicate misogyny and to fight for equality both in our workplaces and in society. The power of women was further emphasized, as Canadian Olympians Sarah Nurse and Natalie Spooner and high school hockey player Danika Gravelle shared their experience fighting shocking inequality in the game.
"When we unite and stand up for what we believe in, then nothing is impossible," said Sarah Nurse. "Thanks for your support for women in sport and for equality."
As delegates discussed and debated an action plan for the upcoming year they passed Director's Recommendations calling on the Ford government to end inaction on climate change, enact better protections for temporary workers and to provide better care for patients and safer working conditions in long-term care facilities.
In an emotional speech Unifor National President Jerry Dias shared his mother's experience in long-term care as he called for action from Premier Ford.
"This time Doug I'm asking you respectively as a man for the people. I want you to join me for just one shift in the long-term care facilities so we can fix once and for all the inherent disrespect of our seniors," said Dias. 
The hundreds of representatives from Locals across the province also united in a show of public support for education workers as National President Jerry Dias was joined on stage by Harvey Bischof, OSSTF President, Sam Hammond, ETFO President, Liz Stuart, OECTA President and Smokey Thomas, OPSEU President.
"This is personal. It's personal when they attack our kids," said National President Jerry Dias. "It was the government's plan to cut ten thousand teachers jobs."
Amid chants of "solidarity", the five union leaders raised arms before the more than 850 Council attendees.
Hammond called for workers and unions to stand together join forces.
"We are being attacked in the education sector and we need you with us as each affiliate starts to move to take a greater stand to protect children and public education in this province," Hammond said.
Unifor offered its support to Ontario's teachers and education workers in the fight against budget cuts that will increase class sizes, eliminate education options and career paths for students, and result in the loss of frontline jobs.
"The Minister of Education says we can fix the class size but the teachers and the workers have to pay for it," said Stuart. "He's stealing the money from the pockets of your children and he expects them to pay for it."
Bischof told delegates that workers will not stand by as the Ford government attacks the future of the province.
"We will not allow this government to create a bargain basement education system," said Bischof. "The only solution will be found at the bargaining table. If not we will work with you and we will drive them out of office."
While Thomas sounded the alarm of looming threats to the broader labour movement.
"I feel it in my bones, I feel it in my heart that once Doug is done with the teachers he's coming for the rest of us," said Thomas.
Delegates voted to support a Ford Fightback Campaign to oppose any austerity measures that slash and burn labour regulations, social services, health care and education, and to continue to win back the provisions that the government removed from employment standards as the union negotiates new contracts with employers.
"We have held fast against this Premier. We have fought back," said Rizvi. "But our work now is only getting started. We're here to recommit to the next phase of this campaign and ensure that Doug Ford is a one-term Premier."