Main Image
Image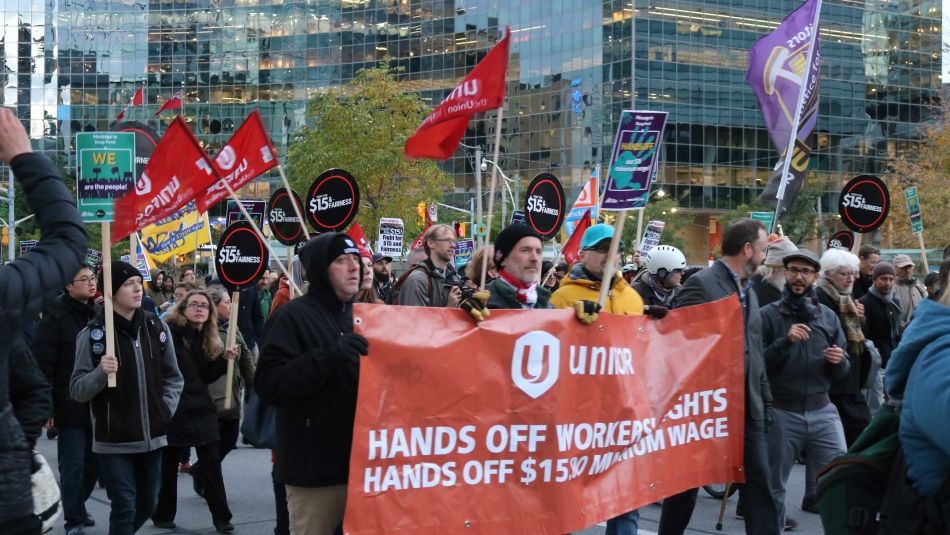 Share
By Navjeet Sidhu, National Representative, Research Department
As Ontario heads towards a June 2nd election, there are increasing concerns regarding the growing lack of income security and affordability in the province.
As a result, Ontario's political parties are hitting the campaign trail promoting their policies to alleviate economic hardship faced by low and middle-income workers, including promises to raise minimum wage rates. The NDP, for instance, has promised to increase the minimum wage to $20 in 2026. The Liberals, meanwhile, announced an increase to $16 as of Jan 1st, 2023, and the Green Party of Ontario has made a general statement on raising the minimum wage.
Doug Ford's Progressive Conservatives, have signaled their intention to increase the minimum wage to $15.50 as of October 1, 2022, spinning the yearly CPI adjusted increase as an election promise. Workers, however, have not forgotten how Ford scrapped the scheduled minimum wage increase from $14 to $15 in 2019 when coming into power, introducing instead an ineffective low-wage tax credit in its place. Late last year, the government backtracked, announcing an increase to $15 as of January 1st, 2022.
In anticipation of Ontario minimum wage policy playing a role in this year's election, and the usual alarmism from the pro-business lobby, it is worth providing a snapshot on where Ontario's minimum wage workforce is working – particularly as calls from advocates grow on building towards a $20 minimum wage.
In Ontario, there were 405,100 workers earning minimum wage or less in 2021. Prior to the COVID-19 pandemic, however, we saw a 14% increase in the number of minimum wage earners between 2011 to 2019, rising from 598,500 to 683,000 workers.
Figure 1 highlights the share of Ontario workers earning minimum wage or less between 2011 and 2021. Despite a drop in the share of minimum wage workers between 2011 and 2017, there was a significant increase to 15.4% in 2018. This is attributable to the jump in minimum wage from $11.60 to $14.00 capturing a larger number of low-wage workers. Just prior to the pandemic in 2019, the share of minimum wage earners reached 11% -- a near return to 2011 levels and double the rate in 1998.
Fig. 1
Source: Statistics Canada, custom tabulation
Looking at the breakdown of minimum wage workers by enterprise size, minimum wage earners are disproportionately represented in larger enterprises (note: an enterprise differs from an establishment, in that an enterprise reports finances from multiple commonly-owned locations).  In 2021, nearly half (47.3%) of minimum wage workers were working in very large businesses of 500 employees or more, while a further 28.1% worked in medium sized businesses between 20 and 500 workers (Fig. 2). In comparison, there were 24.7% of minimum wage earners working in small businesses with 20 employees or less.
Fig. 2
Source: Statistics Canada, custom tabulation
Big business also employed minimum wage workers at a higher rate compared to smaller businesses. Large businesses saw an 18.1% increase in the number of minimum wage workers from 279,600 in 2011 to 330,300 in 2019, while small business saw an increase of 4.1%, from 156,900 to 163,300.
These figures demonstrate the continued need to advocate for fair minimum wage rates, both as an economic stimulator and to protect low-wage workers from on-going exploitation by big corporations that have the most to profit and gain from maintaining a low-wage workforce. Labour and community advocates must ensure that all political parties commit to and make fair wages and strong employment standards key components to their election platforms, to ensure that low-wage workers do not fall further behind as the cost of living escalates.