Main Image
Image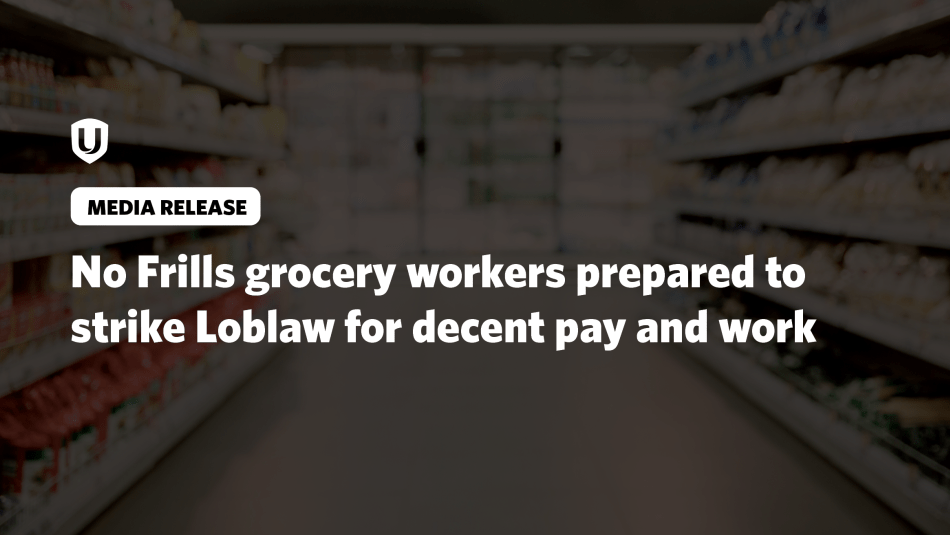 Share
More than 1,200 Unifor members at Loblaw-owned No Frills stores could be on strike effective 12:01 a.m. on Monday, November 20 if the highly profitable corporation refuses to address workers' demands for decent pay and work amidst a Canadian affordability crisis. 
"Loblaw must come to the table prepared to raise wages, improve working conditions, and create more full-time jobs for these grocery store workers. They deserve decent work and pay. It's as simple as that," says Lana Payne, Unifor National President. "Every single financial quarter Loblaw posts higher profits than the last. It's past time the workers helping them earn these profits get a share so they can support their own families."
Unifor recently ratified a new collective agreement with Metro, ending a five-week long strike, that included significant up-front wage improvements, enhanced benefits and pensions, better scheduling, and job protection from the implementation of self-checkouts. Workers at No Frills have similar demands, particularly concerning up-front wage improvements to address recent inflationary pressures including higher grocery bills. No Frills workers are also seeking a commitment to grow the number of full-time jobs in stores, in the face of Loblaw's widespread misuse of part-time workers. 
"Loblaw workers are fed up with the out-of-control disparity between their wages, the company's enormous profits, and high cost of living. Workers are prepared to take necessary action to support themselves and their families during these challenging times," says Gord Currie, Unifor Local 414 President. "You know it's bad when workers at Canada's largest grocery store chain are struggling to afford their own food, even at discount stores like No Frills. It's ultimately up to Loblaw to avert a strike and do the right thing to support its workers and customers." 
This week Loblaw reported $621 million, a nearly 12 per cent rise, in profit in its third quarter.  Reportedly, the rise in profits is a result of more and more people shopping at discount stores such as No Frills. 
"While Loblaw continues to make enormous profits, many Canadians, including its own workers, are increasingly using food banks," continued Payne. "People simply don't believe Loblaw can't do better by its workers. Unless the corporation comes to the table with a serious offer, this will certainly result in our members being forced to take strike action. What choice do these workers have?"