Main Image
Image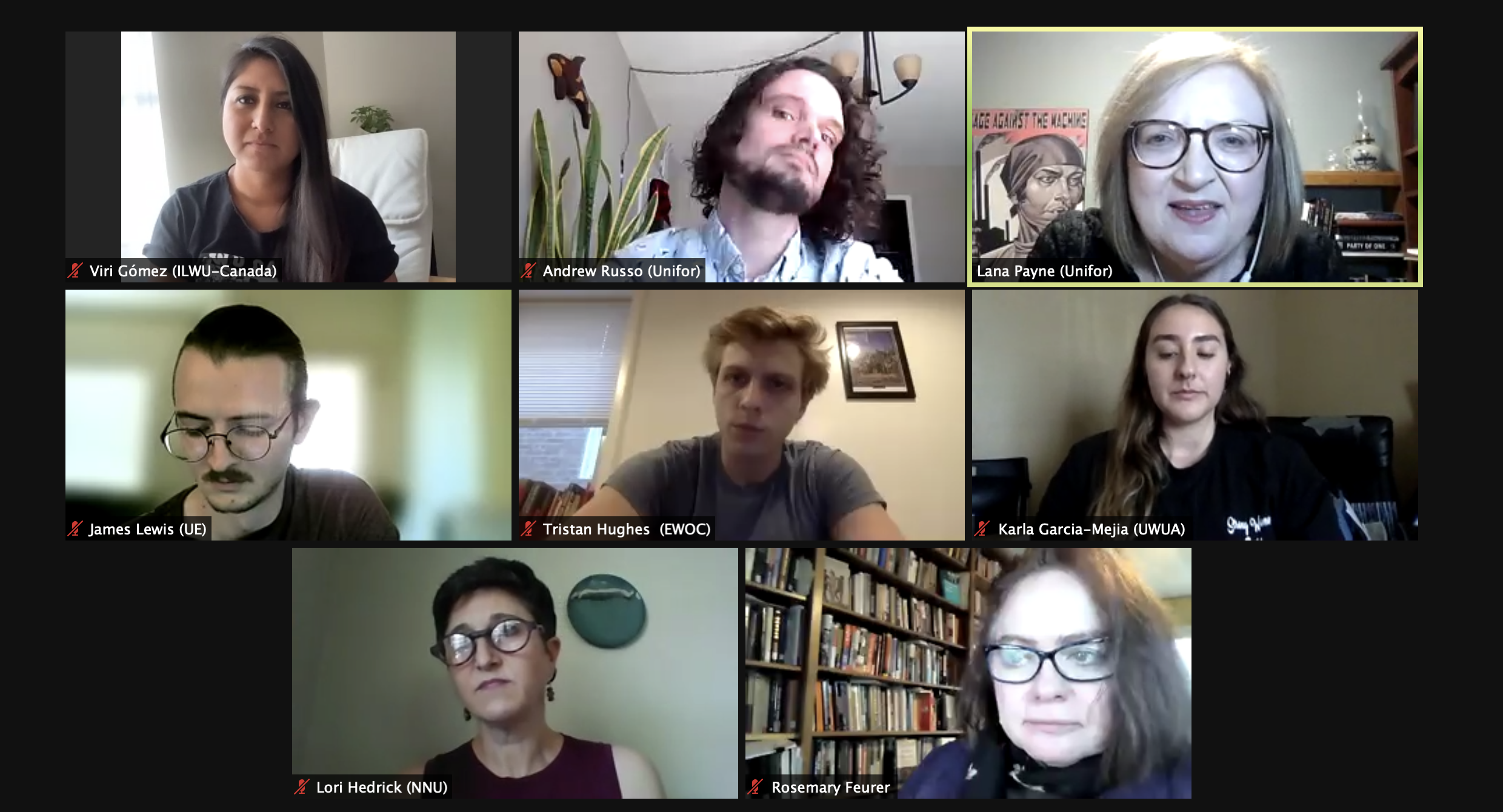 Share
Unifor marked May Day this past weekend with stories from across North America about workers who have found renewed reason for activism in 14 months of COVID-19 challenges. 
"We knew having a union would give us the ability to advocate for our patients without fear of retaliation," Lori Hedrick, a newly unionized nurse in Asheville, North Carolina with the National Nurses Union.
Hedrick was speaking during Unifor's online May Day webinar, held as part of the North American Solidarity Project, hosted by Unifor Secretary Treasurer Lana Payne.
The workers were joined by Rosemary Feurer, an associate professor in the Department of History at the Northern Illinois University.
"I am just blown away by all these great stories," Feuer said. "We will figure out a strategy even in the midst of the worst situations – and collective action can do that."
Feurer told the story of the Haymarket riots in Chicago in May 1886, when workers took to the streets to fight for basic rights, and were met with a violent police response.
"The streets are ours. Mass movements are ours. People who oppose workers' powers always want to restrict our use of the streets," Feurer said.
The online event included video links to street rallies held in both Montreal, which included members of Unifor Quebec, and Mexico.
New Unifor member Andrew Russo, now preparing to negotiate a first contract at Ripley's Aquarium in Toronto, said the workers needed a union before the pandemic, but COVID-19 crystallized that need.
"To finally have a voice and a path towards getting the necessary improvements and make sure all the people are treated fairly and just as well as the animals, is really excellent."
James Lewis, a mathematics graduate student at New Mexico State University, said the pandemic hit international students particularly hard.
"They are the number one group of students using the food bank on campus," he said, adding international students also often face threats of being sent home.
"The professor or management wants to get a task done, and they say if you don't get this specific task done, who knows what happens with your visa next semester. It is quite a horrible situation."
Tristan Bock-Hughes outlined his work to help workers organize during the COVID-19 pandemic as part of Emergency Workplace Organizing Committee (EWOC), a joint project of the United Electrical Radio and Machine Workers of America and the Democratic Socialist of America
"One of EWOC's main goals is training and mentoring workers to be life-long shop floor organizers. We aim to never do for rank and file workers what they can do for themselves," Bock-Hughes said.
Longshore worker Viri Gómez of Local 519 ILWU-Canada and the International Transport Federation youth representative, stressed the need for health and safety on the job for all workers.
"Health and safety has been one of the most present and never ending issues that workers face in all industries," she said.
"We don't need a fine-based system, we need stronger laws that prevent negligent employers from killing our workers. The death of a worker can happen suddenly, or slowly very a long time."
When COVID-19 hit, Karla Garcia-Mejia of UWUA worried about finding safe and adequate care for her two children, while trying to say safe at work as customers ignored the pandemic protocols she was relying on to prevent bringing the virus home.
"I am thankful that I have been able to work through the pandemic, but it also brought some struggles," she said.
"Thankfully I was able to get the support from the union, and be able to be given the time off and to figure out the 'what's next' and who was going to stay with my kids."