Main Image
Image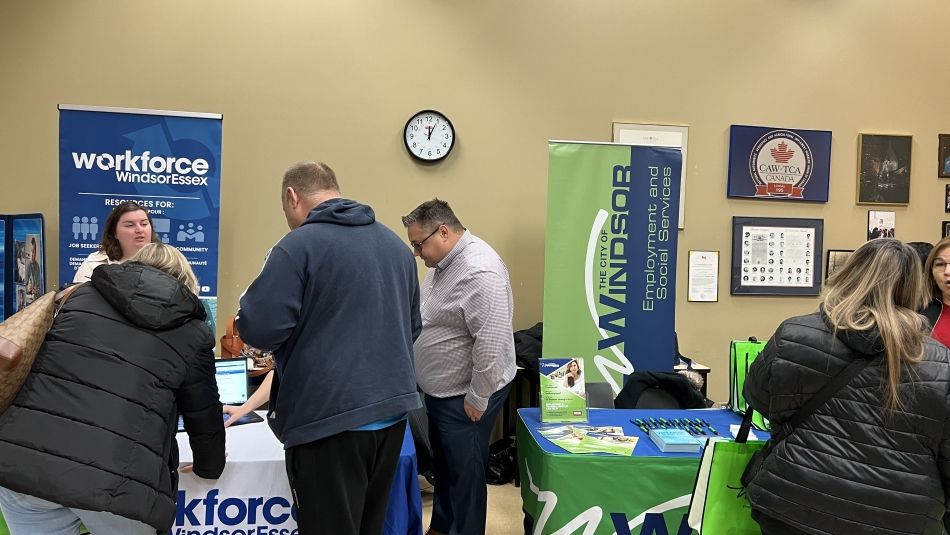 Share
A new Labour Action Centre to support former Syncreon Automotive workers has officially opened in Windsor, Ontario. The Centre will assist the almost 300 Unifor Local 195 members who lost their jobs when Syncreon closed last month, following the Stellantis decision to insource the work back into the Windsor Assembly Plant.
"Even after the closure agreement was ratified, Unifor knew our work for our Syncreon members was far from over," Unifor National Secretary-Treasurer Len Poirier told members at the Labour Action Centre. "This program aims to offer a holistic approach to job seeking, with peer-to-peer support for members through coordinators and helpers who come directly from your own ranks at Syncreon."
On November 21, Poirier, Unifor Ontario Regional Director Naureen Rizvi and Unifor Local 195 President Emile Nabbout met Syncreon members and peer-coordinators at the Centre.
Following the July 2022 closure announcement, Unifor moved swiftly to negotiate the best possible closure agreement for members. The union then quickly coordinated with the Ontario Ministry of Labour, Immigration, Training and Skills Development to secure funding for an Adjustment Advisory Program (AAP) agreement that would encompass the needs of the Syncreon members.
The Ontario government committed just over $360,000 with an additional in-kind donation of $45,000 from Unifor Local 195 to fund the Labour Action Centre, which will provide access to vital community supports and direct assistance to members seeking new employment, retraining and skills upgrading.
Syncreon closed on October 31, 2022, just weeks after temporary Employment Insurance (EI) measures ended, putting Syncreon workers at risk of ineligibility and claw back of severance pay.
"The facts surrounding the Syncreon closure is further proof of the urgent need to change EI," said Rizvi. "The elimination of critical temporary measures and income supports prior to the implementation of permanent EI reform has left far too many workers to fall between the gaps of a broken system."
Last week, Unifor raised the issue of EI and the plight of Syncreon workers specifically in face-to-face meetings with Deputy Prime Minister and Minister of Finance Chrystia Freeland, Minister of Employment Carla Qualtrough and other MPs during the union's federal lobby week.
In a letter to Prime Minister Trudeau and several federal ministers, Unifor National President Lana Payne outlined the inequities and inadequacies of the current Employment Insurance program. Payne also called on the government to exempt severance pay received by Syncreon workers from EI allocation, as termination notices were given prior to the expiration of the temporary EI measures.
"Every available measure must be taken to help these workers and their families during this very difficult time," said Nabbout. "We will continue to advocate for our members during their employment transition and beyond."
The Ontario government also announced that it is also extending funding for the existing Unifor Local 444 Stellantis Action Centre to serve un and underemployed workers from Stellantis and its feeder plants until at least November 2023.
"We welcome the extension of funding to maintain the vital services that the Labour Action Centre delivers to our unemployed members," said Dave Cassidy, President of Local 444 and Unifor National Executive Board member. "It's important to provide a central hub that consolidates the resources required to assist workers in their return to the workforce."
The Syncreon Labour Action Centre is located at the Unifor Local 195 hall at 3400 Somme Ave. Windsor, ON N8W 1V4. The Centre is open Monday through Friday from 9 a.m. to 4 p.m. (additional hours by appointment). You can contact the Centre by email at @email or by phone at 519-253-1107 ext. 7.
The Stellantis Labour Action Centre is open Monday to Friday 8:30 a.m. to 3:30 p.m, located downstairs at the Local 444 hall at 1855 Turner Road Windsor, ON N8W 3C9. To get in touch with the Adjustment Centre email @email or call 519-818-5017.
All inquiries are private and confidential.