Main Image
Image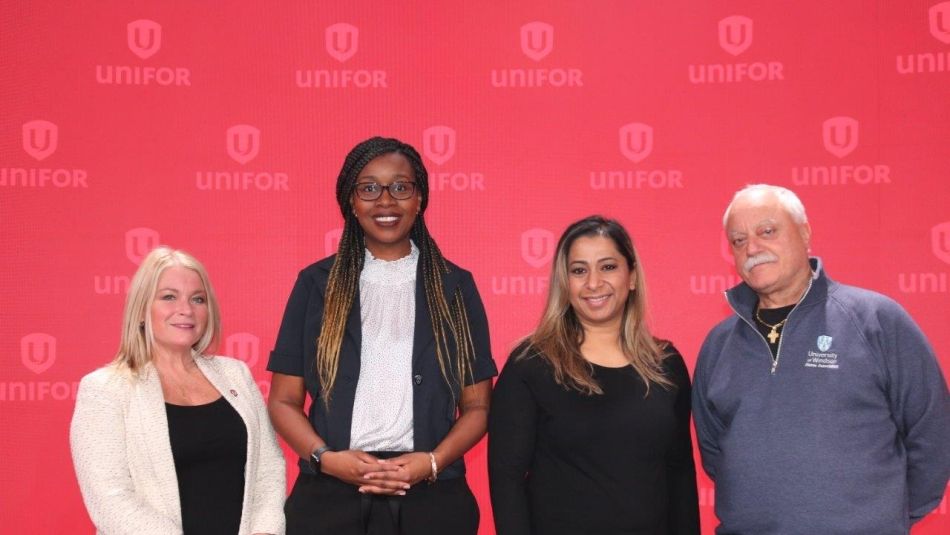 Share
"When things are tough, when the day gets dark, our strength as a union is that we never give up."
On the day before the second anniversary of the COVID-19 global pandemic, Unifor Secretary-Treasurer Lana Payne acknowledged what the world and workers lost and the challenges they continue to face.
"COVID-19 has caused over six million deaths worldwide and more than 37,000 in Canada alone," Payne said in her opening address on day two of Ontario Regional Council online.
"Over the past two years, front line workers have carried the heaviest burden while having to fight for basic protections and in many cases, decent pay. Workers were often left on their own to navigate potentially unsafe workplace environments, face the high risk of transmission, hostile behaviour, harassment and lack of income support or paid sick leave."
Image
Image
Payne acknowledged that while people are weary of pandemic restrictions, organizers behind the anti-mandate trucker convoys are not friends of workers and their unions. She emphasized Unifor's vaccination policy put the health and safety of members first.
"They are the very same people who sided with the bosses and attacked our picket line in Regina two years ago," she said.
"If they think that they can take Canada in a direction of hate and division, we're here to tell them, 'No way,' because the direction of this country must be the trade union way – one of solidarity and collective support for each other. This is the Canada we aspire to build."
As restrictions continue to loosen in many provinces, the union's fight is far from over. Unifor will continue to advocate for vaccine equity, strengthening workers' rights by refusing unsafe work, pushing for modernization of ventilation systems and providing easy access to a union.
"I know the drive the 'go back to normal' is very strong right now, but let's not forget normal was not good enough to begin with," said Payne, referencing the war in Ukraine, Black, Indigenous and people of colour facing steep barriers to basic services and women still facing violence, sexism and pay discrimination every day.
"We are going to fight for better. For a world that works for workers."
Part of that strategy includes working towards permanent improvements to Canada's Employment Insurance Program, fighting against privatization of the VIA Rail corridor and developing a new Unifor Auto Policy to support a robust auto sector in Canada. Unifor has negotiated "significant" wage increases at grocery warehouses and is providing oversight on Bill C-11 to protect Canadian jobs in the media industry.
Echoing Ontario Regional Director Naureen Rizvi's sentiments the day before, Payne criticized the Doug Ford government for not repealing Bill 124, which caps the wages of health and education workers.
"Doug Ford thinks that he's got an easy in to his next term," said Payne. "We know just how devastating that term could be for unions, for workers and for communities across the province. Unifor won't just be watching the election in Ontario (on June 2). We'll be taking part in shaping the resistance needed to defeat or hold Ford in check."
Payne said Unifor National will also contribute $50,000 towards the Imagine Build initiative, which ORC and other Unifor locals raised over $200,000 at a cheque presentation on March 9, 2022.
Like many companies and businesses, Unifor took a financial hit during the pandemic. The union lost more than $9 million in dues and 33,000 paying members in 2020. However, with the help of $10 million in investment income, the deficit ended up being $3 million.
"We had to secure the financial foundation of our union, because we must be prepared for the battles ahead," said Payne.
"We work through the problem and we build solidarity – we never, ever tear it down. It may be tough for a for a little while still. But the only way we get through is together."
Three health care workers in long-term care homes sat down with Unifor's Assistant to the National President Katha Fortier to share their heartfelt stories of working through the pandemic that didn't leave a dry eye in the room.
Jennifer Cloutier worked through a code-red outbreak at her workplace in March 2020.
"Within 24 hours, after our first positive case, we had 64 members take a leave," she said. "They left out of fear, anxiety, workload, wages and personal and child care leave. Our number rose to 92 within 72 hours. We were left with 42 members to run a 24/7, 140-resident home. That's impossible."
Two weeks later, as the virus ravaged the LTC home, Cloutier moved into a trailer in the parking lot to support her co-workers, where she endured water pipes freezing, losing power and running out of propane for warmth. For months, she hadn't been eating properly from burnout and the stress was having a severe impact on her mental health.
"My 12-to-16-hour days turned into 16-to-20-hour days as more of our residents' health declined," she said, tearing up. "My trigger, still to this day, is when I had to bag a body of a resident. I did it nine times (because the funeral homes couldn't come in). We felt hopeless."
What provided a glimmer of hope was a field hospital helping out – with the employer's approval – and temporary pandemic pay.
"It saved lives," she said. "They had supportive staff levels for our ill complex residents. Their staffing ratio was one-to-five, mine was one-to-30 on a daily basis. The floor staff were all RNs and they had a doctor onsite, every day, every hour for treatment, diet changes and diagnostics."
The employer also implemented a $3/hour, building-wide wage increase until the end of May 2020 and when the government introduced a $4 pandemic pay, that brought it to $7/hour more an hour
"It was respect. It brought morale back up in the home," said Cloutier.
Image
Image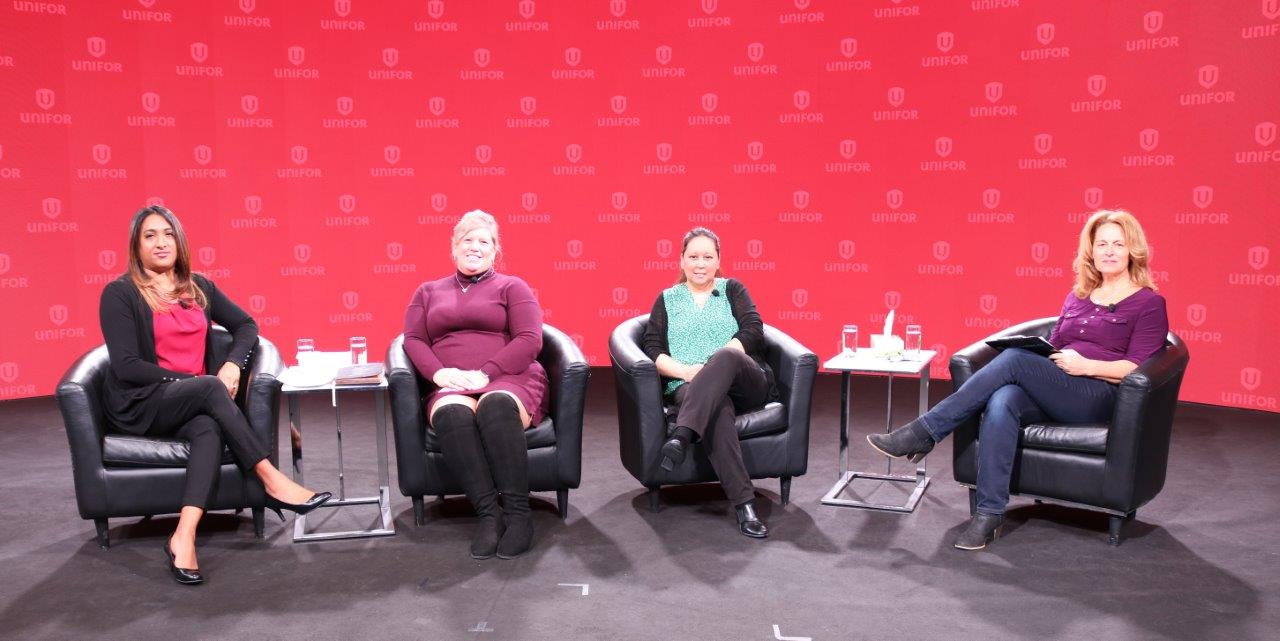 Emily Coulter said she and her co-workers were fighting for personal protection equipment with their employer when the pandemic first hit.
"We were told we couldn't use them because it would scare the residents and we didn't need it," she told the panel. "We were going by the instructions our home was giving us, but it wasn't the correct information and we still kept advocating. It was a fight."
She was among the first staff member in her LTC home to contract the COVID-19 virus from lack of PPE.
"It was absolutely terrifying," she recalls. "I remember getting that call and the nurse asked me if I was sitting down and she told me I was positive. I felt so defeated. I was very angry, because I put up such a fight to not get it."
Coulter, working in a not-for-profit LTC home, is covered by Bill 124, which limits total compensation to 1% every year.
"I feel like this government lied to us," she said. "It's disrespectful. They don't seem to get that the services we provide is invaluable and priceless. You're told you're only worth 1% but you're still essential, you're heroes – but their words and actions don't match."
Theresa Quinto, a nurse in a long-term care home, said 17 residents died at her workplace and one staff member, Sheila, who she was close with. Even though the shifts are tough, she stays, because she has a connection to her residents.
"I love what I do and they are my family," she said.
Unifor Researcher Marc Hollin called on members to speak with provincial and federal politicians to demand strong anti-scab legislation. He said the federal Liberals had introduced anti-scab legislation, but it only goes as far as prohibiting employers from using replacement workers in lock-outs. The language needs to include strikes, he emphasized.
"There are some who claim anti-scab legislation exists, but it is weak and even a cursory reading reveals its many flaws," he said.
ORC winded down with an emotional acceptance speech from Ed Steers off Local 199, after he was awarded the Bud Jimmerfield Award, named after a machinist who worked at an auto parts plan in Amherstburg, Ont.
For three decades, Jimmerfield was exposed to cancer-causing metalworking fluids. He died in 1998 of esophageal cancer.
The annual award is presented to an activist who has shown leadership helping fellow workers prevent future diseases, death and injuries on the job.
In 2019, there were 925 workplace fatalities recorded in Canada and 271,806 accepted claims for lost time due to injury or disease.
Image
Image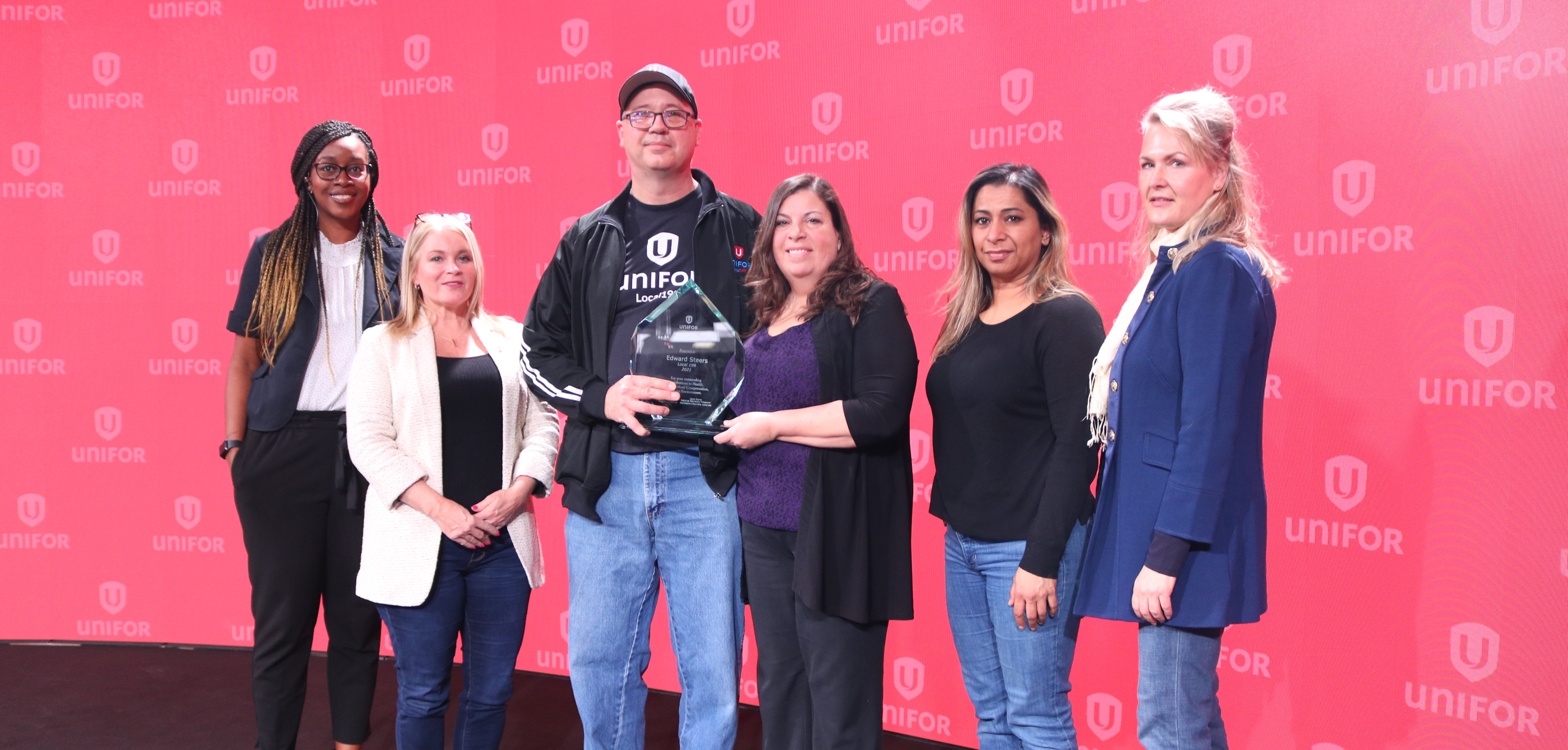 Steers paid tribute to a co-worker who died on the job at the St. Catharines propulsion plant on Oct. 22, 2021.
"It was literally the worst day of my life," he said, his voice shaking.
"It began a two-to-three-week period where it felt like I was standing in the eye of a hurricane. When I got home that evening, I looked at my wife. I thought how our family would change and how my wife would feel right now if I didn't come home from work. With each worker tragedy, there are loved ones, family members and co-workers who are directly affected."