Main Image
Image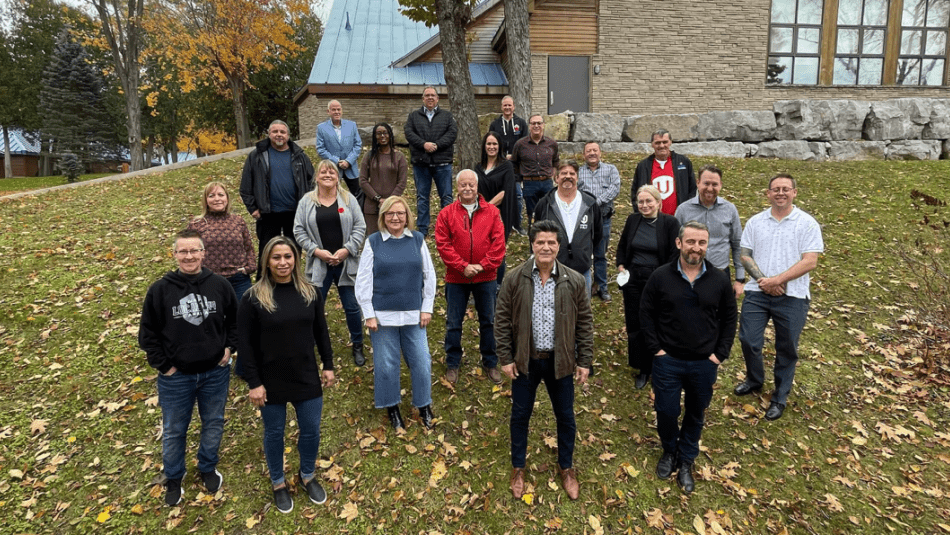 Share
Unifor's elected National Executive Board (NEB) met in person for the first time in two years this week in Port Elgin.
"It is absolutely joyful to be back here at the Family Education Centre – the heart of our union," said Unifor's National Secretary Treasurer, Lana Payne as she opened the meeting, which included the 25 elected members as well as Department, Sector and Area Directors.
"This pandemic continues to steal lives and livelihoods around the world. This has been without a doubt the toughest crisis we have faced as workers, as a society, as a global community and as a union."
View Facebook Album here:
 
"Thank goodness we are not on another Zoom call," said Unifor National President Jerry Dias as he welcomed seven new members of the NEB who have not yet attended an in-person meeting, due to COVID-19 restrictions.
The jam-packed agenda included a reports from the President and National Secretary Treasurer, plus updates from Regional, Sector and Department Directors. 
There were many emotional and gripping moments as the NEB heard from the hardest hit sectors such as gaming and hospitality, where workers had been off work for more than a year.
Issues including vaccine mandates, attacks on journalists, racial justice, reconciliation and the global shortage of chips in the auto sector were debated with plans and campaigns on these and other key union priorities.
"We need to start building semiconductors in Canada," said John D'Agnolo, Unifor Auto Chair in his report to the board as he urged the union to continue lobbying all levels of government to build manufacturing capacity in Canada, throughout the supply chain, as too many auto workers are laid off due to chip shortages.
Dias arrived at the meeting elated after witnessing the first truck roll off the assembly line at the newly reopened General Motors assembly line in Oshawa.
"I can say with conviction that I stood in Oshawa and I felt good, I felt good about the job security for our members," said Dias, who spoke at length about the importance of working as a united team on major battles in the labour movement, such as Unifor's three-year fight to re-open Oshawa.
Dias also spoke about the union's work in Mexico.
"It's our collective responsibility as an union to work in solidarity with those that have the ability to lead the change to protect the jobs in our union and the jobs around the rest of the globe by making sure that all workers have a fighting chance for a good decent wage and a living job."
Quebec Director Renaud Gagné updated the NEB via Zoom on the 150 Local 177 members locked out since May at the Ash Grove Cement plant in Jolliette.
"This is a battle to win that affects the entire labour movement and we will certainly need support from locals across the country to get through this dispute," said Gagné.
 
The Quebec Federation of Labour General Council has expressed its unanimous support for these members and has collected donations from across the province.
The meeting was moved to the Centre's gymnasium to allow for social distancing and all participants in attendance at the Family Education Centre provided proof of double vaccination and wore masks, as per Unifor policy.