Main Image
Image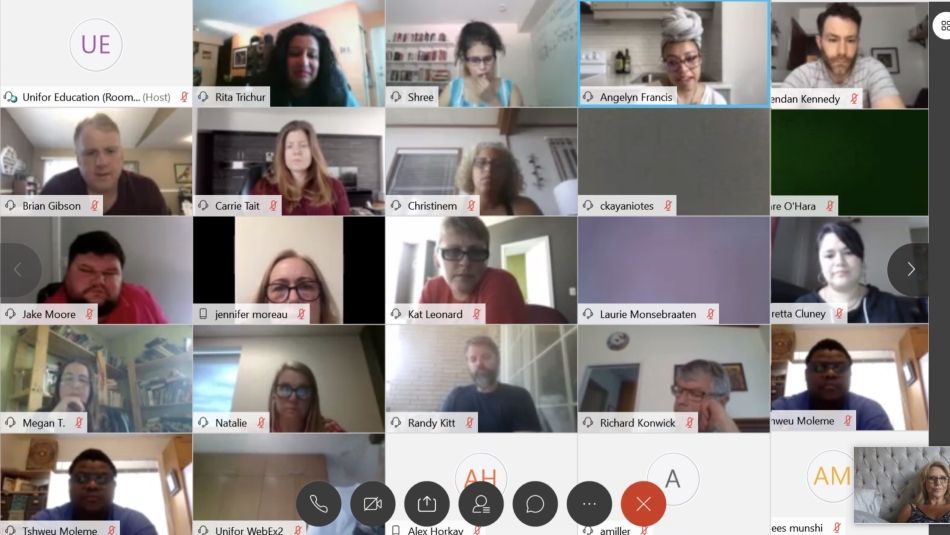 Share
Racial bias exists in every newsroom in Canada now more than ever we must rethink and reflect on how we report the news, said panelists on a webinar hosted by Unifor July 2, 2020. 
The frank conversation was led by Rita Trichur, from the Globe and Mail and included Unifor members from newsrooms across the country. 
Trichur asked many thought provoking questions of panelists Shree Paradkar, columnist at the Toronto Star and Angelyn Francis, reporter at Toronto Star. 
"You can't fix racism in a half day workshop and you can't fix what you don't see," said Trichur who spoke about the importance of diversity in leadership and management roles in newsrooms. 
"Workers of colour in leadership positions must be supported, they can't be left to fend for themselves. There is no point having a Black leader who is stranded and they have little authority and all the responsibility. If you have a Black woman editing an established white man's column you will have a complex power dynamic," said Paradkar. 
Francis spoke to the fact that too often the people who make decisions have not experienced racism and are blinded by their own privilege. 
"Consider your own privilege and be allies to Black, Indigenous and People of Color Black, Indigenous and People of Colour (BIOPOC) and be a witness and see and report what happens to journalists of colour," said Francis. 
All the panelists spoke about the need for courage in the news business and how everyone has a responsibility to call out racism when they see it. 
"It is not easy and not without consequence," said Paradkar who gave advice on how to approach the topic with coworkers. "Just saying 'can you reconsider what you just said?' and even that will get people's backs up. You need to be ready for conflict, and hope people will back you up."
"Stand in front of BIPOC journalists when we ask for protection," said Paradkar. "Stand beside us when we ask for allies. For the most part, stand behind us when BIPOC journalists take the lead."  
The conversation reflected on how to deal with both current and past atrocities. 
"We should never deny or explain atrocities by saying something like it was stupid because it was a different time. Stop making excuses. A different time for who?" asked Paradkar.
"Don't say maybe that is not how they meant it. Don't think look how far we have come because the fact is racism is systemic," added Francis.
The discussion ended with a collective call to action for journalists to be accountable for what stories they tell, who they choose to interview and what elements they highlight and rethink these decisions through the lens racial bias. 
"Check yourself and your own biases. It's a painful process. Consider deeply what is the norm? Whose norm is that? Explore your blind spots and become aware of your own bias, said Paradkar. 
Unifor's policy on racial justice can be found here: 
Unifor is Canada's largest media union, representing thousands of workers at news outlets across the country, including the Globe and Mail and the Toronto Star.