Main Image
Image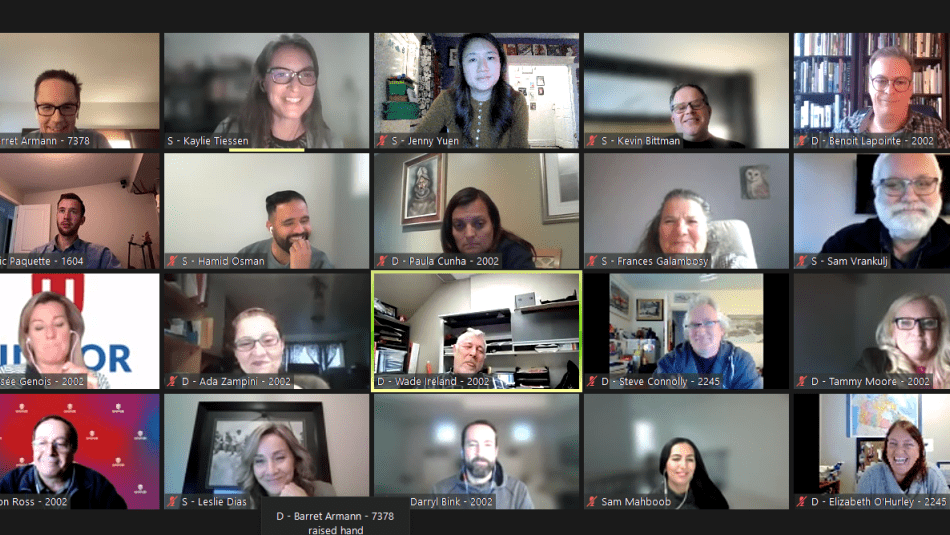 Share
Unifor's Aviation Council held its first meeting in two years on November 17, 2021 since COVID-19 caused a shutdown of the airline sector.
"As a sector, we're clearly in for a slow path back to where we were before the pandemic. While flights may be full, there are far fewer than before as airlines manage capacity," said Leslie Dias, Unifor Director of Airlines in her opening remarks. "As a union, we've been looking at things we can do to speed up that process."
For example, Dias said, in 2020 many Unifor aviation members formed an ad hoc committee dedicated to creating a National Recovery Plan for the Aviation Sector, which they delivered to the Minister of Transport.
They also ran a poll in partnership with Local 7378 to investigate the attitudes of Canadians towards air travel and restrictions, which served as a guide and helped them strategize in ways to advocate the government for a safe re-opening of borders and financial support for employers.
Prior to COVID-19, Unifor represented nearly 16,000 members working in the air transportation sector, including pilots, customer service representatives, aircraft groomers, catering staff and air traffic controllers, among others.
That number plunged to 11,000 by December 2020 and is recovering slowly in many workplaces.
While employment in the aviation industry remains down from levels prior to COVID-19, the re-opening of borders signals a slow – albeit long – journey back to pre-pandemic air travel, said Unifor Secretary-Treasurer Lana Payne.
"Was there anything more dystopian than entering an airport in those early days? No passengers, no staff. It was really quite surreal," said Payne. "But we did what a union should do during times of crisis. We organized. We tackled the crisis head on because it is our collective responsibility to be there for our members."
Payne said aviation workers have experienced their fair share of stress, uncertainty, change and concern and job loss over the past 20 months, but also acknowledged some gains, including the newly-formed Local 531, which represents WestJet workers in Calgary and Vancouver, who are working to bargain their first collective agreement.
"The pandemic has in many ways made us stronger as a union," said Payne. "We must continue to use every tool we have to keep our workplaces safe and to demand an economy and society that is better than before. One that is built on the lessons from this pandemic and we must continue to ensure our union is active, responsive and powerful."
Unifor Researcher Kaylie Tiessen said workers can get the best and avoid the worst from technology in the workplace through collective bargaining, regulatory solutions and advocating for good jobs and decent work. 
Unifor plans on hosting a "New Tech in Aviation" workshop in the spring in Port Elgin to engage local union leadership and bargaining units to be ready for technical change and develop strategies going forward.
The council also discussed vaccine mandates and legal requirements with Unifor legal counsel Niki Lundquist, who gave several case scenarios to outline the complexity of workplaces and issues workers face with COVID-19 testing and vaccinations.
Unifor Women's Director Lisa Kelly spoke about pay equity and the need to set up committees within workplaces.
The council elected a new chairperson, vice-chairperson and three members at large to represent the geographic, sub-sector and equity principles of the union.
Tammy Moore, the President of Local 2002, takes the reins as Aviation Council chairperson, Don Ross was elected vice-chairperson and Wade Ireland, Elizabeth O'Hurley and Ada Zampini were sworn in as members at large.