Share
Location
Nathan Phillips Square, Toronto
100 Queen St. W
Toronto ON M5G 1P5
Canada
Main Image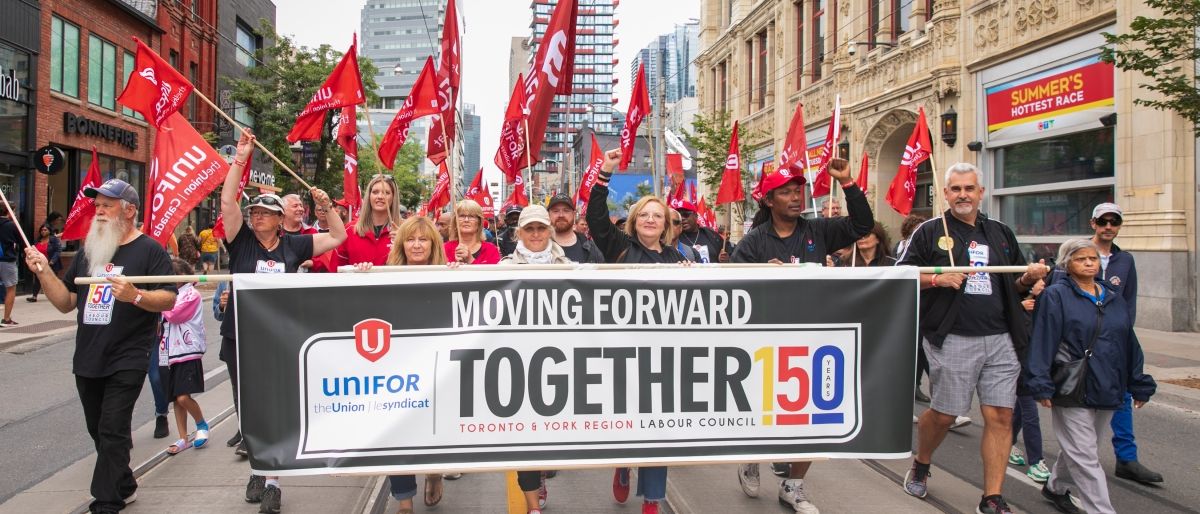 Monday, September 4
We are pleased to inform you that Unifor will be participating in the 2023 Toronto Labour Day Parade with the rest of our labour movement family.
We will assemble at Nathan Phillips Square beginning at 7:30 a.m. on September 4. Those volunteering may be required to arrive earlier. Prior to the parade, Unifor will have entertainment, speeches, and local tables set up in the square for T-shirt and CNE wristband pick-up. We will then march in the Labour Day Parade finishing at the CNE grounds.
Wristbands provided will allow admission only to the CNE at the end of the parade route.  Please indicate on the form attached how many wristbands your local requires.
This Labour Day is particularly significant as Unifor will mark our union's 10th anniversary. The Labour Day Planning Committee have selected this year's shirt, the Unifor logo will be printed on the front of the shirt, and the back will feature a special anniversary logo which will be unveiled at Canadian Council.
Local Unions are asked to order the long sleeve T-shirts directly from the supplier at the following link: uniforstore.com.
The National Union and each Regional Council will together be providing a combined total subsidy of $10/per shirt, which will be applied at the time of purchase, reducing the cost to $20/ per shirt.
In order to receive T-shirts in time for Labour Day, please make note that the deadline to place orders is July 28, 2023.
Share information on the parade by placing posters in your union halls and workplaces.
If you would like printed copies of the Labour Day Posters mailed to your local, please send the following information to @email with Subject Line: Labour Day Posters
Local Union
Number of Posters Required
Mailing Address
Contact Person and Phone Number
If you plan to distribute electronically, a fillable PDF version of the poster is also attached.
2023 Toronto Labour Day Local Form
Attached you will find a form to be completed regarding your local's participation in the Labour Day Parade.  Please complete the form no later than August 14, and send to @email
Unifor Marshalls and Volunteers
We are asking Local Unions to submit names of Marshalls and Volunteers to assist in making this year's parade a success. Please submit the names to @email and also fill out the attached form and return no later than August 28.
Accessibility
Unifor is committed to dismantling barriers that exclude our membership from equal participation in their Union and will take every reasonable step to address any substantiated, human-right related needs requiring accommodation.
Transportation for the parade route will be provided for those with accessibility needs.
If you have any questions or concerns please contact Terry Farrell at @email or call 416-662-0112.
Thanks in advance for your cooperation, and we look forward to seeing all of you in Nathan Phillips Square on September 4!
---
Download the Local Form here.
Download the poster here.
Download the (fillable) poster here.