Share
Main Image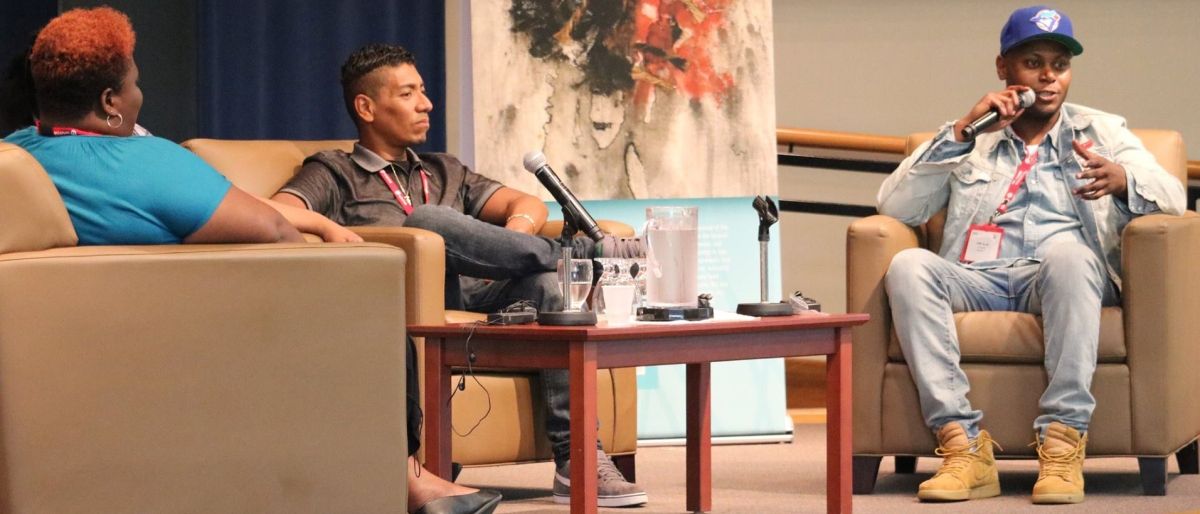 As part of our continued commitment to equity, diversity and inclusion Unifor will be convening a special National Roundtable on Racism & Islamophobia on Thursday, August 16th, 2018 in Halifax, Nova Scotia, in the lead-up to our annual Canada Council Meeting.  Bringing together representatives from a variety of social justice organizations, grassroots advocacy groups, labour activists, academics, and government representatives, our goal of this roundtable is to engage in an open discussion about the role of the labour movement in combatting racism, and how we can forge better alliances with activists and organizations that are leading the fight against racial and religious intolerance.
Our desire is for attendees to leave with some concrete strategies and tools they can bring to their workplaces and communities and leave them feeling motivated, inspired, and supported to become active anti-racist allies and activists.  We encourage you to attend this very important event.
Our panelists for this roundtable include:
Janet Dench
is the Exec­utive Director of the Canadian Council for Refugees, where she has worked since 1990 (as Executive Director since 1997). Through this organization and through others for which she has volunteered, she works for policies and programs that respect refugee rights and welcome refu­gees and immigrants to Canada. Her main interests lie in international and Canadian refugee and immi­gration policy, with an emphasis on international human rights, gender sensitivity and anti-racism, and in NGO networking and anti-racism advocacy. Dench has a BA in Classics and Modern Languages from the University of Oxford and an MA in Reli­gious Studies from Concordia University.
---
Lynne Groulx
is the Exec­utive Director for the Native Women's Associ­ation of Canada. She has a background in both civil and common law with a specialization in corpo­rate law, social justice and Indigenous legal traditions and customary laws. In addition to being actively engaged in administering a National orga­nization and her ongoing contributions to advo­cacy work, Groulx is working towards a Master of Law Degree with a focus on 'Access to Human Rights Issues for Indigenous People'. Her achieve­ments include restructuring corporate operations, developing a gender integration framework at the federal and international level, and spearheading a national policy position on the use of solitary confinement for women prisoners. Other successes include high-level negotiations with key govern­ment agencies, development of a template policy on sexual harassment, strategic funding develop­ment, and countless other initiatives. Groulx is the personification of resolute leadership, expressing the full capacity of her knowledge to ensure justice and equality for Indigenous women. Through her visionary efforts, she embodies the unmistakable value and power of the many nations of Indigenous women.
---
Erica Violet Lee
is a two-spirit Nēhiyaw (Cree) writer and student from westside Saskatoon, Saskatchewan. She is an organizer with Idle No More and Indigenous Climate Action, among other grassroots initia­tives. Lee has a BA in Political Theory from the University of Saskatche­wan and is now pursuing her Master's degree in the Department of Social Justice Education at Ontario Institute for Studies in Education, University of Toronto. She is also the co-editor of two forthcoming anthologies from the University of Manitoba Press. She writes about navigating Canada as a young Native woman on her blog,
www.MoontimeWarrior.com
.
---
is the Principal of Fair Practices Consulting, a manage­ment consulting firm specializing in equity, inclusion, diversity, human rights and acces­sibility. In the Ontario government, Jafri led legislation and policy development, human resources and communi­cation in various minis­tries and agencies, including the Ministries of Education, Community and Social Services, Culture and Citizenship and Immigration. In the private sector, she directed diversity and equity initiatives at Scotiabank and at the Bank of Montreal. Nuzhat Jafri
Jafri is also a Consulting Associate with the Canadian Centre for Diversity and Inclusion and has served as the Executive Director of the Office of the Fairness Commissioner (OFC) from Septem­ber 2007 to August 2017. The OFC's mandate is to ensure that anyone applying for licensure to practice in a regulated profession in Ontario is treated fairly regardless of where they were educated.
---
is a proud African Canadian born and raised in Truro, Nova Scotia. Her roots span several generations, making her one of several Indigenous African Nova Scotians. To date, she has visited approximately 20 countries in Africa and is particularly proud of the recent $14,000+ funds raised for initiatives in Ethiopia. Lynn Jones
Being employed as a Federal Public Service employee for over 30 years and her extensive experience in the Canadian labour movement enabled Lynn to be a leader in areas Black people had never ventured before. This includes being the first Black General Vice-President of the Canadian Labour Congress and National Vice-President of the Canada Employment and Immigration Union. Jones is the recipient of the Queen's Medal and chair of the Global African Congress Nova Scotia Chapter, an organization which seeks reparations for the atrocities of the Atlantic Slave Trade.
---
has been working to improve wages and working conditions in sectors of work that are domi­nated with low-wages, violations of rights, and precarious and part-time work for the past 26 years. Deena Ladd
Ladd has worked to support and develop community organizing spaces and grassroots organizations such as Migrant Workers' Alliance for Change, Decent Work and Health Network and Ontario's Fight for $15 and Fairness. She is also one of the founders and a coordinator of the Toronto Workers' Action Centre. The Workers' Action Centre organizes to improve wages and working conditions with low-waged workers, women, racialized and immigrant workers in precarious jobs that face discrimination, violations of rights and no benefits in the workplace.
---
is the author of Policing Black Lives: State violence in Canada from slavery to the present (Fernwood 2017). The book is a national bestseller in its second printing. She has also published writ­ing in the Washington Post, World Policy Jour­nal, the Toronto Star, the Montreal Gazette and Canadian Women's Studies Journal, as well as an essay for Maisonneuve Magazine. Maynard's writ­ing on race, gender, and discrimination is taught widely in universities across Canada and the United States. Her expertise is regularly sought in local, national and international media outlets including The Guardian and the Globe and Mail. Additionally, she has spoken before Parliamentary subcommittees and the United Nations Working Group of Experts on People of African Descent. Robyn has been a part of grassroots movements against racial profiling, police violence, detention and deportation for over a decade. She also has an extensive work history in harm reduction-based service provision serving sex workers, drug users, and marginalized youth in Montreal. Her writing can be found at Robyn Maynardwww.robynmaynard.com
---
is a reporter photographer at the Toronto Star. He special­izes in investigations, data journalism and features. His work has been nomi­nated for eleven National Newspaper Awards, many of them for group efforts on social justice issues. In 2002 he led a Michener Award-winning investigative series into race, policing and crime in Toronto, which led to repeated investigations into the police practice of carding. Other recent stories Rankin worked on revealed racial disparities in Ontario's child protec­tion system, jail populations and school suspen­sions. He was also part of a team that produced a 2015 series on murdered and missing Indigenous women and girls. Jim Rankin
About the roundtable:
Unifor strongly believes that the labour movement has a key role to play in the fight against racism and Islamophobia.  We have worked hard over the years to ensure that anti-racism, equity, and social justice are at the very root of everything that we do.  We often pride ourselves in thinking that the problems that exist in other countries in terms of racism and anti-immigrant hostility, do not happen here. However, as recent events in Canada have shown, we are not immune.
In just the past few years we have witnessed mosques being vandalized and the tragic shooting deaths of six Muslim Canadians in Quebec City; the murders of two Indigenous youths from Saskatchewan and Manitoba, Colten Boushie and Tina Fontaine, and a system that has failed to bring justice for their families and communities; organized white supremacist rallies in our cities and at our borders targeting immigrants and refugees, and anti-black racism, police violence, and racial profiling of youth and people of colour.
While we are saddened and angered by these tragic events, we know we need to do more.  The labour movement needs to do more.  We must show a unified front against all individuals and groups that seek to divide us and who actively threaten Indigenous Peoples, people of colour, Muslims, migrants and refugees.  We must work to not only find ways to better support our allies and partners who are leading this fight at the local and national level, but also find ways to support our members who want to become anti-racist and migrant justice advocates in their workplaces and communities.
Please contact the Director of Human Rights Christine Maclin @email for further details.
REGISTRATION
Unifor Canada Council delegates, family members, and special guest invitees will be in attendance for this event.  To participate, and to ensure a spot at this event, please complete the registration form.  Please return completed forms to @email or fax to 416-495-3764 no later than Thursday, August 2, 2018.
ACCESSIBILITY
Unifor seeks to make all union events accessible and barrier free.  If you require accommodations for human rights related needs, we invite you to provide us with your relevant information so that we can take all reasonable steps to address any barriers to your participation in your Union.
CHILD CARE
Child care is available for children 0 – 12 years of age, of eligible delegates during the conference hours only, if numbers permit.  Delegates will be eligible for child care providing they are a single parent, or a parent not accompanied by a spouse or companion.  Where both parents are registered delegates, they will also qualify for child care.  Child care registration forms are enclosed.  Please make your child care reservations as early as possible.