Main Image
Image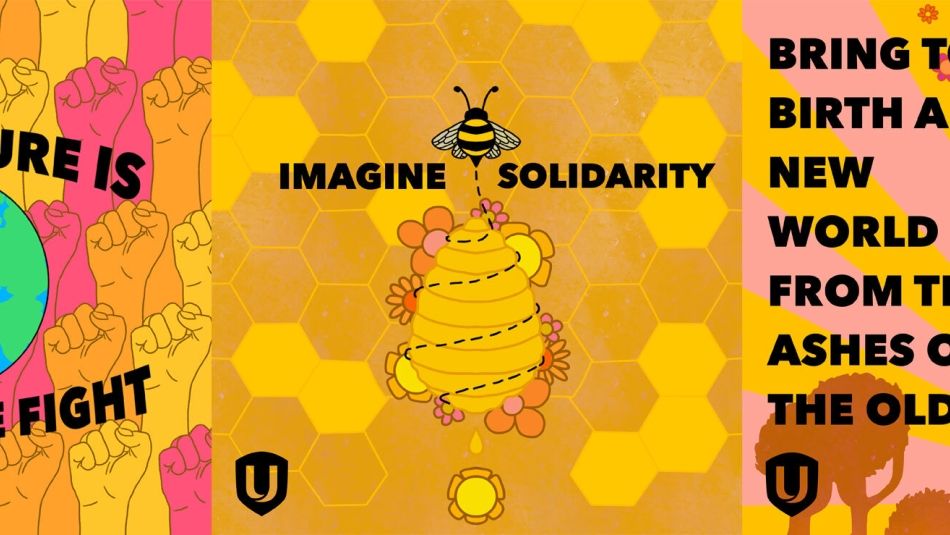 Share
A series of affirmations to unite the young and old
To mark this year's World Day for Decent Work, we enlisted a freelance graphic artist by the name of Hana Shafi, also known as Frizz Kid, to help us develop three collective affirmations from a young workers' perspective.
Shafi is known for her colourful and vibrant style and those elements are on full display in the artwork she created for us.
Here are details about each affirmation and what it means:
Our future is worth the fight
The world we're leaving for the next generation of workers is not in great shape.
This is a wake-up call to previous generations: let us unite and fight for our collective future. Let us overcome the obstacles to ensure that the world that comes next is better, not just the same, as the world we had before. Let us recognize that we cannot afford to be content with what we have. Let us refuse to give ground to those who make profit and run this planet into the ground.
Imagine solidarity
In a world where isolation and despair sometimes overpower hope and joy, imagination is an act of resistance.
We have a duty to imagine. It is up to us to imagine a better future, to imagine the healthy and safe spaces for our friends and loved-ones to gather; imagine the power of people coming together. Nobody is going to imagine for us.
Imagine hope. Imagine comfort. Imagine community. Imagine acceptance. Imagine power.
Imagine solidarity.
Bring to birth a new world from the ashes of the old
Long-time labour activists will recognize these well-known lyrics from Solidarity Forever. For decades, trade union activists have raised their fists and sung the verses from this labour anthem in convention halls and on picket lines across the country -- sometimes to the tune of an acoustic guitar, other times to the sound of a scratchy recording.
Younger labour activists often consider this standing agenda item to close off a meeting a little "old-timey", maybe even a little old-fashioned. But time and time again, we too raise our fists and say: solidarity forever!
They have taken untold millions

that they never toiled to earn

But without our brain and muscle

not a single wheel can turn.

We can break their haughty power,

gain our freedom when we learn

That the union makes us strong.
Be sure to download, print and share all three affirmations on your social media: