Main Image
Image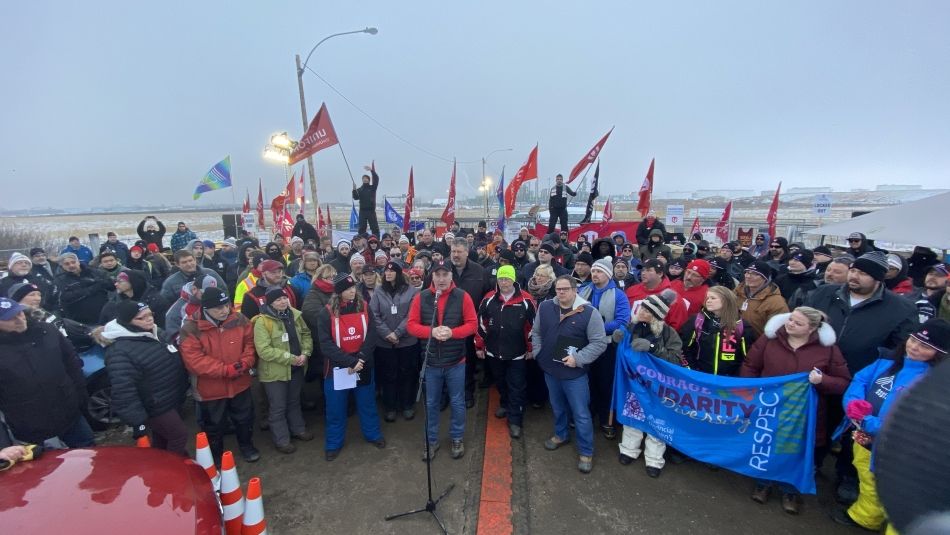 Share
Case Study 1: Co-op Refinery & Unifor Local 594

In December 2019, Unifor Local 594 members working at the Co-op Refinery in Regina, SK were locked out by their employer, in a dispute that would ultimately last for 201 days. The members' defined benefits pension plan was the main area of disagreement at the bargaining table, with the employer demanding deep concessions but unwilling to put an offer to the membership until the months into the lockout.

Co-op Refinery & Unifor Local 594 Type of dispute: Lockout

Location: Regina, Saskatchewan Number of members: 689 Duration: December 5, 2019 to

June 23, 2020

Total days lost: 201
NATHAN KRAEMER
Nathan Kraemer is the President of Local 594 and was on the bargaining committee during the 2019-2020 lockout at the Co-op Refinery in Regina where the employer flew in scabs by helicopter.
---
Can you give us the history of the extraordinary dispute between the Co-op Refinery and Local 594?
It was kind of a long time coming, for at least the contract term before, when we had ratified a deal in 2017 that I don't think the employer ever anticipated we would actually ratify. They came in again in 2019 with every intention of getting us out on a picket line one way or another.
Starting almost immediately, the company started driving in, and flying in on helicopters, all kinds of scabs and replacement workers. It really takes away any incentive or reason for the employer to bargain fairly, or to even bargain at all, which is what we saw. They didn't provide us with an offer that we could even take to the membership until well into the lockout.
The use of scabs tips the balance of power, and it really left us without many options. Local 594 is supposed to be their sole provider of labour. But with us locked out and their ability to replace us with replacement workers, it really took away the only leverage that we had. So we were kind of trapped out on the line. The company was not willing to bargain because they didn't feel any need to do that, as they were able to run the plant with their scabs and without us.
Can you talk about the level of stress this had on our members and their families?
So many families were impacted by this, freezing out on the picket line and looking up and seeing that helicopter. It was awful from the first day we saw those helicopters fly in. Watching them continue to fly in all day, every day. They would make low passes, I'm sure intentionally just for the psychological impact it would have on all of us. And the flight paths took them around the city, making sure that a massive percentage of the membership and everyone else in Regina was very aware of the helicopters and what was going on.
Sign the petition for anti-scab legislation here: https://www.unifor.org/en/take-action/campaigns/anti-scab-legislation-now
Can you talk about what difference anti-scab legislation might have made for you at the Co-op lockout?
It's fair. It's the right thing to do. It would sure be great to not have to worry about scabs the next time we go into bargaining. That would be amazing. It would have changed things a lot for us, and for other workplaces, unions and labour disputes. We want to do everything we can right now to get anti- scab laws in place in Saskatchewan and in other provinces. When employers can use scabs to continue production and sales, it takes away the power that a strike or lock out is supposed to give workers to end a dispute.
How did you feel in terms of the safety of going back to work knowing that there had been scabs working there for the seven months that you were out on the picket line?
For one thing, those workers were not necessarily familiar with the facility and some of the specific equipment there. But also they don't have a vested interest in that place – they're there for the duration of the labour dispute and then, and then they're gone, sometimes to scab somewhere else.
So yeah, there was absolutely concerns. And the plant wasn't in great shape when we got back. Very shortly after we got back in, actually, there was a fairly significant fire on a piece of equipment. I guess you couldn't necessarily blame it directly on the scabs, but it was a piece of equipment that should have been worked on in that turnaround, but ended up being postponed because of the labour dispute. It was things like that - they were very avoidable, but they happened and will probably continue to happen over the next while until the entire place gets sorted out again.
What about the impact of scabs on the picket line? How did their presence affect the nature of the dispute? There's a whole level of community risk and safety. Not just thinking that this was a refinery in the city of Regina next to people in residential neighbourhoods, but other health and safety concerns caused by generating this much conflict.
The use of scabs has an effect way beyond just within the plant or in the workplace, but also out in the community. But even just on the lines, watching them cross all day, you know, happily going in to do our work – and even taunting us about that fact. It did a lot of damage. It actually ends up pushing people to much higher levels of stress and things happen that might not normally happen. And we actually ended up having some issues on the picket line that we're still dealing with through grievances and stuff. It was very much because of the stress that was introduced by the scab workers.
You've said that your employer deployed scabs to both continue their business operations, but also as a tool of intimidation. Given that, how does the use of scabs makes you feel about bargaining in the future?
In terms of having a reasonable relationship with the employer, that kind of thing? After the labour dispute, with the company using scabs for the duration, it is definitely difficult to try and rebuild the relationship with them.
We've been working a lot on that and as far as future bargaining goes, it's a huge concern. I think the company has seen that when they have the ability to use those replacement workers, the scabs, they don't have any incentive to actually bargain a deal with the Local. If they choose to go that way in future bargaining, it will really be difficult at the bargaining table to get anywhere and not just end up locked out on a picket line again.
The whole labor dispute, at the heart of it, was primarily about our pension – for us anyways. But I have no doubt that the end goal from the employer's perspective was to break this union. They didn't want to deal. That's why they didn't give us even any proposals until well into the lockout. This was union busting, pure and simple, and we were told that everyday on the lines by the scabs going through, and by their security. They were taunting us, saying, "You're never coming back in here. You guys are done. They don't need you." It was psychological, for sure, and they knew what they were doing. It was about union busting, but they didn't succeed.
If you could talk to one of the scabs that crossed the picket line, what would you say to them?
I would just ask what their justification is, what their motivation is. I understand people need to be employed, but of all the types of employment you could pursue, why be a scab while 750 people are out suffering on a picket line? Everybody knows it's not long-term employment. I just can't wrap my head around why somebody would want to willingly do that and how they can feel okay about that.