Main Image
Image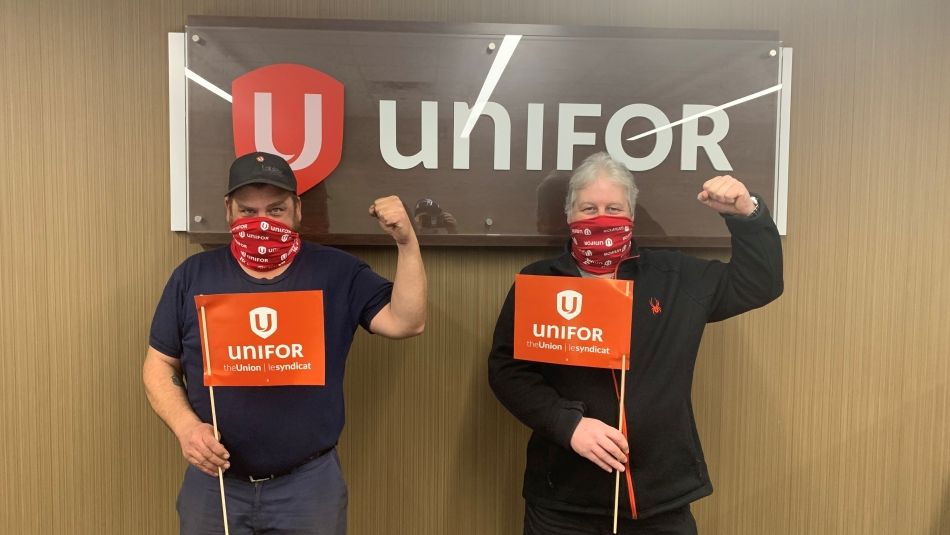 Share
Unifor is welcoming new members from across the country as workers at Rise Air in Saskatchewan, Hillel Lodge Long Term Care in Ontario and the Loblaw DC 14 warehouse in New Brunswick vote to join the union.
"As the largest private sector union in Canada Unifor is able to stand up on issues that impact all workers while also using the combined power of our membership to fight for government and employer measures to assist specific sectors," said Unifor National President Jerry Dias.
"These new members come from three industries particularly affected by COVID-19, aviation, retail warehousing and long-term care, that each have ongoing public campaigns by Unifor."
In January 2020 Transwest Air and West Wind Aviation, the two airlines that serve Saskatchewan's north, consolidated operations and have now rebranded as Rise Air. Last week the two pilot groups voted electronically to join Unifor Local 1604, with more than 80% in favour.
In the coming days and weeks, Unifor will focus on bargaining a collective agreement for the 74 pilots who provide domestic and international transport to both people and cargo.
Since the beginning of the pandemic, Unifor has been a strong advocate for government supports for aviation sector workers. In October 2020, the union released a policy paper outlining a national aviation recovery plan.  
Unifor held more than a dozen meetings with government officials during the last year and has held multiple news conferences to demand immediate aid from the federal government, the most recent on March 16 on the one-year anniversary of federal inaction to deliver assistance to aviation workers.
During the COVID crisis, Unifor has also advocated for much needed support to health and long-term care workers by calling for national long-term care standards and improved provincial regulations.
In an electronic vote conducted March 16-17, 175 workers at the Hillel Lodge Long Term Care in Ottawa voted overwhelming to join Unifor.
The new members include Personal Support Workers, Registered Practical Nurses and Dietary and Housekeeping staff at the 121 long-term care bed facility. The workforce is predominantly women and workers of colour.
"We're always working short staffed. We complained but nothing was done so we were stuck. We're working so hard with no time for breaks, people feel guilty going to break and to leave the residents but in the meantime people were getting hurt. There was nobody to stand for us," said Stella Tshilenge, who has worked as a PSW at Hillel Lodge for five years. "We need a union to stand up for us when we need you."
Colleague Wedlyne Alexander, a 10-year veteran PSW at Hillel Lodge, agrees that the long-term care workers need better protection.
"We do work without any contract. We don't have any time-and-a half so we know that if we continue past regular hours we don't get overtime. So many things need to be fixed so we need a good union and a good collective agreement."
This month, Unifor joined forces with SEIU Healthcare and CUPE to launch the 'Respect Us. Protect Us. Pay Us.' campaign on behalf of the unions' combined 175,000 health and long-term care workers in Ontario.
The campaign calls on Premier Ford to reverse the staff exodus in health care by turning exploitative part-time work into full-time jobs with benefits, provide paid-sick days and make the temporary $4 an hour pay increase permanent for all health and long-term care providers.
On March 23, the three unions took action at Queen's Park when healthcare and long-term care workers and their supporters held a drive-by action to demand funding to improve care and create decent jobs.
In addition to healthcare, COVID-19 has also proven the essential nature of grocery workers, both in store and in supporting warehouse work. Following a card signing effort, 155 workers at the Loblaw DC 14 grocery warehouse in Moncton, New Brunswick joined Unifor, which already represents workers at the two other Loblaw's warehouse locations in the city.
The job classifications of the new members include shipping and receiving, warehousing and Transport (Truck Drivers and Shunters).
"This is a tremendous gain as Unifor now represents all 3 Loblaw warehouses in Moncton which will increase the bargaining strength of our members," said Unifor Director of Organizing Kellie Scanlan. "This was made possible by the incredible work of a strong committee that worked diligently to collect signatures on cards and to speak to workers about the benefits of joining Unifor."
Earlier this year Unifor took on Loblaw Companies Limited during a 12-week strike by 1,400 Local 597 members at Loblaw-owned Dominion stores across Newfoundland. The union continues to push for the reinstatement of pandemic pay to all grocery workers and to raise standards in retail industry with the 'Fair Pay Forever' campaign.
"The pandemic has shown the need for workers to stand together and the benefit of a union that will advocate and fight on their behalf," said Dias. "Unifor's organizing department deserves credit for finding innovative ways to connect and provide information to workers during COVID-19 as the union continues its work to address pandemic challenges and to push to 'Build Back Better'.
For information on joining Unifor click here