Main Image
Image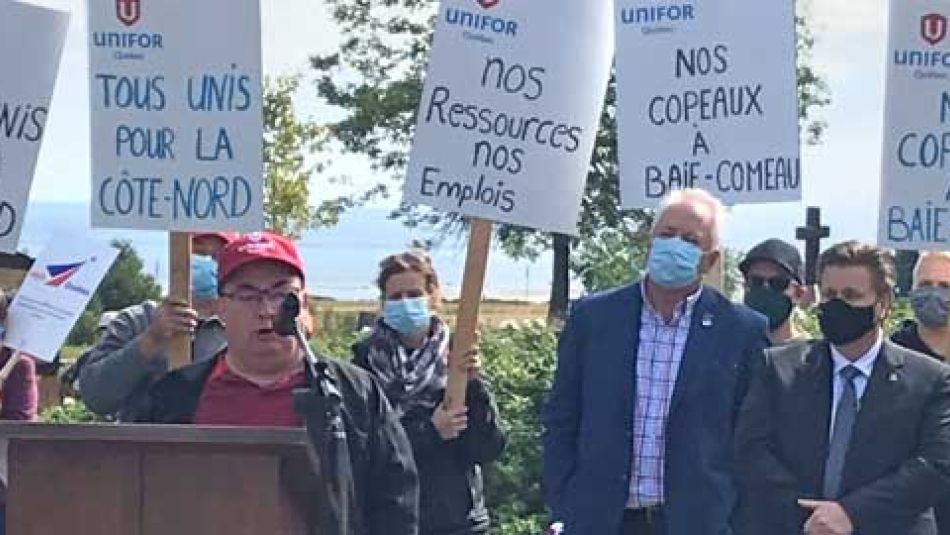 Share
Hundreds of forestry workers and their supporters in Baie-Comeau participated in a morning rally at the Resolute Forest Products paper mill to protect jobs in the North Shore region.
"Our members are worried. They are unemployed while the resource continues to be harvested for processing in mills outside the region. It doesn't make sense and it's unacceptable to the people in the North Shore region," explained Unifor's Quebec director Renaud Gagné.
For the union leader, natural resources should primarily benefit the communities in the region where they are harvested. The union is also calling for the mill to be re-tooled in order to create more jobs. "We've known for a long time that the newsprint market is in decline. Covid-19 has not helped the situation. More than ever, we need to act in order to develop the niche markets of the future," Gagné insisted.
This will require making major investments to adapt the mill's equipment. "Our members have no intention of standing by and watching as their jobs are taken away from them," warned Gagné. "The Baie-Comeau mill represents the heart and lungs of the forest industry on Quebec's North Shore. It must remain in operation. Otherwise, the entire industry, including sawmills and forestry operations, is at risk."
 Unifor is the largest union in the forestry industry in Quebec and Canada.