Main Image
Image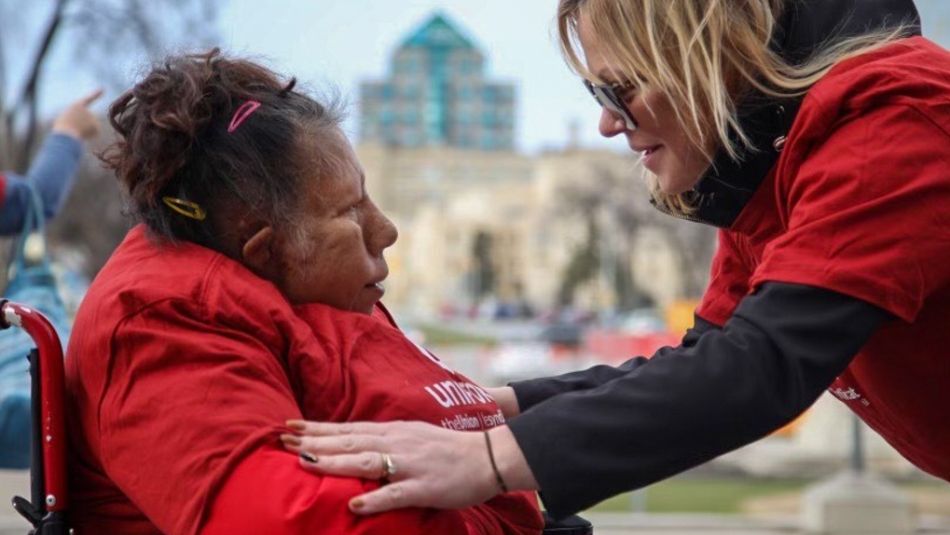 Share
Community and health care activists rallied outside of the Manitoba legislature on October 28, 2022 to launch the union's "Respect Us. Protect Us. Pay Us." campaign to improve the working conditions and wages of Association for Community Living (ACL) workers.
"Low provincial funding results in low wages. It's not surprising that many staff are leaving to take better paying jobs that don't have the kind of hours and stress related to community care," said Gavin McGarrigle, Unifor Western Regional Director.
"Ultimately, high staff turnover results in a poor quality of care for these clients. ACL needs more provincial funding to offer the kind of care that community members with disabilities deserve."
ACL provides housing to people with developmental disabilities and supports families through advocacy, individual consultation and training and information. Unifor Local 468 members provide essential support by helping clients with their daily needs, including eating, bathing, doctor appointments and recreational activities.
"For these folks, working with Manitobans with exceptional needs is more than a job. It's a calling. These workers love their job and they want to continue doing it, but the PCs are freezing wages and starving the system. The PC government refuses to give fair wages to working families, but the Manitoba NDP is committed to helping workers thrive and keep the services they deliver alive," said Wab Kinew, Leader of the New Democratic Party in Manitoba.
Unionized care workers at ACL are in contract negotiations with their employer, which is funded almost entirely by the Manitoba government. Average wages are approximately $1 above the minimum wage of $13.50/hour.
Two weeks ago, ACL workers voted against the latest contract offer by the employer. Clients won't be impacted by this decision.
Mary Boudreau, President of Unifor Local 468, also gave a compelling speech to the crowd.
Check out the photos from the rally.