Main Image
Image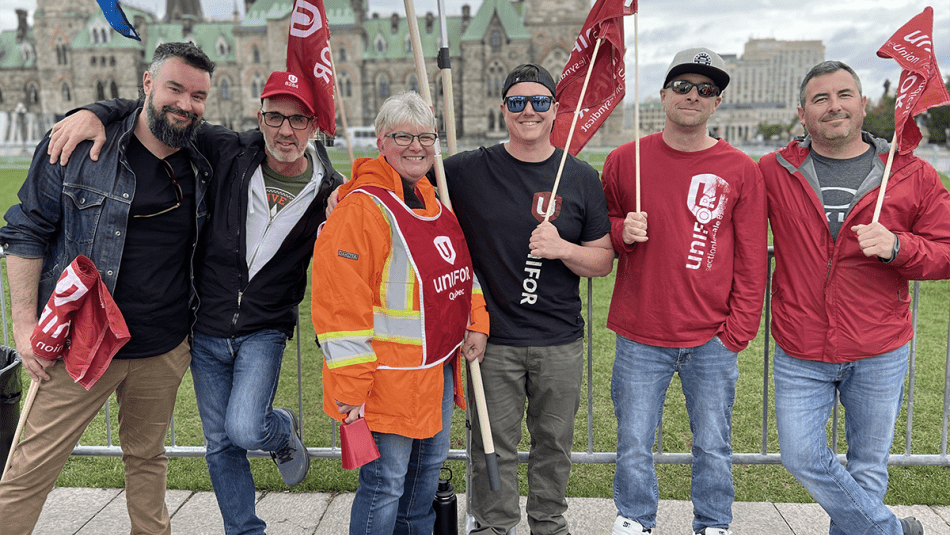 Share
A delegation of activists from Unifor and several other labour organizations were on Parliament Hill September 19 to once again demand federal anti-scab legislation. Workers are demanding that the federal government keep its promises on long-awaited anti-scab legislation during this session of Parliament.
Union leaders and several Members of Parliament were on hand to address activists, including Louise Chabot of the Parti Québécois, Alexandre Boulerice and Jagmeet Singh of the NDP.
Labour Minister Seamus O'Regan was also present and pledged to put an end to replacement workers before the end of the year: "The practice of using replacement workers is wrong and has been for a long time. Banning them is the most important thing to happen in the labour movement in decades, and I'm proud to be one of the many cross-party MPs who are finally seeing the light that the labour movement has been bringing to our attention for decades. Ladies and gentlemen, we will get it done, and we will get it done this year. The days of replacement workers are over!"
"Unifor looks forward to the day when anti-scab legislation is in place in Canada," said Lana Payne, Unifor National President. "Our union has long called for this measure to bring balance and fairness in Canada's labour relations, and we won't rest until this legislative protection is in place for federally-regulated workers."
Unifor is Canada's largest union in the private sector, representing 315,000 workers in every major area of the economy. The union advocates for all working people and their rights, fights for equality and social justice in Canada and abroad, and strives to create progressive change for a better future.