Main Image
Image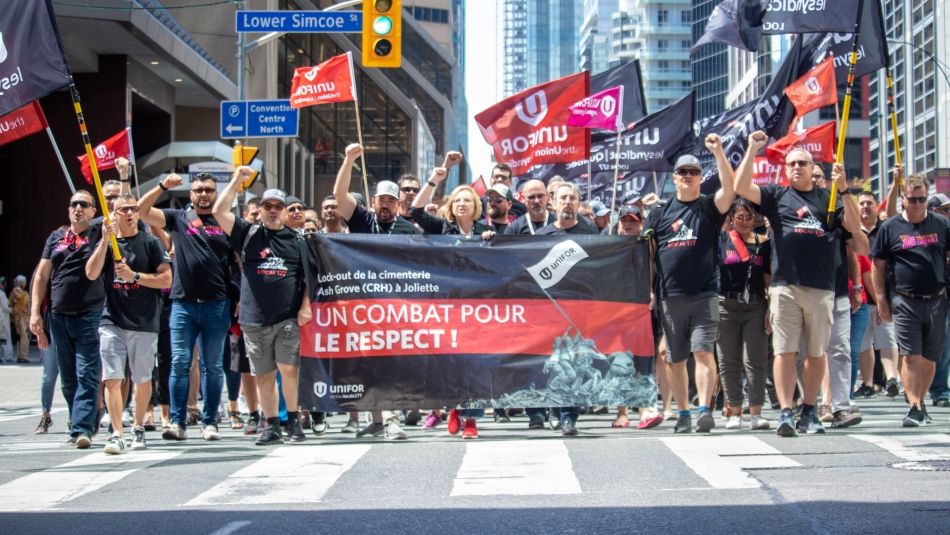 Share
"So-so-solidarity."
In keeping with Unifor's Convention theme, "Together," delegates showed solidarity with striking workers at the Ash Grove cement plant in Joliette, Que., who have been locked out for nearly 15 months, by marching in downtown Toronto on Thurs., Aug. 11, 2022.
"Morale is directly related to money. We need the help of the rest of Canada to continue to stand up to this employer and their anti-union tactics," said Samuel Deschênes, second secretary-treasurer of Unifor Local 177, whose members are affected. "Thank you, brothers and sisters, for supporting our fight."
Holding a black and red banner that read, "Un combat pour le respect!" – or "A fight for respect!" – hundreds of delegates marched for several blocks in the area of the Metro Toronto Convention Centre where the Unifor Convention was being held. Leading the group was newly elected Unifor President Lana Payne, along with other leadership and politicians, including NDP MPP Marit Stiles.
In July, Unifor Local 177's production units and offices again rejected a second management offer presented to the bargaining committee, unsatisfied with the CRH Group's reluctance to withdraw concessions based on subcontracting and flexibility. The 110 production and office workers have been locked out since May 22, 2021.
Unifor representatives will communicate with the conciliation service of the Ministry of Labour to see how to resume negotiations for the future.
"Just count how many days that is, 400 or some," said Quebec Regional Director Daniel Cloutier referring to Ash Grove workers in his address on Tues., Aug. 9, 2022. "They're not demanding anything, except for a pay increase. But the boss is the one who wants the rollback and wants to treat citizens as second-class citizens by contracting out."
Waving flags and cheering, the group had a clear message for CRH – members from all across Canada were supporting its locked-out workers and aren't going to stop fighting for their rights.