Main Image
Image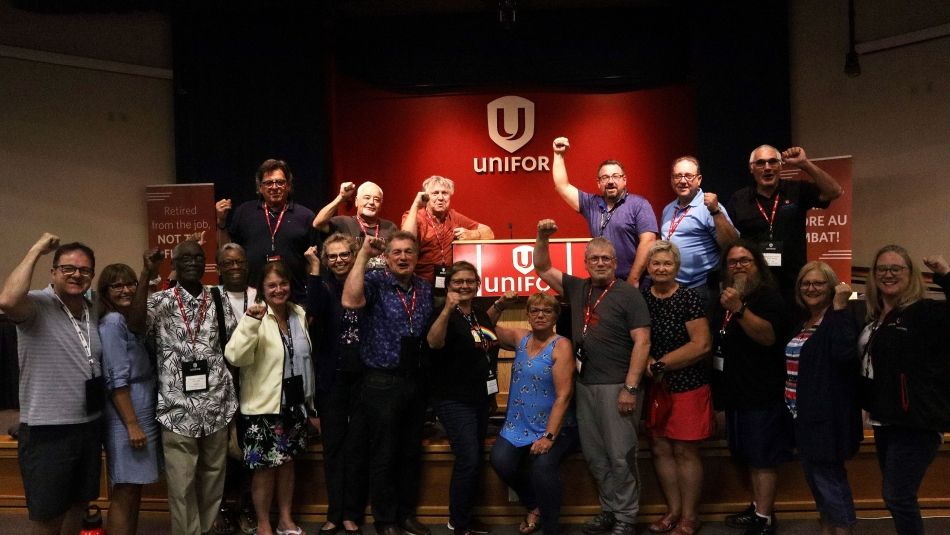 Share
Five buses of retired workers arrived at Unifor's Family Education Centre in Port Elgin, Ont., ready to march in the town's annual Labour Day Parade.
Unifor local chapters organized the bus rides on Labour Day morning – Sept. 4, 2023 – so that members could participate in the town's parade, head to a barbecue lunch provided by the centre, and listen to speeches about solidarity.
"Retired workers continue to fight against privatization of health care, cost-of-living, affordable housing, access to food banks and a fairer tax structure," said Unifor National Secretary-Treasurer Len Poirier, who welcomed delegates to the Council.
"The issues that are top of mind to our retired members are the same issues that benefit society at large."
The Labour Day event coincided with the National Retired Workers Council at the Family Education Centre from Sept. 3 to 8, where more than 200 delegates from across the country are gathering to discuss priority issues affecting not only retired workers, but Canadians in general.
"This is our moment to support workers," said Unifor National President Lana Payne. "Retired workers are part of this moment because they have the rich history of their experiences from which we can all learn and benefit."
Unifor Quebec Director Daniel Cloutier told delegates that we must acknowledge there "is no other time. We have to fight. We have to fight. We have to fight for future generations and ourselves – and now."
Barb Dolan, Unifor Director of Retired Workers, said the council has maintained a key working relationship with affiliates of the Grey-Bruce Labour Council.
She also said last year, the Retired Workers Council elected its first Black, Indigenous and Workers of Colour representative Ruth Pryce, as well as Stephanie Johnstone as its LGBTQ representative.
"Now, we do a BIWOC caucus, we do an LGBTQ caucus," said Dolan.
The council will also address resolutions on stopping the outsourcing within the telecommunications sector, updating Canada's national anthem, fairer tax structure, artificial intelligence, food banks, affordable housing, and homelessness.
Delegates will also hear about resolutions on federal pension legislation, cutting fees for medical services, the United Nations' Principles for Older Persons, universal health care, cost of living, health benefits, and increasing the CPP/QPP death benefit.
"The most talk among attendees will be about health care," said Dolan. "And that we need to fight back on privatization, whether it's Ontario, B.C. or Atlantic. It's a key issue every time."
There are also many retired workers coming out of the auto sector, who will discuss the D3 auto negotiations and Unifor zeroing in on Ford for pattern bargaining, Dolan added.
"Even though it's a retiree group, resolutions and the work that they do, isn't about retirees," said Dolan. "It's about everyone and the community. They're not navel-gazing. They're not thinking, 'Oh, I want my pension,' they want things for the greater good that are impacting society."
Bob Cruickshank from Kitchener, Ont. received the 2023 Outstanding Retired Worker of the Year Award for his "long and consistent support of all unions, including United Auto Workers, Canadian Auto Workers and Unifor," according to his nomination form.
He began his involvement with the union as a steward while still an apprentice for the Electrical Workers Trade Union in Scotland when he was 18 and served in the British military before immigrating to Canada in 1966.
He retired after 30 years, devoted 25 years as a delegate to Labour Council and served for six years as president of the Waterloo Regional Labour Council and still co-chairs Unifor Local 1451 retirees.