Main Image
Image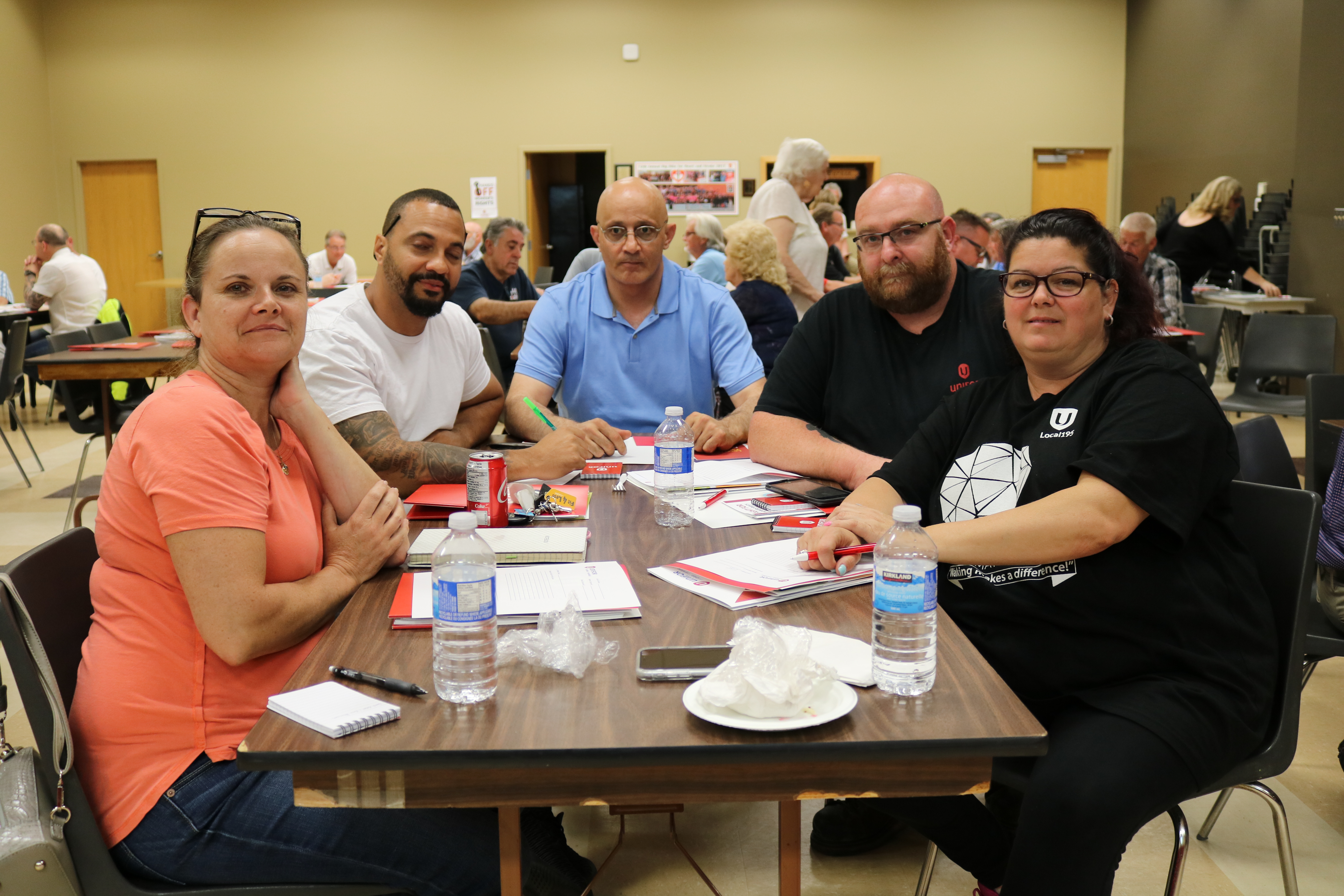 Share
Unifor members in Ontario and in Nova Scotia meet to set a worker's agenda and build stronger connections between local unions ahead of the federal election.
Area Council meetings kicked off on June 4 in Windsor, Ontario and Sydney, Nova Scotia, continuing on in Antigonish.
"The federal election is fast-approaching, and the time is now to set our vision for a better, more equal country that puts workers ahead of corporations," said Jerry Dias, Unifor National President. "Unifor members are already sending that message loud and clear. We want strong leadership to stand with workers."
The room was buzzing with excitement and determination as members worked together to solve the issues facing workers in Canada today, from cuts to public services to job loss and outsourcing. Focusing on solutions, members identified real ways that federal parties can lead in the upcoming election, by addressing corporate tax loopholes and making Canada more fair and equitable.
Lana Payne, Unifor Atlantic Regional Director, spoke with members in Sydney, commenting "the only way to protect, and improve, our quality of life here in Atlantic Canada is to elect a government that will truly invest in good jobs and public services and protect and enhance workers' rights."
Meanwhile, in Windsor, Naureen Rizvi, Ontario Regional Director, outlined the dramatic cuts that only one year of Conservative government have brought to Ontario, saying, "Cuts to education, cuts to health care, and cuts to workers' rights. We didn't vote for this, and we deserve better. But to get better, we have to fight for it."
The election is already proving to be one where some politicians use scare tactics, and divisive language to isolate working people. By coming together in union halls across the country, Unifor members resist this division, and build working class solidarity.
Upcoming meetings are currently scheduled at the locations below. Members and Local Unions should stay tuned as these spaces grow across the country.
Thursday, June 6, Halifax - 5:00 p.m. at Unifor Halifax office (63 Otter Lake Court, Halifax)
Monday, June 17 - Kitchener – 5:00 pm at Unifor 1106 hall (600 Wabanaki Drive, Kitchener)
Monday, June 24 – Durham Region – 5:00 pm at Unifor Local 1090 (140 Hunt Street, Ajax)
Tuesday, June 25 – Thunder Bay – 6:00 pm Unifor 1075 hall (112 W Gore Street, Thunder Bay)
Tuesday, July 2 – Ottawa – 5:00 pm at St. Anthony's Soccer Club ( 523 St Anthony St. Ottawa)
Wednesday, July 3 – London – 5:00 pm at Unifor Local 27 (606 First Street, London)
Thursday, July 4 – GTA/Peel – 5:00 pm Unifor Local 112 hall (30 Tangiers Rd, North York)
Monday, July 8 – Sudbury – 5:00 pm Unifor 598 hall (2550 Richard Lake Drive, Sudbury)