Main Image
Image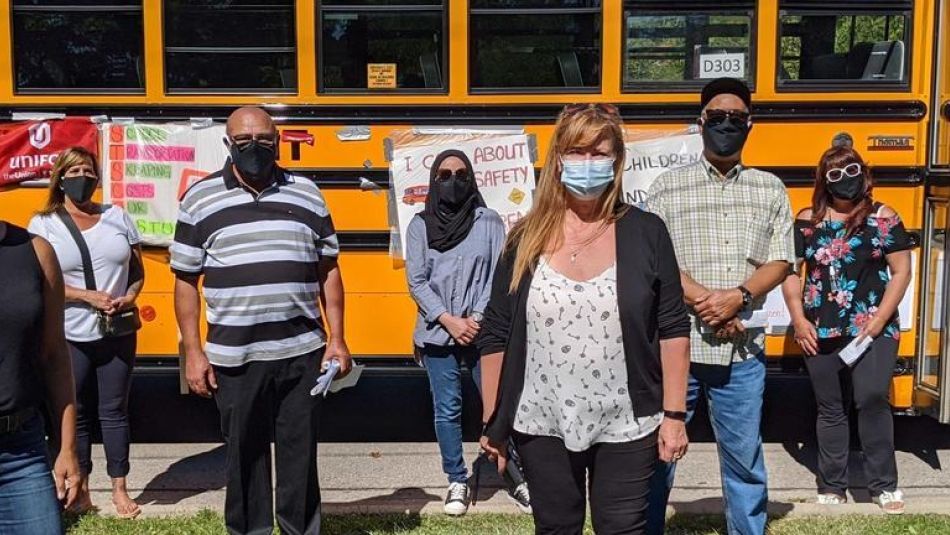 Share
As back-to-school season begins, Unifor continues to press for safe conditions for children, teachers, education workers, janitorial staff and bus drivers. A recent webinar hosted by the union's Education Department about the disproportionate impact of the COVID-19 pandemic on women, highlighted school and child care closures as a key component of the dramatic drop in women's workforce participation since March.
Members shared their experiences including fears for their children with special needs, and concern for education assistants and school bus drivers who cannot socially distance in their work. Many members spoke of their own mental health deterioration trying to juggle working from home and home-schooling their children.
Atlantic Regional Director Linda MacNeil highlighted the impact on essential workers.
"Our members are between a rock and a hard place," said MacNeil. "So many of them are essential services workers with exposure to the public. We need them to go to work and yet we are increasing their risk if we aren't putting enough resources towards a safe re-opening of schools and child care facilities. This is hitting women particularly hard, both at work and at home."
The process of developing a plan for school re-opening has varied across the country. Western Regional Director Gavin McGarrigle contrasted the approaches of governments in the West.
"B.C. has involved unions, parents, child care advocates and health professionals to work towards a safe re-opening," said McGarrigle. "This can be contrasted with provinces such as Alberta, Saskatchewan and Manitoba where their austerity-led autocracy undermines the public school system and endangers workers and children."
Unifor education locals in Alberta have been active in mobilizing against lay offs and lack of appropriate protections to return to the classroom.
Ontario Regional Director Naureen Rizvi kept up the pressure with the Premier by underscoring September's pivot point for parents, workers, children and the economy. Unifor bus driving members have increased their engagement, concerned about having as many as three classrooms-worth of students on each bus every day. While alterations for classrooms are underway, children will still be crammed into busses with, in some cases, three to a seat.
"The biggest test of Premier Ford's leadership so far in this pandemic will be as our children go back to school," said Rizvi. "As a parent of school-aged children and as a labour activist I am startled and deeply concerned by the lack of appropriate education funding and protocols in place and have urged Doug Ford to urgently invest in education and child care for the sake of all Ontarians' health and safety."
Unifor encourages members to contact their local provincial representatives to advocate for a #SafeSeptember.
For future webinars hosted by the Unifor Education Department, visit onlineeducation.unifor.org.