Main Image
Image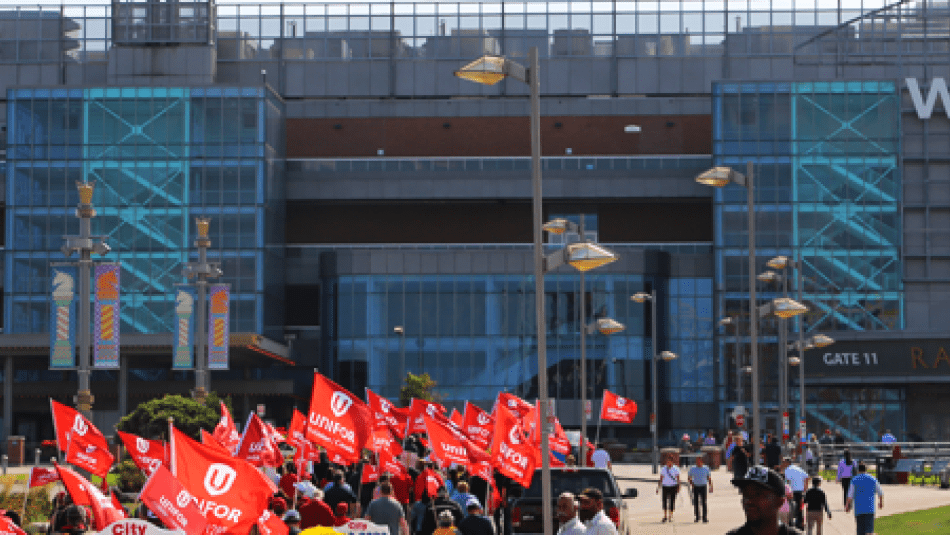 Share
Update: Locked out OLG workers & their supporters shut down Woodbine Racetrack
For more information, click here.
To see pictures from the event, click here.
---
Hundreds of Unifor members rallied outside Woodbine Racetrack to show support for our locked out members and send a strong message to Kathleen Wynne & the Ontario Lottery and Gaming Corporation: get back to the bargaining table!
Unifor's Ontario Regional Director Katha Fortier, National President Jerry Dias, and OFL Presidential Candidate Chris Buckley all addressed the crowd. Unifor member and MPP for Niagara Falls Wayne Gates also addressed the crowd, calling on Premier Wynne to show these workers some respect and tell the OLG to get back to the table.
To see photos from the event, click here.
Unifor members working at Sudbury, Woodbine and Brantford have been locked out by the OLG since 12:01 AM on September 19th.
As part of OLG's 'modernization plan', which has been backed by the Wynne government, the retirement security of roughly 1000 Unifor members is at risk. Because of the privatization plan, OLG workers are no longer eligible for their current pension plan, but the OLG refuses to negotiate the terms of a new retirement plan for their employees and has chosen to lock out its workers.
Future financial stability for these dedicated workers has been thrown out the window, but Unifor argues that the premier can and should act. Wynne claims to be a champion of retirement security, often citing the importance of predictability, but through her government's privatization plan she is looking to make a profit by taking that predictability away from OLG workers.
Take action: help us send a message & unlock the OLG
Tweet at @Kathleen_Wynne & @OntarioLottery and tell them to return to the bargaining table.
Use the hashtag #OLGlockout to join the conversation!
Not sure what to say? Try this:
Premier @Kathleen_Wynne: if you believe in pensions, why are you allowing @OntarioLottery to strip us of ours? #OLGlockout