Main Image
Image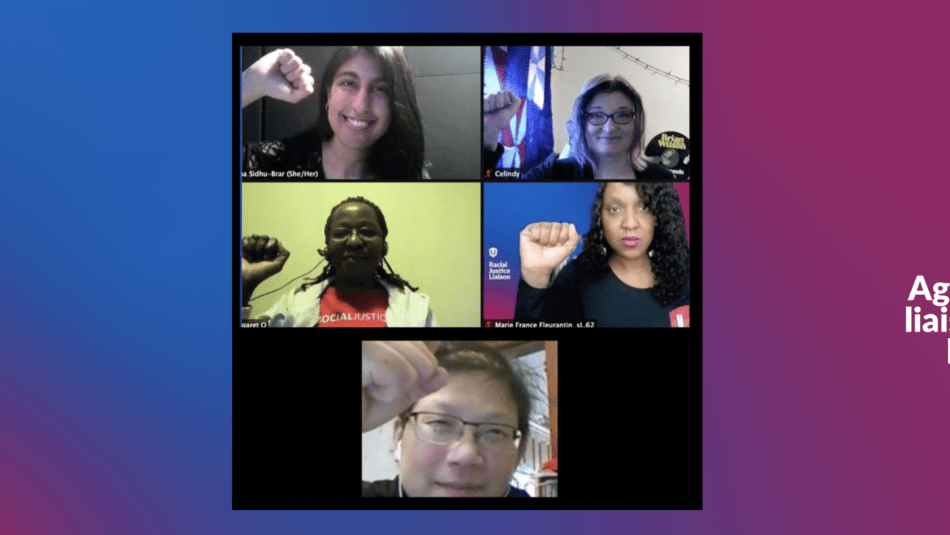 Share
Driven by personal experiences with racism and those of their friends and co-workers and their commitment to make Unifor a union for everyone, five Unifor activists last week began training to be Racial Justice Liaisons in five regions of the country.
"We have a fierce group of sisters to launch this incredible program," said Unifor Human Rights Director Christine Maclin.
"Each of them is already making a difference in their workplace, and as Racial Justice liaisons they will be able to do even more."
The five members selected from across Canada for this new role gathered online for training last week to provide project support and coordination and help our regional and national teams in implementing our anti-racism action plan.
The training concluded on March 27 with the Regional Aboriginal and Workers of Colour standing committees, the workplace racial justice advocates and all the candidates who applied for the racial justice liaison position participating in a brainstorm session to create a collective plan moving forward.
Japna Sidhu-Brar from Local 4005 in Halifax said the racial inequities exposed by the pandemic showed her how much such programs are needed, saying that being a racial Justice advocate would help her grow as a trade unionist and an activist.
"This is an amazing cause. This is something that we need to work through collectively and this was just the perfect opportunity almost falling right in front of me that it just seemed like I needed to strike while the iron was hot."
Margaret Olal from Local 3000 in Burnaby, B.C. said the killing of George Floyd and other incidents of racist violence exposed wounds in society that must now be healed.
"It's time for us to make that wound healed, and the five of us, we are all going to work as a team. We will all connect together, we will all chat, and we will build each other up and we will make sure something big comes out of this racial justice."
Peycke Roan from Local 975 in Nestleton, Ontario said she found it emotional at the beginning of the online course to be asked to turn on the camera and show her face, a moment of acknowledgment after years of facing racism.
"Everything that was against me, now seemed to be why I was chosen," she said. "Canada is not immune to racism. It's just more subtle and maybe polite, but it still cuts like a knife."
Marie-France Fleurantin with Local 62 in Montréal said new immigrants to Quebec can sometimes struggle when they arrive, and she decided to get involved with the racial justice liaison program in hopes of helping them.
"If I can be that voice for people who look like me, I will be that voice."
Celindy Ostapyk from Local 4002 in Winnipeg looked to the future when asked why she decided to become a racial justice liaison.
"Being a Métis woman with a little Métis little girl, I just want the world to be a better place, especially for her."
The Racial Justice Liaison program is funded in part by Heritage Canada's Anti-Racism Action Program to support a series of activities and initiatives that Unifor has developed to support racial justice and drive organizational change to make lasting impacts for Black, Indigenous and people of colour within both the union and our communities.