Main Image
Image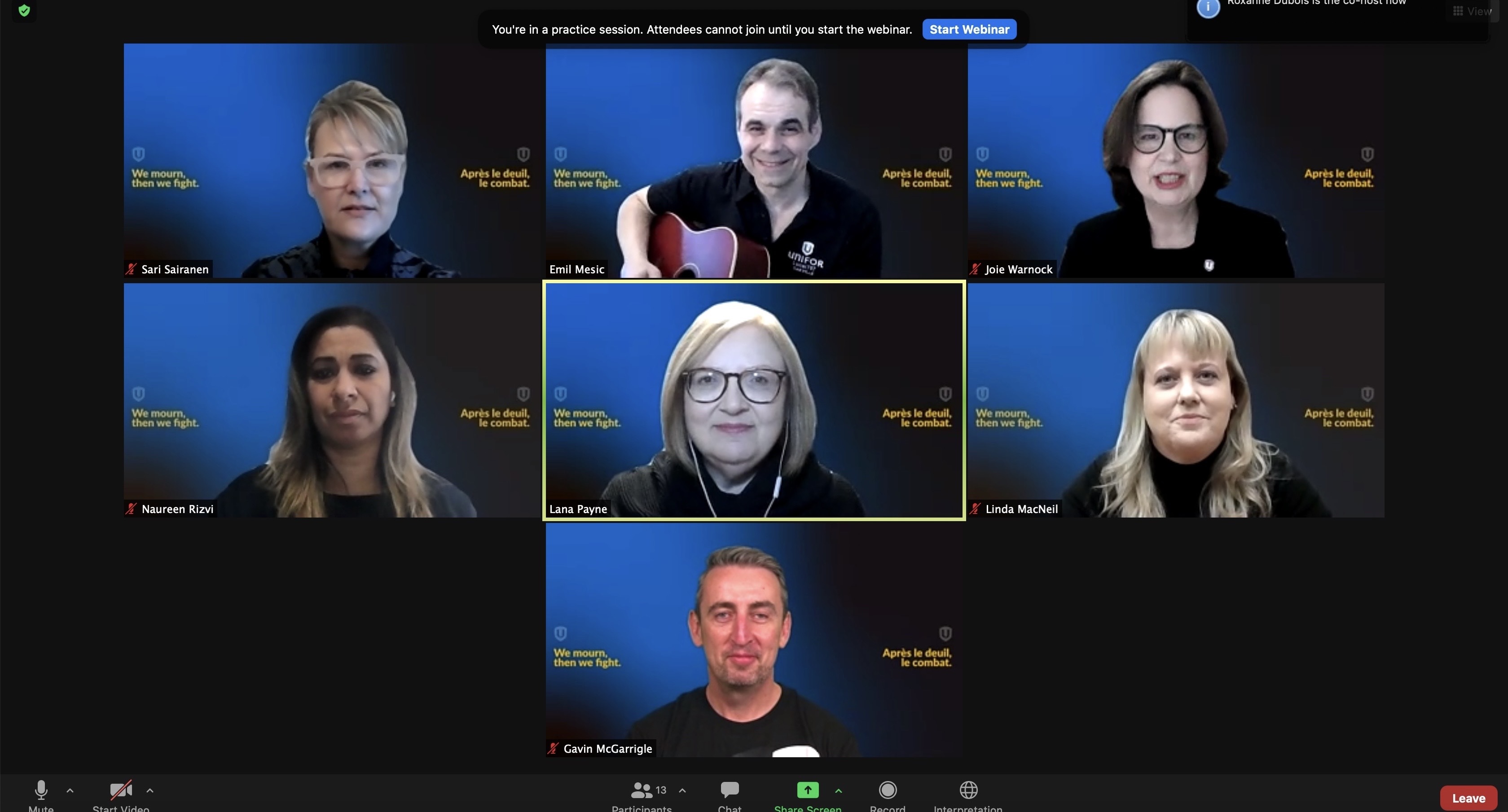 Share
Nineteen. 
They weren't just statistics. They were fathers, fish harvesters, veteran personal support workers, broadcasters, telecom technicians, cargo drivers and more.
Seven died from COVID-19.
On April 28th, the Day of Mourning, Unifor honoured the 19 workers over the last year who were killed at work or lost to the virus. 
"Today, we recognized 19 members who have lost their lives," said Unifor President Jerry Dias. "We think about their families, we think about their partners, we think about their children. We think about their families that are mourning their losses today."
The federal government recognized the day beginning in 1991, eight years after it was launched the labour movement in Canada. It has since spread to more than 100 countries or regions across the world.
Organizations, communities and individuals paused Wednesday at 11am for a moment of silence for those lives lost, said Joie Warnock, Assistant to the President, who moderated the online vigil.
Secretary Treasurer Lana Payne extended heart-felt condolences to the families, loved ones and communities of members lost this past year.
"The path to success in the fight against workplace fatalities is no mystery," she said. "Unifor has and continues to diligently work to gain many health and safety protections for workers through legislation and collective bargaining. We can build a better and safer world for workers through our collective actions. Remember it is our union that gives us the power to demand better."
Linda McNeil, Unifor's Atlantic Regional Director, said worker occupational health and safety representation leads to improvements in the conditions of work.
"Our joint Health and Safety Committees and representatives raise safety concerns with the employer and given them opportunities to fix the workplace hazard," said McNeil.
"The employer has a right to manage and we have a right to refuse unsafe work or call in a government inspector. The inspector may not rule in our favour, but the employer needs to know that health and safety issues will not be resolved without a fight."
Nearly 1,500 Unifor members were infected with the COVID-19 virus.
"Normally, we talk about occupational injuries, occupational cancers, industrial disease," said Dias. "We talk about how our members have been negatively impacted, who have gone to work and never came home."
According to the most recent statistics from 2019 from the Association of Workers' Compensation Boards of Canada, 925 workplace fatalities were recorded in Canada. Of that number, 882 were male workers, and 43 were female workers.
An emotional memorial video recognized the 19 workers, the highest number of deaths in Unifor's history.
Dias said 12 members died from occupational hazards and that working during the pandemic has been physically and emotionally tough on frontline essential staff.
"I think about our members in health care, in the airline sector, in transit, in retail, hospitality," he said. "I think of our members in telecommunications, our members that are doing so much today and of course, I think about what we're doing to ensure that our members are safe and that workers right across this country are safe."
Dias reiterated the dire need for paid sick days, beyond the three days the Ford government announced in Ontario this week, and said he would stand up for essential workers to be moved to the front of the line for vaccinations and be compensated for time-off to get those jabs.
"We have so much to do to fight for justice," he said. "The pandemic has shown the real inequalities of which we live."
Unifor's Western Regional Director Gavin McGarrigle echoed that sentiment, stating that COVID-19 lockdowns and Stay-At-Home orders don't work without paid sick leave and provincial and federal governments need to step up.
"The saying, 'If you're sick, stay home' is not just smart workplace policy, it's also smart public health policy," he said. "COVID-19 has elevated the importance of this approach to new levels. Preventing the spread of COVID-19 in workplaces is literally a matter of life and death."
Meanwhile, Unifor Ontario Regional Director Naureen Rizvi said workers have the power to have control over how they take care of one another during this challenging time.
"We should remember that this is absolutely the time to lean on each other. If we can't connect physically, we certainly can connect emotionally. So, stay in touch with each other, and reach out if you need support," she said.
"We're apart but we're not alone."