Main Image
Image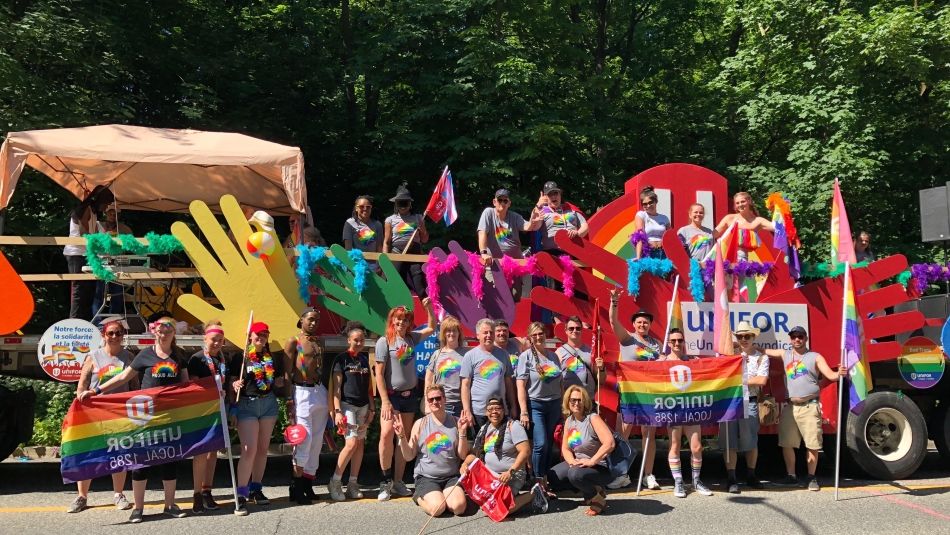 Share
Improving equity, and inclusion, and defending the human rights of LGBTQ people are goals of the union. These goals are achieved through bargaining, trough the dedicated work of local union executives and committees, and through events and campaigns that bring us all together.
As Pride Month nears its close, thousands of members have already celebrated at parades, festivals and community events. Throughout the summer these events will continue in communities across the country.
"I was proud to join Unifor members in Toronto at the Pride festival," said Jerry Dias, Unifor National President. "What makes these events special for me is meeting those one or two members who are out for the first time each year, who take that significant step to show their true selves and are happier and more fulfilled because if it."
"To those members, and to anyone else who is curious about Pride, or about your own identity, come out to an event, have some fun and build community. Your union will support you," continued Dias.
In addition to messages of pride, the national LGBTQ committee has prioritized pushing back against right-wing racism that has been directed at immigrants recently.
This summer marks 50 years since the Stonewall riots that launched the LGBTQ equity movement. This movement began as a militant opposition to hate and bigotry, a history that's reflected in these themes of supporting migrants in an increasingly racist political conversation in Canada.
"Members of Unifor's LGBTQ community are taking a stand this year, and voicing their support for refugees and migrants at these local pride events," said Christine Maclin, Unifor Director of Human Rights. "That's what solidarity is all about, reaching across division to unite around our common goal of building a more just and more peaceful world for everyone."
To find upcoming events in your area, connect with your regional LGBTQ committee chair or see this list of events where Unifor will be present.
Regional LGBTQ Committee Chair people
BC Region: Ron Mill, @email
Prairies Region, Krista Wagner, @email
Ontario Region, Dana Dunphy, @email
Quebec Region, Kevork Vahedjian, @email
Atlantic Region, Martin Melanson, @email
National Pride Liaison, Sarah McCue, @email