Main Image
Image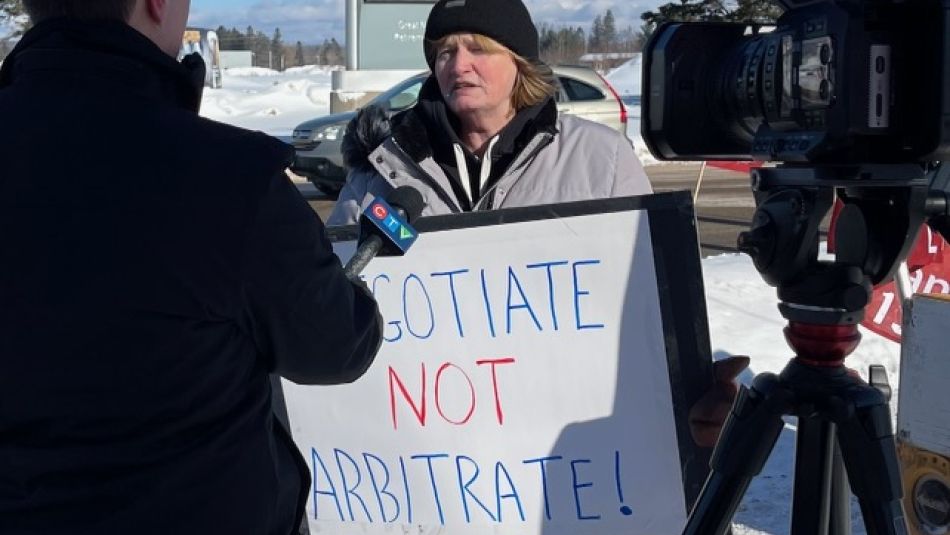 Share
Sault Ste. Marie, ON – EllisDon Facilities Services (SAH) Inc. workers represented by Unifor Local 1359 will conduct an information picket outside the Sault Area Hospital on February 1 to demand the company  return to the bargaining table instead of going to arbitration. 
"This employer is facing retention and recruitment issues because workers not being paid the industry standard," said Naureen Rizvi, Unifor Ontario Regional Director. "We've asked the employer to return to the table but have not heard back from them.  We are ready to negotiate a fair and reasonable deal that the bargaining committee can take back to the membership."
Unifor Local 1359 represents the Maintenance Clerk/Dispatcher/ Maintenance II, Skilled Trades, Electrician at EllisDon who provide their service to Sault Area Hospital.
The workers have been without a collective agreement since October 2021. The union has been in negotiations with the employer since July 2022. While the workers are not subject to Bill 124 wage restrictions, the company refuses to move from its offer of a paltry 1% increase. 
"Our members work to ensure the hospital operates efficiently and quality patient care is performed in our community hospital," said Cathy Humalamaki, President, Unifor Local 1359. "These workers deserve a living wage not the 1% the employer is offering."
What: Information picket for EllisDon Facilities Services (SAH) Inc.
When: Wednesday, February 1, 2023 at 11:30 a.m. ET 
Who: Cathy Humalamaki, President, Mary Casola, Vice-President, Unifor Local 1359 and  frontline Sault Area Hospital workers 
Where: Sault Area Hospital, 750 Great Northern Road, Sault Ste. Marie, Ontario. 
Unifor represents more than 30,000 health care workers, including hospitals, long-term care, emergency services, and community and social services and is Canada's largest union in the private sector, representing 315,000 workers in every major area of the economy. The union advocates for all working people and their rights, fights for equality and social justice in Canada and abroad, and strives to create progressive change for a better future.
For more information, please contact Unifor Communications Representative Hamid Osman at @email or 647-448-2823 (cell).