Main Image
Image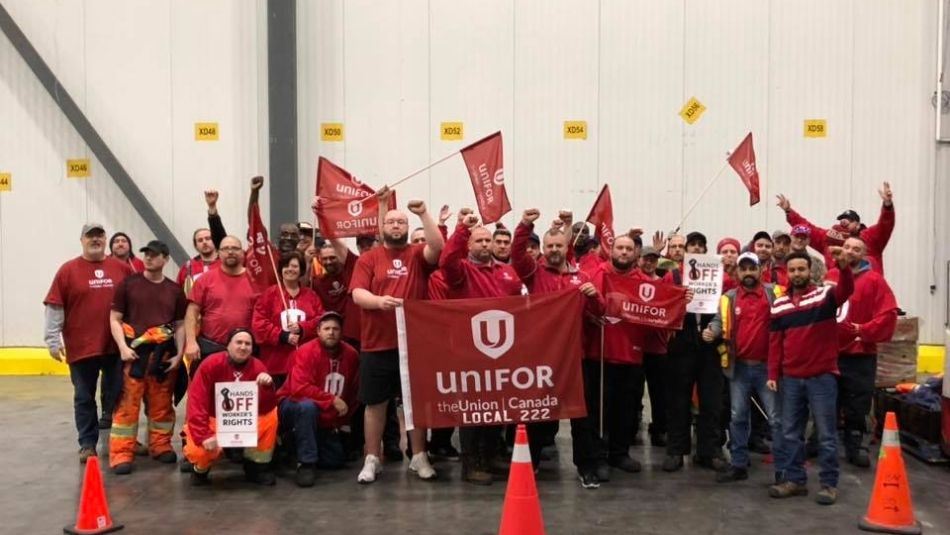 Share
Loblaws, and its CEO Galen Weston, have been famously opposed to any improvement to workers' rights or an increased minimum wage in Ontario.
"When Premier Ford plotted with corporate lobbyists like Galen Weston to attack workers' rights, Unifor members pledged to bargain back decent work," said Jerry Dias, Unifor National President. "Warehouse workers in Ajax did just that. They organized through their union to raise standards while facing a company that notoriously opposes worker's rights."
Approximately 1,000 workers at the Loblaws Ajax Distribution Centre, who felt the loss of Bill 148 protections directly, choose to unite to bargain back decent working conditions and fairness.
Work at the Loblaws Warehouse is difficult, the schedule is demanding and workers perform jobs that are often physically taxing. At the start of bargaining, the employer came to the table blatantly unfair demands including those around job ownership, so that members would see even less predictability in scheduling and roles.
"It just wasn't something that we could stand for," said Shayne Fields, Unifor Local 222 Chairperson of Loblaws Ajax Distribution Centre. "We saw that Unifor members across Ontario were already mobilizing against the Conservatives' agenda so Loblaws Ajax members got organized. At some points, we had more than 50 workers showing up for actions during lunch at the warehouse."
People Before Profits
Local union organizers launched People Before Profits as the campaign slogan. This slogan was proudly plastered across the workplace as hundreds of members sported red tuques with the words emblazoned on the front.
Each Friday, Fields and local organizers would host workplace actions, while the bargaining committee was ever present in the warehouse to speak with members about bargaining in detail. 
The wider Unifor community came out to support the members, distributing information flyers and greeting members outside the workplace during shift changes.
When the critical vote came, members delivered a decisive 95.8% strike mandate as the workers united in their demands for decent work.
The Labour Board returned a "No-Board" report on February 7, 2019, setting a strike deadline of 12:01 a.m. on Sunday February 24.  Bargaining went down to the wire, but in the end the new contract achieved most of the workers' demands.
Bargaining Decent Work
"As the province's largest private-sector union, it's our responsibility to raise the bar for decent work, no matter how hard that is," said Naureen Rizvi, Unifor Ontario Regional Director. "That's why we adopted the Decent Work Bargaining Strategy in December, so that members are empowered to mobilize around fairness, respect, and raised standards."
Loblaws Ajax workers ratified a collective agreement that met or exceeded every goal of the Decent Work Bargaining Strategy, including gains of:
Wage increases for all workers,
Equal pay for equal work for part time and clerical workers, and
96 hour notice for shift changes and cancellations.
These gains are added to existing benefits such as 6 paid sick days and start rates of more than $15 an hour.
In addition to the gains that were bargained back from the Conservatives' attack on workers, major issues specific to the workplace were also resolved including an improved disciplinary process, better job ownership, signing bonuses, and the establishment of a joint Diversity Inclusion Committee to proactively address racism and discrimination in the workplace.
"Not only will members' working conditions improve, but our union is stronger following this round of bargaining. We've mobilized life-long activists in Ajax, members who are ready and able to fightback against the Conservative attack," said Colin James, President of Unifor Local 222.
Download the program for Bargaining Decent work here (PDF).
Members looking to bring this level of engagement to their own round of bargaining, or local campaign can refer to the new Toolkit for Decent Work (PDF), or reach out to @email to connect with the union's ongoing campaigns.