Main Image
Image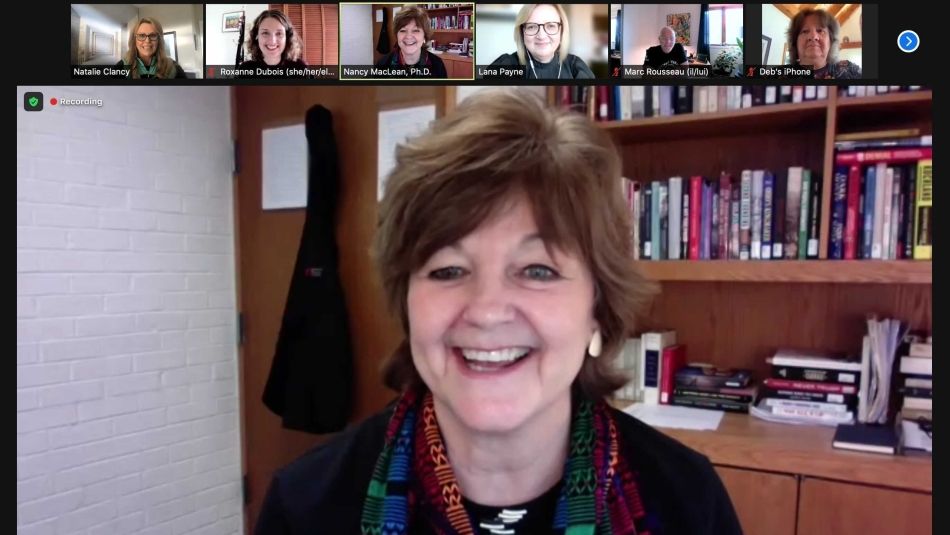 Share
The storm of right-wing politics that has raged in the United States is showing signs of coming north and affecting Canada, Duke University historian and author Nancy MacLean told a Unifor meeting this week.
"It's very much tornado weather in U.S.," MacLean told Unifor's Strategic Planning Committee. "It has been quite a wild ride and now we are in a race with time ahead of the 2022 mid-term elections."
MacLean, who also spoke at Unifor's Constitutional convention in Quebec City, said the situation among right-wingers has only got worse since then.
She cautioned against allowing the budding rise of the right to continue in Canada, noting that as the People Party of Canada looks to her like the Tea Party in the United States when it was first on the rise, and now defines the Republican Party.
MacLean warned against ignoring the rise of right-wing disinformation, whether in traditional media outlets, right-wing radio call-in shows or online.
"That has become such as such a source of toxicity in our politics it's almost impossible to overstate," she said.
"It's really important to get ahead of this stuff," she said. "Trumpism feeds off anger and resentment and tribalism, and it's really important to be aware of that and not activate it."
In the United States, even long-time members of the Republican Party are finding themselves pilloried and challenged in primary fights if they don't tow the new extreme party line, which includes openly rigging and discrediting elections and the rise if vigilantism. 
On a more positive note, MacLean said the left has mobilized in recent years, beginning under the presidency of Donald Trump, building a progressive agenda and leading the highest-ever turnout for a presidential election in 2020.
Workers in the United States are rising up after years of frustration with record strikes and workers finally demanding a better deal. With the labour shortage due to COVID, there's a feeling they can finally push back, she said.
The threat of the right remains strong, however, and it is vital for unions such as Unifor to confront those on the right head-on on all their trigger issues, including global warming, vaccine mandates and the importance of democracy, she said.
"We need to be honest and forthright," she said. "These people hate government so much they will wreck the planet and leave people for dead."