Main Image
Image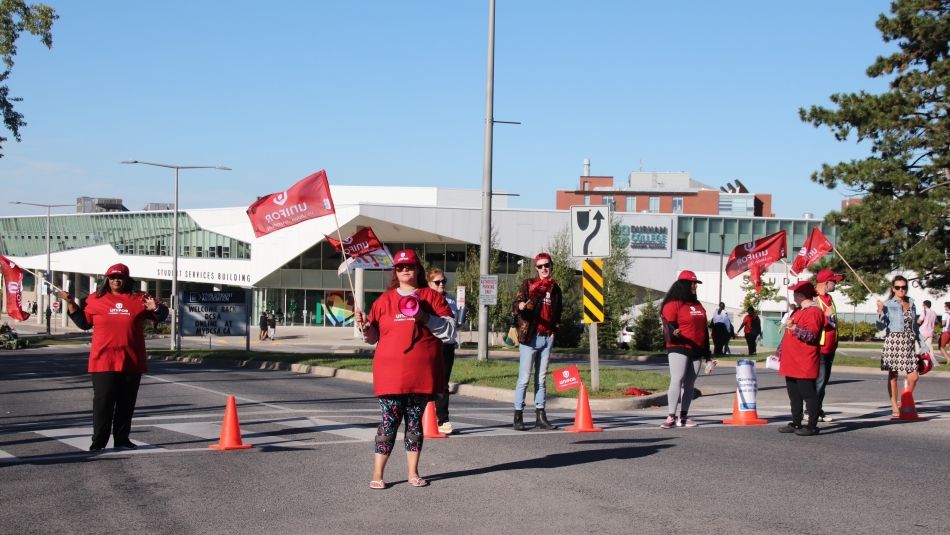 Share
TORONTO —GDI Services has served illegal layoff notices to 70 Durham College campus cleaners, locking out the workers after they began strike action on August 24, 2022. 
"This callous and illegal move by GDI is designed to intimidate workers, who are predominantly low-paid women," said Unifor National President Lana Payne. "The company also threatened workers by telling them they would only keep their jobs if they cross their own picket line. Unifor will not allow our members to be bullied. Not now. Not ever."
Today, hundreds of Durham College and Ontario Tech University students and faculty joined locked out GDI Services workers at a solidarity event on the picket line. The workers earn just $16.05 an hour, and have been without a contract since December 31, 2021.
"Our pay is so insultingly low, it's not enough to survive on," said Unit Chairperson Theresa Grabowski. "People are shocked to learn that Durham College has contacted a company that pays us poverty wages to keep their classrooms clean and healthy."
GDI Services is prolonging the labour dispute and compromising student safety by using scab labourers who lack WHIMIS and other essential training to perform the cleaners' work. Unifor remains concerned about deteriorating sanitary conditions at Durham College campuses as the school year gets underway. The union plans to escalate actions should the company continue to refuse to return to the bargaining table and negotiate a living wage and safe workload for locked out cleaners.
Unifor has launched a petition to call on GDI Services and Durham College to end the illegal lockout and negotiate a fair deal for the workers.
Unifor is Canada's largest union in the private sector and represents 315,000 workers in every major area of the economy. The union advocates for all working people and their rights, fights for equality and social justice in Canada and abroad, and strives to create progressive change for a better future. 
For media inquiries or to arrange a Skype, Zoom or FaceTime interview please contact Unifor Communications Representative Kathleen O'Keefe at @email or (416) 896-3303 (cell).