Main Image
Image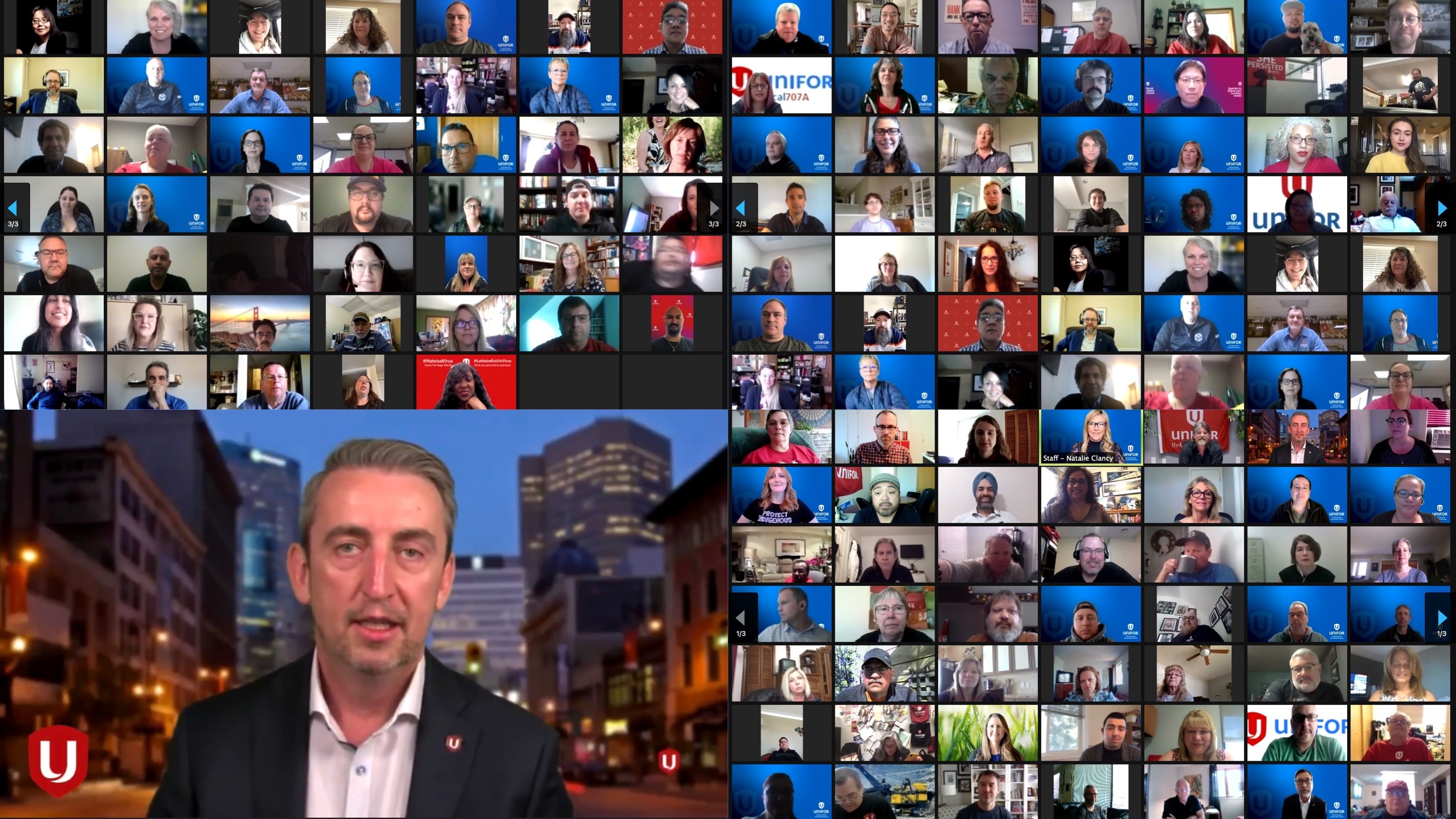 Share
In his report to more than 200 delegates and staff at the virtual Prairie Regional Council held this week, Unifor Western Regional Director Gavin McGarrigle took stock of the incredible challenges facing workers and their families as a result of the pandemic, acknowledging that virtually no industry escaped major disruption.
"We heard reports from our members in the hospitality sector about the utter chaos caused by the sudden drop in business. Many layoffs happened with less than 24 hours notice. It was unprecedented and wreaked havoc on our members lives," said McGarrigle.
The deep inequalities laid bare by the pandemic helped bring a sharp focus to our social justice work, he said. It will be impossible to forget the thousands of preventable deaths stemming from inadequate health and safety regulations.
McGarrigle thanked local union leadership for responding with compassion and determination as creative solutions had to be found to prevent layoffs, preserve benefits, and fight for the front line workers that kept the economy functioning.
McGarrigle also reviewed the many historic mobilizations that took place in the region since the last PRC meeting, including the first province-wide Saskatchewan Crown corporation workers strike in a generation. Saskatchewan was also home to the Co-op Refinery lockout of Local 594 members and the incredible solidarity of Unifor members coming from across the country to reinforce the picket lines.
In Alberta, Unifor members have been part of a broad backlash the Jason Kenney government's cutbacks and radical anti-union agenda. Unifor has responded with a variety of tools to help with the fightback.
"I joined Unifor members in Edmonton hitting the streets with teachers and thousand more in February 2020 and and spoke in defence of our educational support staff workers at the rally at the legislature," he said.
McGarrigle said that the mobilization of members in Manitoba for the 2019 provincial election will help build a template for how Unifor responds to the new right-to-work style legislation introduced just this week.
While there are three unfriendly conservative governments in the region, he was optimistic about the opportunities to organize and build back better:
"If elections were held today, we would have at least two changes in government. The ultra-conservative policies being forced on working people in the prairies is deeply unpopular and we have to use this moment to mobilize."
McGarrigle ended on a call to action to continue membership engagement and community engagement to grow solidarity in the national campaign to build back better.