Main Image
Image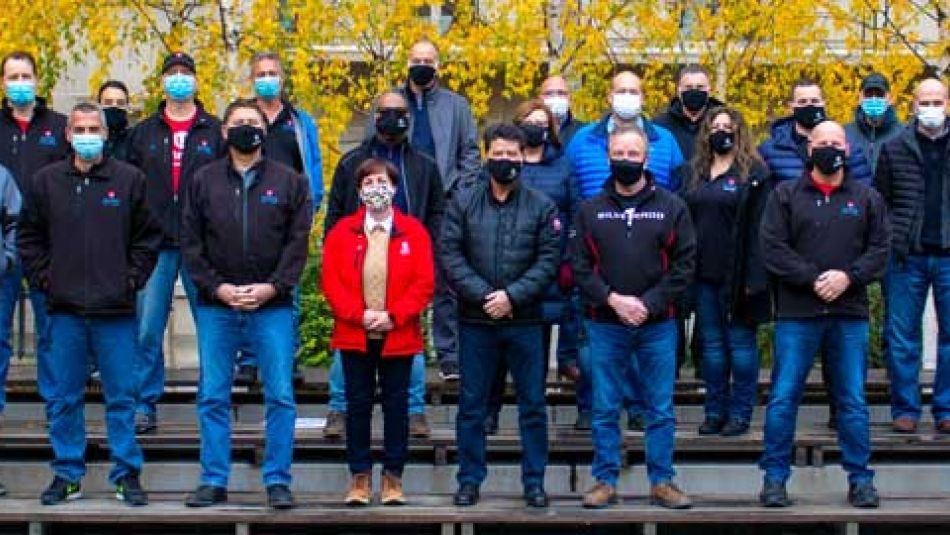 Share
November 5, 2020
TORONTO—Unifor's Master Bargaining Committee has reached a tentative agreement with General Motors that includes a $1.3 billion investment that brings truck assembly back to the Oshawa plant, plus new investments to the St. Catharines Powertrain Plant and Woodstock Parts Distribution Centre.
"We have never given up on Oshawa and I am so pleased to announce that up to 1,700 members will be building both Silverados and Sierras on a two-shift operation in Oshawa and we were able to negotiate investments that will stabilize operations in both St. Catharines and Woodstock," said Jerry Dias, Unifor National President.
"Oshawa is incredibly personal to me. We launched one major campaign in an attempt to get General Motors to reverse its decision back in 2018, and they pressed pause and we preserved the footprint and now we will be the only GM plant globally building both heavy and light duty trucks."
GM has committed to a new body shop, continuing the after market parts production and will begin hiring in August.
"We knew that our members in St. Catherine's were nervous, dreading the end of two products and now thanks to higher volumes and $109 million in new investments, jobs are stable for the life of this agreement and beyond," said Dias. 
In total, the Ford, FCA and GM agreements bring more than $4.7 billion dollars in investment to the auto sector in Canada.
Dias has a message for members in Oshawa.
 "I know many of our members who were let-go, while some moved on, many have not found other jobs, so I'm asking you to take a breath while we collectively find ways to get you all back to work. Today is a recommitment to the community of Oshawa."
This three-year agreement follows an historic pattern-setting deal reached with Ford Motor Company last month that includes five per cent increases to hourly rates, bonuses, improved benefits, among other major improvements.
"This bargaining team worked very hard and I am grateful for the support and solidarity from members as we bargained during ever changing and difficult conditions during a pandemic. I urge members to support this settlement," said Tim McKinnon, Unifor's GM Master Bargaining Committee Chair.
More details of the tentative agreement will be presented to Unifor members during a series of virtual ratification meetings over the weekend, and members will vote on whether to accept the agreement over a 24-hour period, starting at 11 am on Sunday. 
A digital media kit including background on Canada's auto industry and details on plant locations, products produced and number of workers represented by Unifor can be found on this website
Unifor is Canada's largest union in the private sector, representing 315,000 workers in every major area of the economy. The union advocates for all working people and their rights, fights for equality and social justice in Canada and abroad, and strives to create progressive change for a better future.
For media inquiries or to arrange via Facetime, Zoom, or Skype please contact Unifor's Director of Communications, Natalie Clancy at Natalie.Clancy@unifor.org or 416-707-5794 (cell).